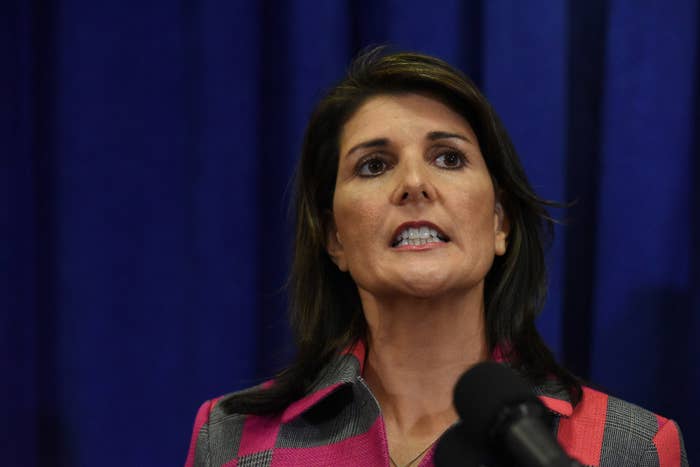 Nikki Haley will soon leave her role as US ambassador to the United Nations, she and President Donald Trump announced Tuesday morning.
In a surprise Oval Office meeting with reporters, the president said Haley would leave her role by the end of the year to "take a little time off."
"She's done a fantastic job and we've done a fantastic job together," Trump said, later saying Haley has made the job "a more glamorous position." He added that she would be welcome back into his administration.
Haley said the job has been "an honor of a lifetime," and praised the president and his family, specifically calling out his oldest daughter, Ivanka Trump, and her husband, Jared Kushner, helping fuel immediate speculation that one of the two could replace her.
"I can't say enough good things about Jared and Ivanka. Jared is such a hidden genius that no one understands," she said. She added, "Ivanka has been just a great friend, and they do a lot of things behind the scenes that I wish more people knew about because we're a better country because they're in this administration."
Other potential replacements that have been immediately floated include Dina Powell, who previously served as a Trump national security adviser, and Richard Grenell, who is currently the US ambassador to Germany. Trump said he would make a decision on Haley's replacement within the next few weeks.
Haley tried to knock down any quick guesswork about her future plans, saying that she is not running for president in 2020. "I can promise you what I'll be doing is campaigning for this one," she said, pointing to Trump.
It was not immediately clear why the announcement was made now, as opposed to later in the year or after the elections.
A Western diplomat told BuzzFeed News that he was "surprised" by the potential Haley resignation and that Haley did not brief his office about her move. A UN official from outside the US told BuzzFeed News that "Right now my mind is blown," and that in conversations with officials in other missions, "no one had any idea."

The Ukrainian ambassador to the UN said, "Whatever is next, my heart is broken. We are going to miss a great friend in the UN Security Council and beyond."

Haley has been one of the Trump administration's leading foreign policy voices, but her more hawkish views have at times clashed with the president's vision.

Haley, 46, has been regarded as one of the Republican Party's most promising future leaders and potential future presidential candidates. Sen. Marco Rubio publicly suggested Haley would be at "the top of everyone's list" for vice president in 2016 after she endorsed his campaign.
Haley rose to governor as a tea party conservative, one of the most prominent politicians in 2010's wave year for her party. She was the first woman to lead the state, as well as the first person from an ethnic minority. Haley had some struggles in her first term — including taking criticism from some tea party conservatives for her endorsement of Mitt Romney in 2012, before he lost in the state's primary. But Haley easily won reelection in 2014, riding an improving economy and proving herself as a strong fundraiser.
In her second term as governor, Haley got copious national attention for calling for the Confederate flag to be removed from the South Carolina Statehouse, in the aftermath of a white nationalist killing nine African Americans at a Charleston church.
Haley did not have a clear path to joining the Trump administration. During the presidential campaign, as Haley was campaigning for Rubio, Trump tweeted that "The people of South Carolina are embarrassed by Nikki Haley!" Once Trump had virtually locked up the nomination in May 2016, Haley said she would support "the Republican nominee for president," but was not interested in joining the ticket as a vice presidential nominee. Trump said days later that he never considered her for the job.
In October, just over a week before the election, Haley said she was "not a fan" of Trump and that her vote for him would not be easy. "This election has turned my stomach upside down," she said during a press conference Oct. 26. Just over a month later, then-president-elect Donald Trump named her his nominee for UN ambassador, after reportedly considering her for secretary of state.
Haley was confirmed by the Senate on Jan. 24, 2017, with only four senators voting against her nomination.
Haley took a sharper tone on Russia than the president did during his campaign in her first speech to the UN, using it to condemn the country's recent actions in Ukraine. "I consider it unfortunate that the occasion of my first appearance here is one in which I must condemn the aggressive actions of Russia," she said. At the time, the White House said that Michael Flynn, who was then Trump's national security adviser, had talked over the comments with Haley before she made them and "agreed" with the remarks.
She also took a bellicose line with her fellow ambassadors last December while opposing a resolution against Trump's move to recognize Jerusalem as Israel's capital. "The president will be watching this vote carefully and has requested I report back on those countries who voted against us. We will take note of each and every vote on this issue," she wrote in a letter to some countries' representatives.
But Haley's willingness to take a hard line ultimately put her at odds with her boss. Asked by reporters soon after the Russia sanctions flap about her relationship with Trump, Haley only said, "It's perfect."
In early April, Haley said on CBS's Face the Nation that new sanctions would be announced on Russia as a response to the Russian government's support for Syria's Bashar al-Assad. But that announcement, which made front-page news by the following day, did not immediately result in new actual sanctions — instead, the Trump administration said Haley was mistaken. "She got ahead of the curve," Trump economic adviser Larry Kudlow told reporters. He added that "there might have been some momentary confusion about that."
Haley directly rebutted Kudlow hours later. "With all due respect, I don't get confused," she said in a statement to Fox News.
Trump also ended the planned elevation in April of close Haley aide Jon Lerner to be an adviser to both Haley and Vice President Mike Pence. Lerner, who continued to advise Haley, had worked for a political group backing Sen. Marco Rubio's 2016 presidential campaign and has worked with Haley since her 2010 campaign for governor of South Carolina.
A source close to the White House told BuzzFeed News that, with the increasing power of National Security Adviser John Bolton and Secretary of State Mike Pompeo, it is not particularly relevant who replaces Haley. "I don't think it matters because Pompeo and Bolton are running the show."
Hayes Brown and Tarini Parti contributed additional reporting.