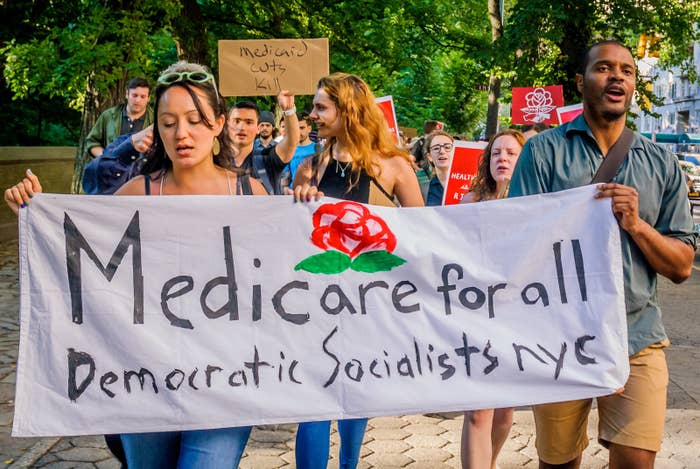 Nearly half of millennial Democrats identify as democratic socialists or socialists, according to a new poll of millennials in the US from BuzzFeed News and Maru/Blue.
The poll, which ran from Sept. 21 to 24 and questioned people aged 22 to 37, showed deep gender divides among millennials across a stretch of political questions, from what types of candidates they'd support to their own engagement in politics.
Millennial men were much more likely than women to call themselves a socialist or democratic socialist, with 39% of all men saying they'd identify that way compared to 22% of all women. Forty-eight percent of Democrats said they'd call themselves either a socialist or democratic socialist, compared to 31% of all millennials. Overall, 24% of millennial Democrats said it would not make a difference to them if a candidate for political office was referred to as a "socialist" — 37% of all millennial men said it would make them more likely to vote for the candidate, compared to 19% of millennial women. Only 15% of millennial Democrats and 27% of all millennials said they'd be less likely to vote for a candidate referred to as a socialist.
The survey did not define "socialist," "socialism," or "democratic socialist" for respondents.
The poll, which surveyed 1,006 millennials online, has a margin of error of 3% for the top-line results, and a somewhat larger margin for smaller groups, such as Democrats, Republicans, men, and women.
Men were also more likely than women to say they've been directly involved in politics since 2016, whether attending a political rally for a candidate, giving money to a campaign, or participating in a protest. Even with the massive women's march rallies across the country in 2017, just 15% of millennial women said they'd participated in a protest or demonstration since the 2016 election, compared to 22% of men. Those numbers were about even between Democrats and Republicans — 24% and 21% respectively.
If everything else was equal, 37% of millennial men said they would prefer a male candidate, compared to 16% of women who said they'd prefer a woman; 59% of all millennials said a candidate's gender, all else equal, doesn't matter, including 68% of women.
About one-third of all millennial men (36%) said they would prefer a white political candidate, if all else was equal. Only 11% of women surveyed held that belief. That question also comes with a major partisan divide: 42% of Republicans said they'd prefer a white candidate, compared to 22% of Democrats. And while 51% of millennials said it wouldn't matter to them if, all else being equal, a candidate was straight or LGBTQ, a slim majority of men (53%) said they'd prefer a heterosexual candidate.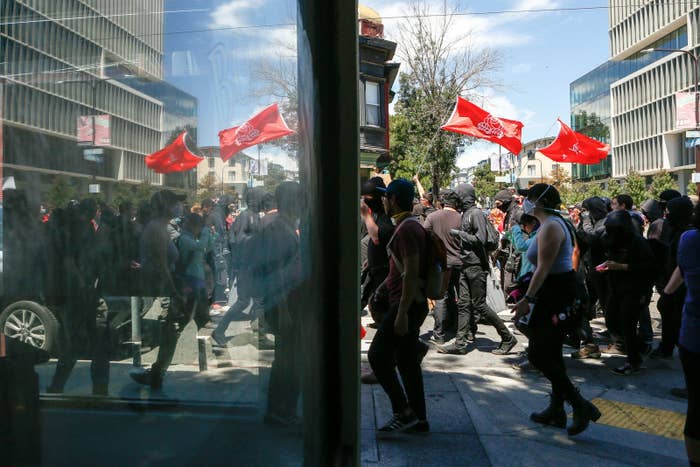 Half of millennials polled said they think there should be an age limit on who can run for president, something that'll be particularly relevant for a handful of older potential Democratic 2020 candidates. Twenty-five percent of Democratic millennials believe people over 65 are too old for run for president and 22% believe people over 70 are too old — barometers that would rule out Bernie Sanders (who is now 77), Elizabeth Warren (who is now 69), Joe Biden (who is now 75), and Michael Bloomberg (who is now 76).
And while millennials overall were far more likely to disapprove of how President Donald Trump has handled his job than approve (52% vs. 34%), women disapproved at higher rates (62%) than men did (42%). Millennials were most likely to say they were bothered by Trump's family separation policy at the border (71%), his tweets (66%), the way he talks about Hispanic and black people (68%), his handling of the hurricane in Puerto Rico (65%), and how he talks about "the wall" and approaches neo-Nazis, the alt-right, and white nationalists (64% for each).
And while 60% of all millennials said they support impeachment proceedings against Trump, women were more likely than men to strongly support proceedings, with 44% of women saying that compared to 35% of men. There is, of course, a large partisan divide on that question: 81% of Democrats said they would support impeachment proceedings, compared to 32% of Republicans.
About the poll:
From Sept. 21 to 24, an online survey of 1,006 randomly selected American adults aged 22–37 who are members of Maru/Blue's online panel Springboard America was conducted. For comparison purposes, a probability sample of this size has an estimated margin of error (which measures sampling variability) of +/- 3%, 19 times out of 20. The results have been weighted by age, gender, ethnicity, and region to match the 22- to 37-year-old population, according to Census data. This is to ensure a sample representative of the relevant adult population of America. Discrepancies in or between totals are due to rounding.