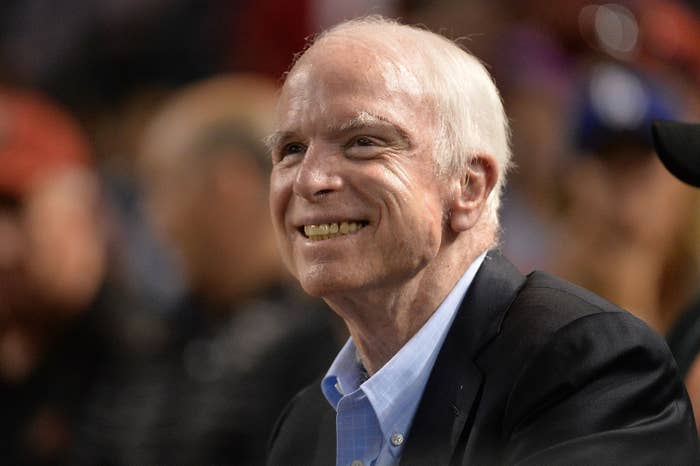 Sen. John McCain, who revealed this summer that he has an aggressive form of brain cancer, said Sunday that his "prognosis is pretty good."
"This is a very vicious form of cancer that I'm facing," the Arizona Republican told CNN's Jake Tapper. "But all the results so far are excellent. Everything's fine."
McCain, who was in Washington, DC last week as the Senate returned from its summer recess, said he'll be at work again this coming week as the Senate begins work on a defense bill.
But he spoke openly Sunday about the significance of his health challenges, and reflected on his own mortality.
"I'm getting the best treatment that anybody could get," he said. "And I'm very happy. I'm very happy with my life. I'm very happy with what I've been able to do. And there's two ways of looking at these things, and one of them is to celebrate. I am able to celebrate a wonderful life and I will be grateful for additional time that I have."
He told Tapper that he'll be getting an MRI on Monday to see how well his treatment has worked.
"So far, all indications are very good. But, again, I'm not trying to paint this as a rosy picture. This is a very virulent form of cancer," he said. "It has to be fought against. We have new technologies that I won't bother you with the details of that make chances better. But Jake, every life has to end one way or another. I think it was a playwright, I'll think of his name in a minute. He said, 'I always knew that no one could live forever, but I thought there might be one exception.' So you've got to have joy. Joy."
McCain also took questions about what happened in Congress last week, with President Trump going over the heads of GOP leadership to cut a budget and debt ceiling deal with House Democratic leader Nancy Pelosi and Senate Minority Leader Chuck Schumer.
"This was not an exercise in bipartisanship," McCain said, because it left out House Speaker Paul Ryan and Senate Majority Leader Mitch McConnell. He added that the deal "is basically devastating to national defense" by not adding additional funding from current levels, which is "unconscionable."
McCain also said Congress should act to help the young undocumented immigrants brought to the US as children who had been protected against deportation by the Deferred Action for Childhood Arrivals program, which Trump rescinded last week. But he called for a "comprehensive" immigration fix as opposed to a standalone measure just focused on DREAMers.
"We need to do that and make the DREAMers part of it," he said, adding that it's "not conscionable to tell young people who came here as children that they have to go back to a country they don't know."
Towards the end of the interview, Tapper asked McCain how he wanted American people to remember him.
"He served his country, and not always right. Made a lot of mistakes. Made a lot of errors, but served his country. And, I hope we could add, honorably."