Hillary Clinton didn't have a firm answer to the first question she answered in a new TV interview: How are you?
"I think I am good," she told CBS's Jane Pauley in an interview that aired Sunday morning. "But that doesn't mean that I am complacent or resolved about what happened.
"It still is very painful. It hurts a lot."
The interview comes as Clinton prepares to embark on a tour for her new book on the 2016 presidential election, What Happened. The 2016 Democratic nominee is still working over how she lost to Donald Trump and defending some of the roundly criticized steps she took in her campaign.
Clinton gave a familiar defense for why she said in early September last year that "you could put half of Trump's supporters into what I call the basket of deplorables."
"Well, I thought Trump was behaving in a deplorable manner," she told Pauley. "I thought a lot of his appeals to voters were deplorable. I thought his behavior as we saw on the Access Hollywood tape was deplorable.
"And there were a large number of people who didn't care. It did not matter to them. And he turned out to be a very effective reality TV star."

In fact, the Access Hollywood tape, which showed Trump in 2005 bragging about how his celebrity status allowed him to grope women, was not made public until a month after Clinton's "deplorable" remarks.

Clinton would not concede that her comment "energized" Trump's supporters.
"They were already energized," she told Pauley.
Asked if she offended some people with the comment, Clinton said, "I don't buy that."
"I'm sorry I gave him a political gift of any kind," she said, adding that the "gift" was not politically "determinative."

She did say that "the most important of the mistakes" she made was using personal email. But she pegged the problem to how it was explained to voters.
"I've said it before, I'll say it again, that was my responsibility. It was presented in such a really negative way, and I never could get out from under it. And it never stopped."
And she said former FBI director James Comey's decision to notify Congress that there were potentially new developments into the bureau's investigation into her email use over a week before the election "just stopped my momentum."
"At the same time [Comey] does that about a closed investigation, there's an open investigation into the Trump campaign and their connections with Russia. You never hear a word about it. And when asked later, he goes, 'Well, it was too close to the election.' Now, help me make sense of that," Clinton said. "I can't understand it."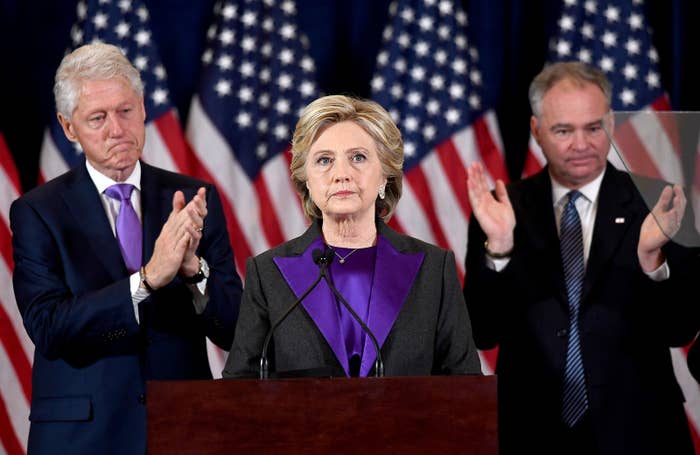 Clinton told Pauley that Trump's win took her by complete surprise. "I felt like I had let everybody down," she said.
She said she "had not drafted a concession speech. I'd been working on a victory speech."
"I just felt this enormous letdown, this kind of loss of feeling and direction and sadness. And, you know, Bill just kept saying, 'Oh, you know, that was a terrific speech,' trying to just kinda bolster me a little bit.

"Off I went, into a frenzy of closet cleaning, and long walks in the woods, playing with my dogs, and, yoga, alternate nostril breathing, which I highly recommend, trying to calm myself down. And, you know, my share of Chardonnay. It was a very hard transition. I really struggled. I couldn't feel, I couldn't think. I was just gobsmacked, wiped out."
Clinton, who said she knew she would have to "work extra hard" during the campaign "to make women and men feel comfortable with the idea of a woman president," gave Trump credit for his own campaign messaging.
"He was quite successful in referencing a nostalgia that would give hope, comfort, settle grievances for millions of people who were upset about gains made by others," she said.

Asked by Pauley if she meant "millions of white people," Clinton agreed: "Millions of white people, yeah, millions of white people."
At the end of the interview, Clinton said that she will never run for office again.
"I am done with being a candidate," she said. "But I am not done with politics, because I literally believe that our country's future is at stake."