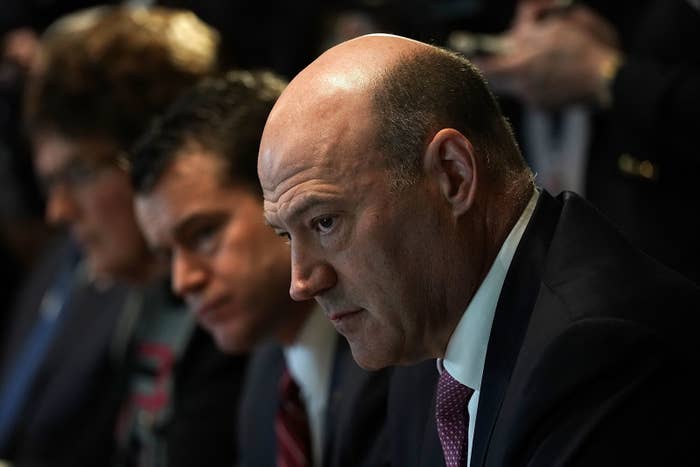 Gary Cohn, President Donald Trump's chief economic adviser, is leaving the White House.
"Gary has been my chief economic adviser and did a superb job in driving our agenda, helping to deliver historic tax cuts and reforms and unleashing the American economy once again," Trump said in a statement. "He is a rare talent, and I thank him for his dedicated service to the American people."
The New York Times first reported Tuesday that Cohn would resign.
Cohn was one of the few administration officials directly involved with negotiating the biggest legislative success to date of Trump's presidency — last year's tax plan. But he has reportedly been frustrated with the president's moves since then, most recently by Trump's move to impose tariffs on steel and aluminum imports.
"It has been an honor to serve my country and enact pro-growth economic policies to benefit the American people, in particular the passage of historic tax reform," Cohn said in a statement. "I am grateful to the President for giving me this opportunity and wish him and the Administration great success in the future."
Cohn had a broad policy portfolio at the White House, which, according to officials, included infrastructure; the financial system; energy and the environment; health care, agriculture, and global economics; international trade and development; and technology, telecommunications, and cybersecurity.

But Cohn, a former Goldman Sachs president, was the subject of job speculation for months. There were reports dating back to last summer that his time in the White House would soon run out. Cohn was rumored as a likely candidate to replace Janet Yellen as chair of the Federal Reserve. That honor ultimately went to Jerome Powell. Most recently, there were reports that Cohn was one of the contenders in line to replace White House chief of staff John Kelly, who Trump has soured on.
Another Goldman alum, Dina Powell, recently left her job as Trump's deputy national security adviser to return to the investment bank. Cohn also joins a trove of high-level White House officials who have left or announced they would soon leave in the last month: Rob Porter, former White House staff secretary, resigned in early February after being publicly accused of domestic abuse; Josh Raffel, a senior communications aide who worked closely with Ivanka Trump and Jared Kushner, recently announced he would leave the White House; and Hope Hicks, longtime Trump aide and White House communications director, announced last week she would leave.
The announcement of Cohn's departure followed a joint press conference at the White House Tuesday afternoon, during which Trump told reporters, "I like conflict. I like having two people with different points of view, and I certainly have that, and then I make a decision. But I like watching it, I like seeing it, and I think it's the best way to go. I like different points of view."
Despite all the high-level departures in the past two weeks alone, Trump continued to deny any chaos within the administration during Tuesday's press conference. "Believe me, everybody wants to work in the White House. They all want a piece of that Oval Office; they want a piece of the West Wing. And not only in terms of it looks great on their résumé; it's just a great place to work. It's got tremendous energy," he said.
Trump did hint at more staff moves to come in a Tuesday morning tweet:
Although Cohn had been trying to change the president's mind on imposing tariffs on steel and aluminum imports in recent days, Trump's comments suggested he wasn't planning on backing down. "I'm here to protect," Trump said Tuesday. "And one of the reasons I was elected is I'm protecting our workers, I'm protecting our companies. And I'm not going to let that happen."
"So we're doing tariffs on steel. We cannot lose our steel industry. It's a fraction of what it once was. And we can't lose our aluminum industry. Also a fraction of what it once was."
Cohn was also aggressively targeted by the far right — inside and outside the White House — for much of his tenure, with many frequently using the globe emoji in talking about him. Following Cohn's resignation announcement, a former White House official simply texted: "🔥🌎🔥."
Cohn was characterized as one of the White House's collection of New York Democrats, hell-bent on blocking Trump's swamp-draining agenda. Breitbart, the far-right site formerly controlled by former top White House adviser Steve Bannon, has been particularly hostile towards Cohn, deriding him as a "globalist" and frequently bracketing his name on its homepage with globe emojis.
Breitbart appeared to celebrate Cohn's planned exit Tuesday.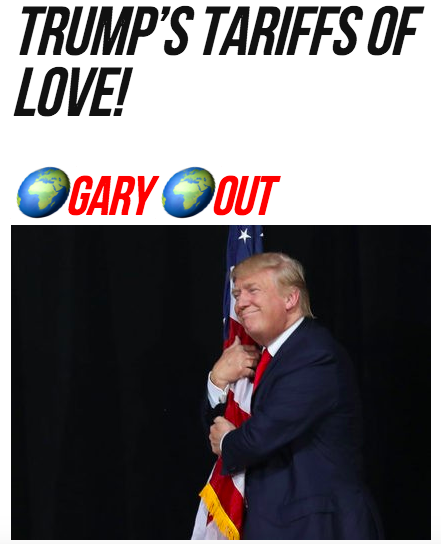 Bannon himself has been open about his mistrust of Cohn. In an interview with the American Prospect just before he left the White House, Bannon said he was pushing to marginalize more establishment or liberal voices in the administration. "We're still fighting," he told the magazine. "There's Treasury and [National Economic Council chair] Gary Cohn and Goldman Sachs lobbying."

Cohn often appeared disillusioned with the White House since last August, following Trump's response to the white supremacist rally and resulting violence in Charlottesville, Virginia. Cohn was upset with Trump's remark after the incident that "both sides" were to blame for the violence, and he was standing next to the president as Trump defended people who marched alongside white nationalists. Cohn, the New York Times reported, drafted a resignation letter at the time, but ultimately decided not to submit it.
Cohn's behind-the-scenes frustration about Trump's comments, and his on-the-record interview with the Financial Times about how Trump "must do better," appeared to deeply damage Cohn's standing in the White House.

Cohn's exact departure date, the White House said, is still to be determined.