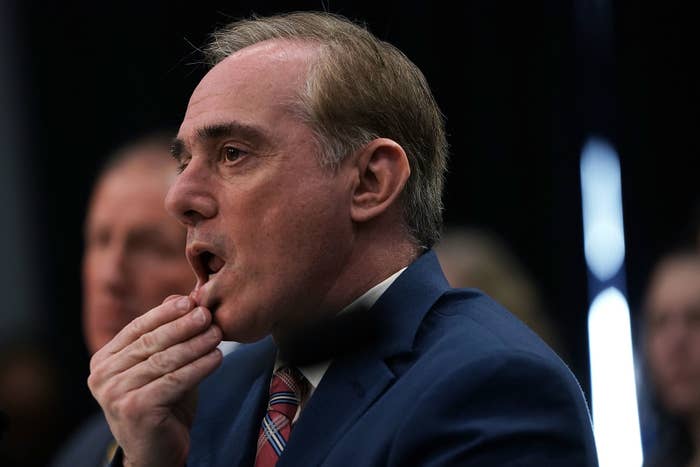 President Donald Trump's Veterans Affairs secretary, David Shulkin, will be stepping down from his position, as the president looks to further reorganize his cabinet.
Trump plans to nominate White House physician Ronny Jackson to replace Shulkin, a holdover from the Obama administration. The post needs Senate confirmation, however, and will be temporarily held by Under Secretary of Defense for Personnel and Readiness Robert Wilkie.
"I am proud to nominate Rear Admiral Ronny Jackson M.D. as Secretary of the Department of Veterans Affairs," Trump said in a statement sent from the White House soon after his tweets. "Admiral Jackson is highly trained and qualified and as a service member himself, he has seen firsthand the tremendous sacrifice our veterans make and has a deep appreciation for the debt our great country owes them."

Trump added that he is "grateful" for Shulkin's service and that he "has been a great supporter of veterans across the country."
Shulkin, whom the Senate unanimously confirmed for the job last February, is the second cabinet member to leave the administration in Trump's second year. He follows Secretary of State Rex Tillerson, who was fired in early March.
In a New York Times op-ed Thursday, Shulkin blamed his exit on people inside the department who are advocating privatizing the VA. "I believe differences in philosophy deserve robust debate, and solutions should be determined based on the merits of the arguments," he wrote. "The advocates within the administration for privatizing V.A. health services, however, reject this approach. They saw me as an obstacle to privatization who had to be removed. That is because I am convinced that privatization is a political issue aimed at rewarding select people and companies with profits, even if it undermines care for veterans."
He argued that those people made it impossible for him to do his job. "I have fought to stand up for this great department and all that it embodies. In recent months, though, the environment in Washington has turned so toxic, chaotic, disrespectful and subversive that it became impossible for me to accomplish the important work that our veterans need and deserve," he wrote.
But Shulkin's role in the Trump administration has been precarious for months, particularly after a February inspector general's report found Shulkin had committed "a number of serious derelictions" during a trip to Europe, including inappropriately using taxpayer money by using VA funds to pay for his wife's travel and improperly accepting tickets to a Wimbledon tennis match. The report also found that Shulkin misused department resources by directing a VA staffer to "plan personal activities" during the trip for himself and his wife.
"The OIG was able to determine that the trip cost VA at least $122,334," the report found. "However, the OIG could not be more precise because VA's documentation was inadequate to assess the accuracy and appropriateness of the trip costs. The OIG did identify discrepancies and potential errors that warrant a closer examination by VA auditors."
Shulkin's departure comes after the White House was routinely questioned by reporters in recent weeks about Shulkin's and other cabinet secretaries' improper use of taxpayer funds and how that aligned with Trump's campaign promise to "drain the swamp."
In response to those questions, White House press secretary Sarah Sanders praised Shulkin in early March, saying he "had done a great job."
"I outlined ... a number of the things that have been improved upon at the VA under his leadership," she said. "We're proud of the work that we've done, and we're going to continue to do everything we can to protect the veterans and helps veterans in this country."
Shulkin also defended himself in the aftermath of the report but agreed to comply with its recommendation.
He told the Military Times he had not intentionally acted inappropriately. "In retrospect, I wish I had asked additional questions of my staff," he said. "There was no intention of misusing government money. I relied upon my staff to make certain decisions."
Trump's cabinet changes come on top of other personnel moves that replace out-of-favor staff with allies. Just last week, Trump moved to replace his national security adviser, Gen. H.R. McMaster, with John Bolton. In the beginning of March, Trump announced he would replace his top economic adviser, Gary Cohn, with CNBC's Larry Kudlow.
Shulkin's ouster also creates more work for the Senate. The Senate has already been trying to schedule hearings in April and then confirmation votes for CIA Director Mike Pompeo to replace Tillerson at the State Department, and then would have to set up additional hearings and votes for Gina Haspel, whom Trump nominated to replace Pompeo at the CIA. The chamber will now also have to work in hearings and votes for Jackson, all while navigating the shortened schedule of an election year.
Jackson, who began active duty naval service in 1995, has served as the White House physician since 2006, working under presidents George W. Bush, Barack Obama, and Trump. He previously was deployed in Iraq as an emergency physician, according to his Navy biography.
Under Shulkin, Congress passed and Trump signed the Department of Veterans Affairs Accountability and Whistleblower Protection Act, which gives department leadership more leeway to fire employees and protects department staff who reveal improper behavior at the agency. Reforming the VA was a major Trump campaign talking point, and signing the bill was one of Trump's few legislative victories in his first year.
"Secretary Shulkin has acted in the best interests of America's veterans and was making meaningful, positive changes at the VA. We wish Secretary Shulkin well on his next venture," Denise Rohan, national commander of the American Legion, said in a statement Wednesday night.

Trump was once insistent that he would never get to the point of needing to push out his VA secretary. At an event last year, the president joked he would never have to use his signature catchphrase on Shulkin.