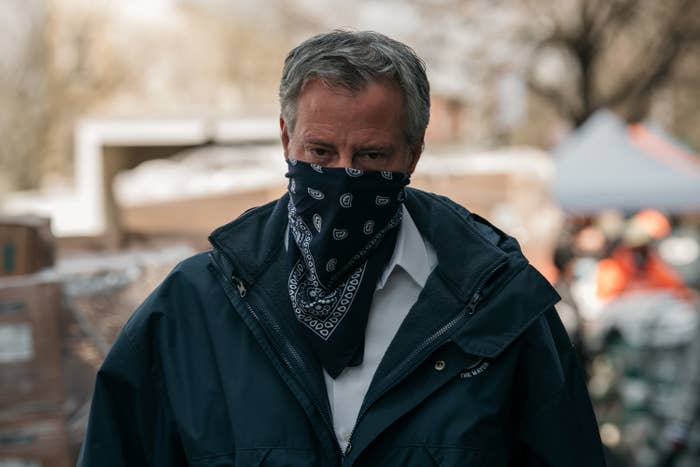 New York City Mayor Bill de Blasio found an impressively spooky combination of words late Tuesday night.
"My message to the Jewish community, and all communities, is this simple: the time for warnings has passed," he tweeted soon after taking part in breaking up a public funeral of an Orthodox rabbi in Brooklyn that had broken social distancing rules.
The tweet has spiraled out Wednesday, with some in and out of the city accusing de Blasio of anti-Semitism in specifically calling out the city's Jews and blaming a community of over 1 million for the dangerous actions of some 2,000. The Republican Jewish Coalition said the mayor's tweet "encourages and foments anti-Semitism." Wednesday morning brought an increasingly familiar online horror: the trending Twitter trifecta.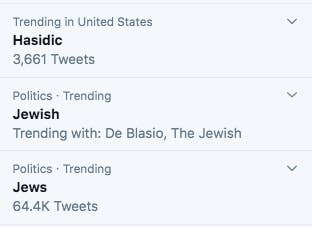 (In case you have doubts on this point, it has never in recorded history been good news for Jews when "Jews" is trending.)

It's easy to see why people are concerned by de Blasio's tweet. New York City's Hasidic community has been hit especially hard by the coronavirus, with some 700 people in the community dead in the New York area. And rather than being broadly oblivious to the disease, thousands of Orthodox Jews have volunteered to donate the antibodies in their blood plasma. The suggestion of specific blame for the virus's spread comes as there have been early reports of increased anti-Semitism in the US and around the world during the pandemic.
But the broad attacks on the mayor merit a correction. Bill de Blasio, regardless of what the president's eldest son and others who enjoy punching down at the oft-punched mayor suggest, is not anti-Semitic. He's clumsy, and reflective of the frequently well-intentioned but dangerous thinking about Jews that has become increasingly popular in American politics.
De Blasio has kept a tight relationship with New York City's ultra-Orthodox Jewish community, which is a powerful voting bloc in the city. That community, some of which he represented as a member of the City Council, has had an outsized role in his political career, helping him win his first mayoral election in 2013. When he ran for president last year (I swear he really did that), de Blasio leaned on the city's ultra-Orthodox community for donations to try and keep him in the primary debates.
That closeness has resulted in a series of controversies since de Blasio's been mayor. One sect of the ultra-Orthodox Satmars in Williamsburg, Brooklyn, endorsed de Blasio's mayoral bid under the belief that he would roll back a city health regulation limiting a religious circumcision practice. Since he's been mayor, the back-and-forth over those regulations has been at times dramatic, as infants' health has been put at risk. A city investigation report found last year that de Blasio had used "political horse-trading" to hold off on an investigation into the quality of Orthodox yeshiva schools, schools he has helped get city-funded security.
The NYPD acknowledged Wednesday that they had talked with leaders of Rabbi Chaim Mertz's synagogue soon after his death, before the community prepared funeral plans that they believed would be in line with city guidelines. De Blasio, if anything, has given elements of the city's ultra-Orthodox community unparalleled freedom, sway, and access to power over the last six years. You could forgive the thousands who came out to mourn a rabbi in Williamsburg on Tuesday night for thinking they'd be able to honor his life without city interruption based on that precedent.
"This is a community I love," de Blasio said at a news conference Wednesday, when asked if the Jewish community in Williamsburg deserved an apology for being singled out. "This is a community I have spent a lot of time working with closely. And if you saw anger and frustration, you're right. I spoke out of real distress that people's lives were in danger before my eyes. And I was not going to tolerate it."

What de Blasio has done, though, is inelegantly smash together a broad and diverse population and define them narrowly.
If you're part of (or just familiar with) New York City's large reformed Jewish community, you may have a pretty clear sense of what de Blasio means by "the Jewish community," a not atypical reference to the city's most religious. But even though it may not always feel this way, Twitter isn't exclusively a New York City thing, and the mayor's tweets carry out beyond the boroughs. The distinctions among Jewish communities — including among ultra-Orthodox communities — that are obvious on the street in New York are not obvious in much of the rest of the country or world. De Blasio, after years spent building political relationships with and representing New York's Jews, knows those distinctions.
American Jews are increasingly used to this kind of catch-all treatment. President Trump is dedicated to the tactic, painting "real" Jews as having but one opinion about Israel (it is, always, good) when large numbers of individual Jews contain contradictory opinions about Israel just within themselves (it is known). In other areas of US politics, Jews are portrayed as broadly left-wing, sprouted from a legacy of radicalism in the 20th century, despite the existence of a growing and insular Orthodox community that is largely removed from day-to-day national politics. The history here of Jews as a misbehaving or powerful monolith quickly becomes dicey, which no one really needs reminding of.
It's tempting to not want to read too much into a few words in a tweet. But the last few years have given us a near-daily reminder that words in tweets can matter. An inartful few words can linger.