Square CEO Jack Dorsey: "There's Going To Be A Bunch Of Noise"
On the day of Square's debut on the New York Stock Exchange, CEO Jack Dorsey talked to BuzzFeed News about the transition from private to public.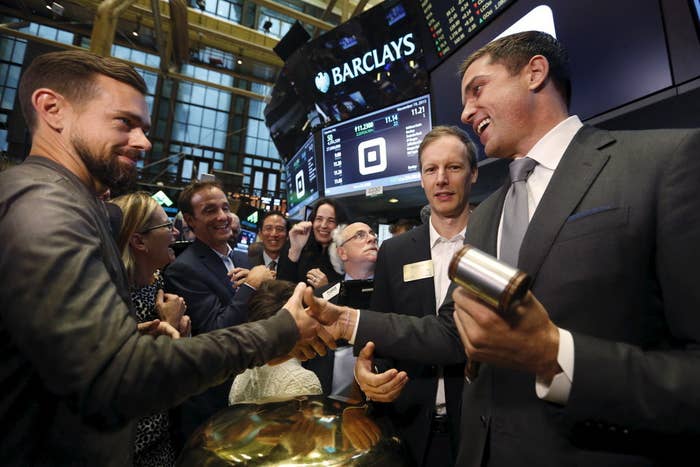 As Square went public Thursday, it became something of a poster child for the tech industry's most valuable startups. Its last funding round valued the company at $6 billion, but in selling shares to the public it accepted a far lower initial valuation: $2.9 billion, which rose to $4.5 billion as trading began. So is Square's IPO a harbinger of tough times ahead for Silicon Valley's unicorns?
In an interview with BuzzFeed News after trading began, CEO Jack Dorsey shrugged off such speculation, and rejected the idea of Square as an industry bellwether.

"There's going to be a bunch of noise — what it means for Jack, what it means for Square, what it means for the stock market — and we can't control any of that," Dorsey said. "This is one moment, and if we're optimizing for the transition from a private to a public market I don't think we'd be doing the right thing," he said.
Dorsey also batted aside questions about market conditions. Conventional wisdom seems to be coalescing around two somewhat contradictory points: That this is not a good time for highly valued tech startups to go public, and that the window for them to do so may be closing.
"It wasn't about the conditions, it was more about our readiness," he said. Square's finance chief Sarah Friar "has brought an amazing discipline to the company and we've been ready for a while."
Dorsey also used the question as an opportunity to, well, humblebrag about his board of directors. "I'm not an economist," he said, "but you should talk to Larry Summers on our board, or you should talk to David Viniar who is on our board and who was a CFO at Goldman."
One big question among onlookers in recent weeks has been about Dorsey himself, who is also serving as CEO of publicly traded Twitter. He said his dual roles weren't something investors had expressed much concern about during the company's pre-IPO roadshow.
"That question surprisingly did not come up a lot — I'm being very honest," he said. "If it did come up it was the question that we got as we were walking out."
"I thought it would be the first question out of everyone's mouth," he said.
"You hear Twitter and you hear Square and you assume a distance — there's an assumption that I had to travel some extreme path and there's no way that I could be at both companies every day." (In fairness, the two companies' headquarters are a block apart on San Francisco's Market Street. But then again, few doubters listed San Francisco commute times as the most difficult thing about running two public companies.)
"It is tough, I'm not going to say it's not," Dorsey said. "It's something that I take seriously and I want to be thoughtful about it and self-aware."
Instead, Dorsey said investors were highly interested in finding out exactly what kind of company Square really is. It's a reasonable question — Square's business is around payments and credit card transactions, but it makes its own hardware, provides small business loans and other small business services, and has even gotten into restaurant delivery.
"There's a lot of pattern matching that tends to happen. A lot of investors were trying to fit us into a familiar pattern," Dorsey said. "That was probably the biggest question: How do I model you — as payments company or a tech company? The answer is that we use technology to make payments more successful."