Facebook CEO Mark Zuckerberg announced two major things today. The most surprising is that he will give away 99% of his Facebook shares — worth $45 billion today — over the course of his lifetime. In more expected news, he also said, in a Facebook post, that his wife, Priscilla Chan, has given birth to a baby girl: Max.
"We are committed to doing our small part to help create this world for all children," Zuckerberg said in the post. "We will give 99% of our Facebook shares -- currently about $45 billion -- during our lives to join many others in improving this world for the next generation."
Though Zuckerberg didn't specify where the money will go, he did point out a number of areas of interest including: "curing disease, personalizing learning, harnessing clean energy, connecting people, building strong communities, reducing poverty, providing equal rights and spreading understanding across nations."
Zuckerberg will maintain a sizable amount of control over where the money goes and how it's used. "Mr. Zuckerberg has established a new entity, the Chan Zuckerberg Initiative, LLC, and he will control the voting and disposition of any shares held by such entity," Facebook said in an SEC filing.
The filing also said the money will specifically be used for these purposes: "to further the mission of advancing human potential and promoting equality by means of philanthropic, public advocacy, and other activities for the public good."

Facebook, in the filing, also noted that Zuckerberg will not give away more than $1 billion per year over the next three years: "He has informed us that he plans to sell or gift no more than $1 billion of Facebook stock each year for the next three years and that he intends to retain his majority voting position in our stock for the foreseeable future," the filing stated.

He and Chan also wrote a letter to their daughter, welcoming her to the world and laying out the type of change he hopes to see take place during her lifetime:
"Like all parents, we want you to grow up in a world better than ours today," the two wrote.
In the letter, Zuckerberg and Chan discussed a vision of improving the world through technology: "We must build technology to make change," they wrote. "Many institutions invest money in these challenges, but most progress comes from productivity gains through innovation." The two added: "We must back the strongest and most independent leaders in each field."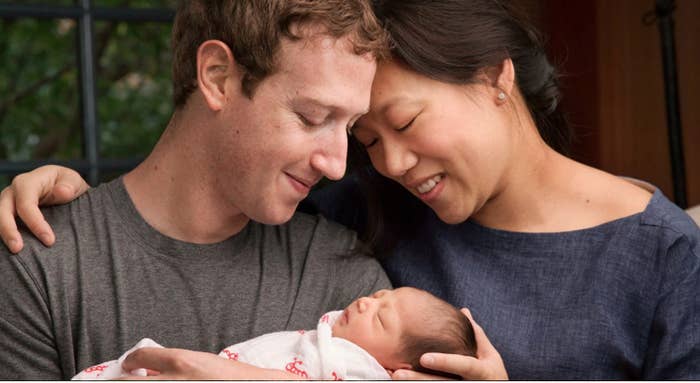 Chan's pregnancy has been an unusually public one, from the couple's open and frank discussion of miscarriages to Zuckerberg's announcement that he would be taking two months of paternity leave.

It's been a busy few weeks for personal news from the CEO. The news came just a few days after Zuckerberg announced that he was joining with Bill Gates to invest in the Breakthrough Energy Coalition, a clean energy fund, that "will invest in ideas that have the potential to transform the way we all produce and consume energy." On Nov. 21 he dedicated the new acute care and trauma center of the Zuckerberg San Francisco General Hospital.

He also posted a pretty boss picture of his dog.

Contributing: Caroline O'Donovan, Will Alden