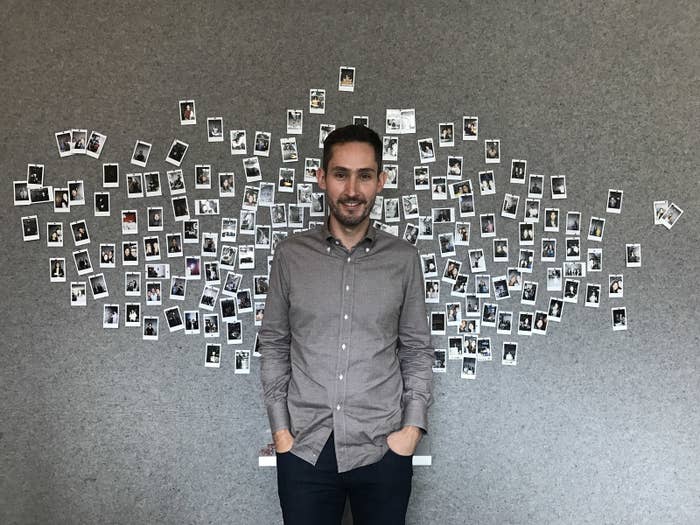 Two years ago, Instagram launched a new feature called Stories that was essentially a clone of something Snapchat had already done well. It was a risky move, radically changing up the look and feel of a beloved product that had otherwise changed very little in appearance over the previous five years. It also received a lot of heat from critics, though the company was transparent in its ambition to make the service more ephemeral. But now, two years later, Instagram CEO Kevin Systrom is ready to call it a success.
"First, I'll say the biggest question was, 'Will this thing work?'" Systrom said in a call with BuzzFeed News earlier this week. "A good way of measuring that is how many people use it. Over 400 million people now use Stories. If you open the app, your tray is always full of activity, it's full of personality, it's full of your friends. It's clearly touched a nerve."
To put that 400 million figure in perspective, it's twice the number of people who use Snapchat daily and more than the number of people who use Twitter every month. It's even more than the number of users Facebook, Instagram's parent company, has using its own Stories feature, which only hit the 150 million mark in May.
That last bit is interesting because there's certainly a perception that Instagram Stories have been successful because they capitalized on something Snapchat was already doing well and then built it into an existing product with a lot of users. But by that argument, Facebook — which has 1.45 billion users compared to Instagram's 1 billion — should dwarf the smaller service given that its Stories product used the same strategy.
"Why don't I answer directly why I think it's popular on Instagram without expressing why I think it is or isn't popular anywhere else," Systrom said in reply to a question on Instagram Stories' popularity compared with those on Facebook. The Instagram CEO went on to note that the feature had helped make the Instagram experience less precious, giving people an "overflow valve" for stories they might not want to drop in their main feeds.
"When [Instagram cofounder Mike Krieger] and I launched this thing, it basically was Stories," he said. "People's photos were pretty terrible, right? Like, if you go back to my early photos, they're really just visual status updates."
"As the community grew and grew and grew ... there was a pressure to post something amazing every single time," Systrom said.
"[Stories] was the prescription to that very problem — 'Man, every time I post on Instagram, it has to be great.' This literally solved that problem, in this same exact space without violating any of the norms of feed," he said. Circling back around to the original question, he went on to say, "I think that the fact that it works on Instagram is because it addresses a direct problem that people had with feed. And if you didn't have that problem, I don't think it works nearly as well."
Systrom also pointed to the ways Stories have become more interactive as a key to growth.
"The second question was, 'Okay, did you just copy this thing, or did you make it your own?'" he said. "If you look at the history of Stories, you'll see that we have in fact built a bunch of really unique things on top of it," he said, pointing to new features for asking questions, emoji reaction sliders, and polling. "It's one of the first times that you really see a broadcast format turned into an interactive format."
Much of that interactivity grew out of watching what users were doing on the platform, Systrom said. "The questions sticker actually came from seeing people ask questions, and then what happened is people would respond in [private messages] with a question, and then you would have to go create a new story where you repeat the question, and then you answer it."
"So in many ways, what we're seeing is organic behavior that we're trying to now re-grease the wheels. A bunch of the stuff that we've built, whether it's the music sticker, the questions sticker, or the polling sticker, are all coming from consumer behavior that we see."
BuzzFeed News also asked Systrom about the specter of bad actors, including Russian operations, coordinating political influence campaigns on social platforms. Facebook had previously announced measures it had recently taken to fight "coordinated inauthentic behavior," which included Instagram. The Instagram CEO didn't have much to add on the topic, however. "We have a giant team at Facebook and Instagram doing exactly what you might expect to remove these things," he said and referred to a briefing the company had already given reporters on the topic.