Instagram's highly curated feed often feels like a museum full of people's best work. Now, the company is adding a new section that's more akin to a pop-up gallery show: messier, more chaotic, and with a see-it-now-or-miss-it-forever quality to it. This new section, called Stories, will play host to photos and video that don't live in your main feed and, crucially, vanish after 24 hours.
The company is hoping that Stories will encourage people to share more pictures and video by making that media feel less permanent and consequential. The hope is that people will spend more time on its own platform and less on others — like say, Snapchat, with which this update shares more than a little in common. In any case, it's a major change for Instagram, probably it's most substantive feature update since it added support for video, and signals a concerted effort to bring the same kind of raw experiences people are sharing elsewhere without saying goodbye to its precious little boxes.
Here's How Stories Work
Stories appear across the top of your Instagram feed, as a series of circles with the avatars of people and brands you follow.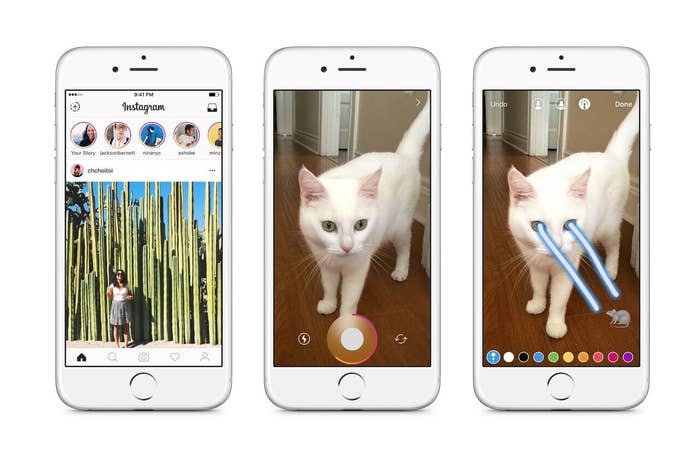 When you tap on a Story, it loads, begins playing, and advances from moment to moment automatically. So if someone has posted a series of updates throughout the day, an Instagram Story will take you through those moments in the same order they were uploaded. When you finish one person's Story, the app automatically advances to the next person or brand, and so on.

Like Instagram's main feed, and Facebook's News Feed, Stories will be ranked algorithmically — so you'll see the most recent updates from people you interact with most frequently getting the most prominent placement. The app only has room for five slots across the top, including your own Story, and Instagram says it is trying to make sure it teases you with whichever Stories are the most relevant at any one time. Once you start viewing Stories, you can see all the updates, from everyone you follow, over the the last 24 hours.
The new feature also has tools to let you see everyone who has viewed your Story, and to prevent people from viewing your Stories if you don't want them to. On the other hand, if you want to share a Story more widely, you can move pictures and video over to the main feed as well.
Creating a Story is also different, with a full-screen camera window oriented for portrait layouts, and tools for adding text, drawings, and emojis to photos.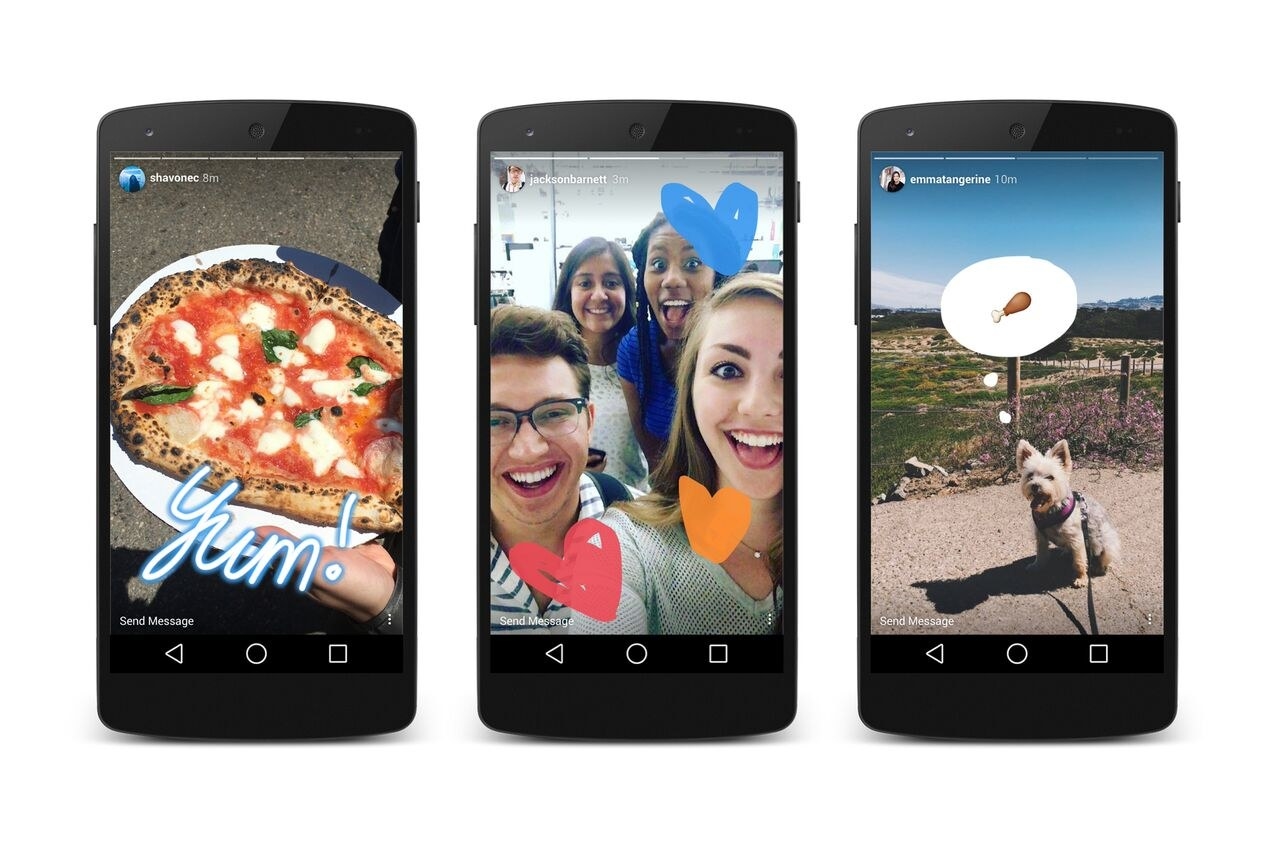 When you launch the Stories camera, it's full-screen (rather than the square window you see in the normal Instagram camera). You can capture video just by holding down the button that appears on the bottom of the window. Once you've got your shot, or video, it just takes a tap to post it to a Story — but there are ways to add effects, too. A text tool will let you drop words or emojis across the screen. There are also three drawing tools with which you can paint, add highlight colors, or add neon hues to your shots. The experience is fast, casual and, well, very much like Snapchat.
The Snapchat Stories Story
It's hard to view Instagram Stories as anything other than a direct shot at (or, less charitably, blatant rip-off of) Snapchat Stories. While Instagram has added just enough of its own sauce, you could be forgiven for thinking you were, well, in Snapchat Stories.

Instagram has suggested that its inspiration comes from what the company is seeing on its own platform, not others, and that the new feature set is driven by what people are already doing on the platform using workarounds — like importing images with text over them from other apps, or using secondary accounts, so-called finstagrams, to post more casual and realistic content from their day-to-day lives. Instagram says its community wants to share more, but feels reluctant to put too much into the feed, and Stories present a way for people to add a lot more media without bulking up the main feed.
And yet, it's hard to see this update and not wonder if Instagram didn't set out to take what it saw as a huge driver for Snapchat, and simply import it into Instagram.
The company's head of product, Kevin Weil, told BuzzFeed News that's not the case. "It's not where we came from," says Weil, who formerly ran product at Twitter. "I think that the Stories format is seeing broad adoption and I think will be adopted by a lot of folks. In the same way that Facebook has a feed, and was first to introduce a feed, and now lots and lots of apps have feeds. Twitter was the first to use hashtags; now hashtags are everywhere. If you saw another service launch with hashtags, you wouldn't think anything of it and you certainly wouldn't expect them to call it something other than hashtags. I think Stories will be viewed the same way. It's a new format, it's a powerful format, it's one that I think will be adopted across the industry."
Okay! Be that as it may, a lot of people will find this update a bit... familiar when it pushes live, globally, on Tuesday for iOS and Android.