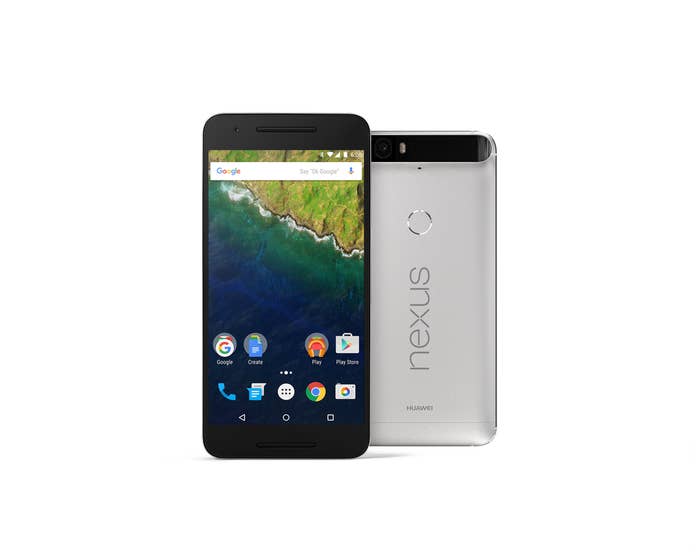 Google announced two new Nexus handsets Tuesday, the Nexus 6P and Nexus 5X. Both run Android M, the latest version of its operating system, and both are as boss as Hogg. If you like Android phones, you're going to like these. Hell, even if you're iPhone-committed, they're worth seeing.
The Nexus 6P has a larger display, and thus is a bit bigger overall, at 5.7 inches. It also has a faster processor and is made of aircraft-grade aluminum — in case you want to, I don't know, fly it. It comes in aluminum (silver), graphite (black) & frost (white), and starts at a cool $499 for the 32GB model, $549 for a 64GB model, and $649 for a 128GB model, all unlocked and off contract.
The Nexus 5X is a device that Google refers to as "a sequel" to its popular Nexus 5, a phone that came out two years ago. At 5.2 inches, the 5X is a bit smaller than the 6P and it doesn't have quite as much kick to its processor. Its storage maxes out at 32GB, which is not a lot — even if Google does want you to keep all your data in the cloud. And rather than aluminum, the 5X has a smooth-touch painted plastic back. Having said that, it's a very nice device. It starts at $379 for the 16GB model, while a 32GB model is $429, both unlocked and without a contract.
This is the first time Google has rolled out two Nexus handsets at once. It's a real departure. And so a week before they launched, Hiroshi Lockheimer, VP of Android, ChromeOS, and Chromecast for Google, explained the thinking behind the two phones. In a windowless conference room at Google's Mountain View, California, headquarters, he walked BuzzFeed News through the history of Nexus devices and the origins of the 6P and 5X. There's a reason Google's doubling down on the Nexus this year.
"Something that the original Nexus 5 and the Nexus 6 taught us is that Nexus is a thing," Lockheimer said. It's got True Fans. But many of the Nexus 5 fans were turned off by the larger Nexus 6 form factor. Meanwhile, the Nexus 6 kids just wanted their phablets. "So that's why this year we decided to do two."
The two new handsets are made by separate manufacturers: The Nexus 5X is made by LG (as was the Nexus 5), and the Nexus 6P is from Huawei — the first Nexus device from the Chinese manufacturer. But in both cases, as with all Nexus devices, the hardware is a reflection of the software on which it runs. The Nexus line is meant to be Google's purest expression of Android, a way for the company to offer its vision of what Android can be in physical form.
And in both phones that form is most evident in the two pieces of hardware they share. The first is a 12-megapixel camera with fat 1.55 micron pixels to complement Android Marshmallow's faster, beefed-up camera app. These big pixels can gather more light, which makes them better for shooting indoors and in low light. The second shared feature is a fingerprint sensor, called Nexus Imprint, on the backside that lets people authenticate their devices with just a touch. The fingerprint sensor is made so that you can unlock the phone as you're pulling it from your pocket. Rather than placing it on the home button to be unlocked by the thumb — as Apple and Samsung have done — the Nexus 6P and 5X are designed to be unlocked by an index finger on the back of the device, in what Google thinks is a natural motion made when you grab a phone.
"Ergonomically, we thought that it actually made sense," Lockheimer said. "We just felt like you're holding it this way anyway, so why not put your finger there. Rather than doing that, you know, with your thumb." He theatrically moved his thumb down over the bottom center of his 6P, and then pushed it in his pocket. "So, literally, the way I use it, as I'm taking it out of my pocket, I press my finger on it, and done. It's just straight in. It's super-low latency — less than half a second."
The phone lights up, and it is, frankly, a gorgeous-looking device. Especially compared with the burly Nexus 6, last year's 6-inch model. The comparison is easy, because the Nexus 6 also sits on the conference room table right next to this new 6P. In fact, so does every other Nexus device the company has ever released — including the short-lived Nexus Q, and even a Nexus wireless charger.
Looking them over, what's so interesting about the Nexus line is that while these were all at one time flagship Android devices, Google didn't make any of them. When Andy Rubin, who ran Android for many years, introduced the Nexus One in 2010, he shrugged off complaints that Google had misled the press with statements that it wasn't working on its own phone. "I said Google won't build hardware," he argued.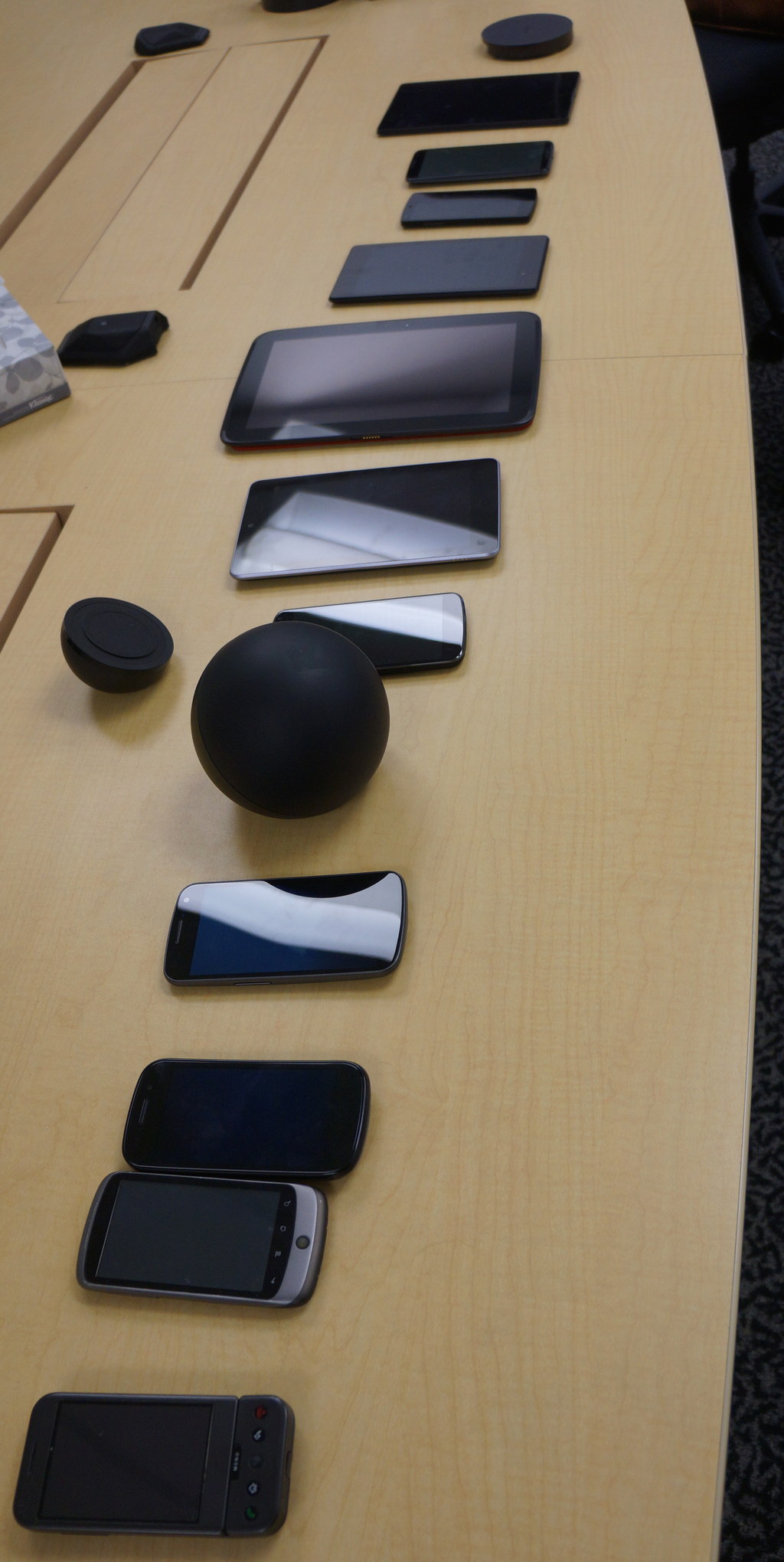 It's a small distinction, but an interesting one. Almost six years, and many devices, later, Google still doesn't actually manufacture its Nexus devices. But it does work intimately in their development.
"We have industrial designers, mechanical engineers, product designers for Google who are working really closely with their manufacturer counterparts. So it's not like, 'Oh, here's a device that they already have. Let's just slap our logo on it," Lockheimer explained. "We go in very early and say, 'Our product concept is this, we want something at this price point, with this type of feature.'"
Lockheimer said that the reason Google does this is to better understand the real-world implications of the way the software it is developing will work and run on emerging hardware.
"Our philosophy has been you can't build an operating system or platform in the abstract," Lockheimer continued. "So the goal is not in the context of some actual product. Platform vs. product is something we think about a lot here. A platform obviously is sort of an ecosystem with Play, applications, and the OEM industry and all that stuff. That's important, and that's really what we're about. But we didn't want to just build some software and throw it over the fence, and hope that some manufacturers would just be able to ship it. We wanted to prove out that the platform we were building was actually commercial-grade."
That tradition of proving out that software platform out on an actual device goes back a long way — further even than Nexus. In fact, it began even before the first Android phone shipped.
HTC Tornado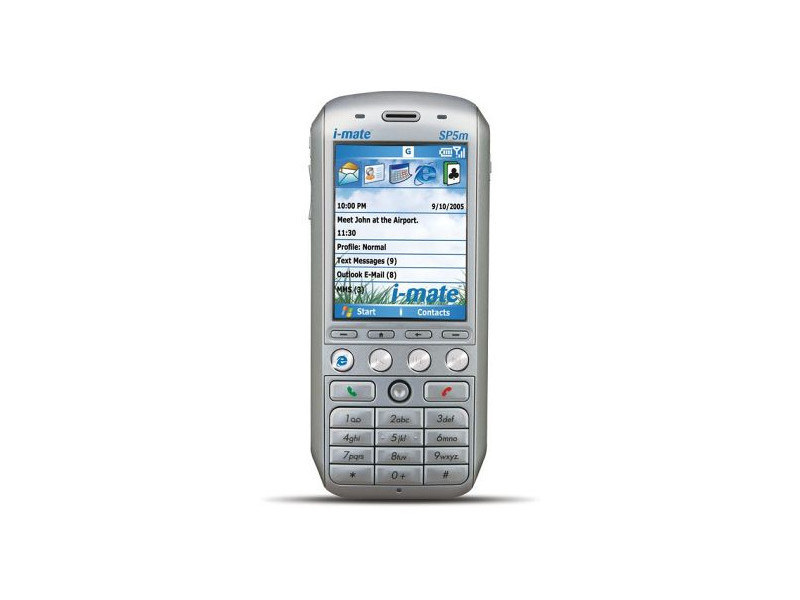 "I joined Google in April of 2006 to work on Android," said Lockheimer. "I knew Andy Rubin from Danger. I was the first employee — there were the three founders of Danger, and then, I was the first person to get hired. We kind of went our separate ways for a while. He ended up here [at Google] and then he called me and said, 'You know, we want you working on something.' Of course he couldn't tell me what it was."
That something was Android. Google had acquired Android Inc. in 2005 and had begun spinning up the division to work on then-nascent smartphone development.
"We had software up and running on a HTC Tornado. It was running a TI OMAP 850 processor — well, now we're just dating ourselves now — but that was cutting-edge at the time. It was a candy bar–style phone. And it was a 12-key, with a tiny little screen. That's what Android was running on when I joined. We always knew that that wasn't going to be our launch vehicle. That was just a development system."
HTC G1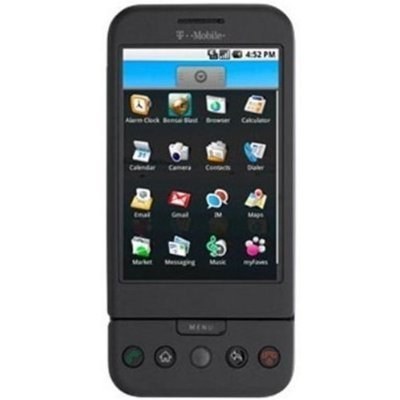 The first commercially available Android handset was the HTC G1, in 2008. It was a T-Mobile phone. It had a slide-out keyboard and could run applications in the background — a big deal at the time. Compared with the iPhones of its day, it felt like a workhorse, and the device showed it.
"We embarked on two hardware projects, and this was one of them. The code name for the G1 was Dream. There was another device called Sooner, which never launched. It was a device that had a keyboard on it, and the screen was oriented landscape, with the keyboard on the bottom. Those were our two development systems, and we ended up launching with [the G1]. But back in that day, we felt like tapping the keyboard was really important."
"When we launched the G1, we hired the mechanical engineering firm who designed this mechanism," Lockheimer said, referring to the swing-open keyboard. "We hired the industrial design firm that designed this device. So we were really involved, and we picked which processor to use, and we treated it as our own device, because we felt like you can't really develop an operating system on a platform in isolation. That's always been the way we've been thinking about it. The G1 wasn't called Nexus. But, in retrospect, that's exactly what it was."
Nexus One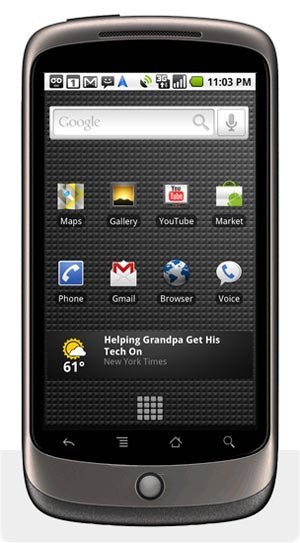 In between the G1 and the Nexus One, in late 2009, Motorola shipped the Droid. "That was when I think Android really took off," Lockheimer said. "That was the tipping point. It was Motorola. It was also Verizon. Verizon got behind it, and it was an exclusive with Verizon. It just went totally nuts — in a good way. That really changed the course of Android. A few months after that, this guy walks through: the Nexus One."
Google rolled out the Nexus One in January 2010, running Android version 2.1. But it was quickly upgraded to Android 2.2 Froyo. That immediate OS upgrade remains one of the Nexus's killer features — many Android handsets still have long delays before operating system upgrades, or don't upgrade at all. Google also sold it in a novel way: directly to consumers on its own web store, and it offered an unlocked version.
"For me, it was the first device where it felt like everything was working really, really well," Lockheimer said. "The Droid launched with Eclair, and that's when the software really started to mature. Then I feel like, with the extra few months, we really were able to perfect it with the Nexus One. It was just a really handy device. It was really successful for us. What's interesting is that it's the last device, until you fast-forward to the Nexus 9, we did with HTC."
Nexus S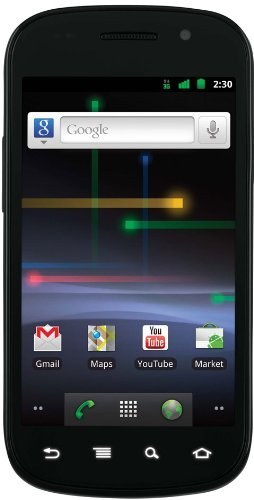 "When I look back at all these Nexus devices, I [also] think about the platform release that was associated with them," Lockheimer explained. For the Nexus S, which came out in late 2010, that release was Android Gingerbread. And he noted that it's an example of the way devices can inform platform releases.
"Here's an example: The Nexus S had NFC in it. I think we were really ahead of our time. But Google Wallet — you know today it's called Android Pay — back then, Google Wallet was the first payment system like that. So we really designed the end-to-end experience."
Nexus 7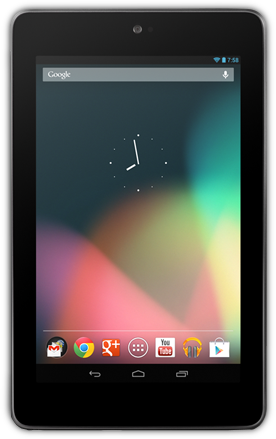 The Nexus 5X and 6P aren't the first to recycle earlier device names. There have been two Nexus 7 devices as well, both made by Asus.
"The Motorola Droid was the tipping point for phones, and I think the original Nexus 7 from 2012 was the tipping point for tablets," Lockheimer said. "It was running Jelly Bean, and it was $199. It was the first Android tablet that found the right sweet spot. The price, performance, quality, the content ecosystem around it. It was very successful for us, and I think this really changed the course of Android tablets."
Nexus Q
At Google IO in 2014, the theme was Android everywhere — in your car, in your TV, on your face. It had long been in cameras, and on a variety of other devices as well. But in 2012, the Q was the first Nexus device to attempt to dominate your living room. It had a bold design, and a unique vision, but it was a flop. The $300 device was deemed too expensive for what it did, and Google shelved it — although it gave it away for free to people who had preordered it.
"The Q was an interesting experiment to see what in-home-audio system-running Android would look like. But obviously, we didn't really commercialize it. Beautiful, beautiful industrial design. Beautiful materials. But it just wasn't practical in terms of sort of a price point."
Nexus 6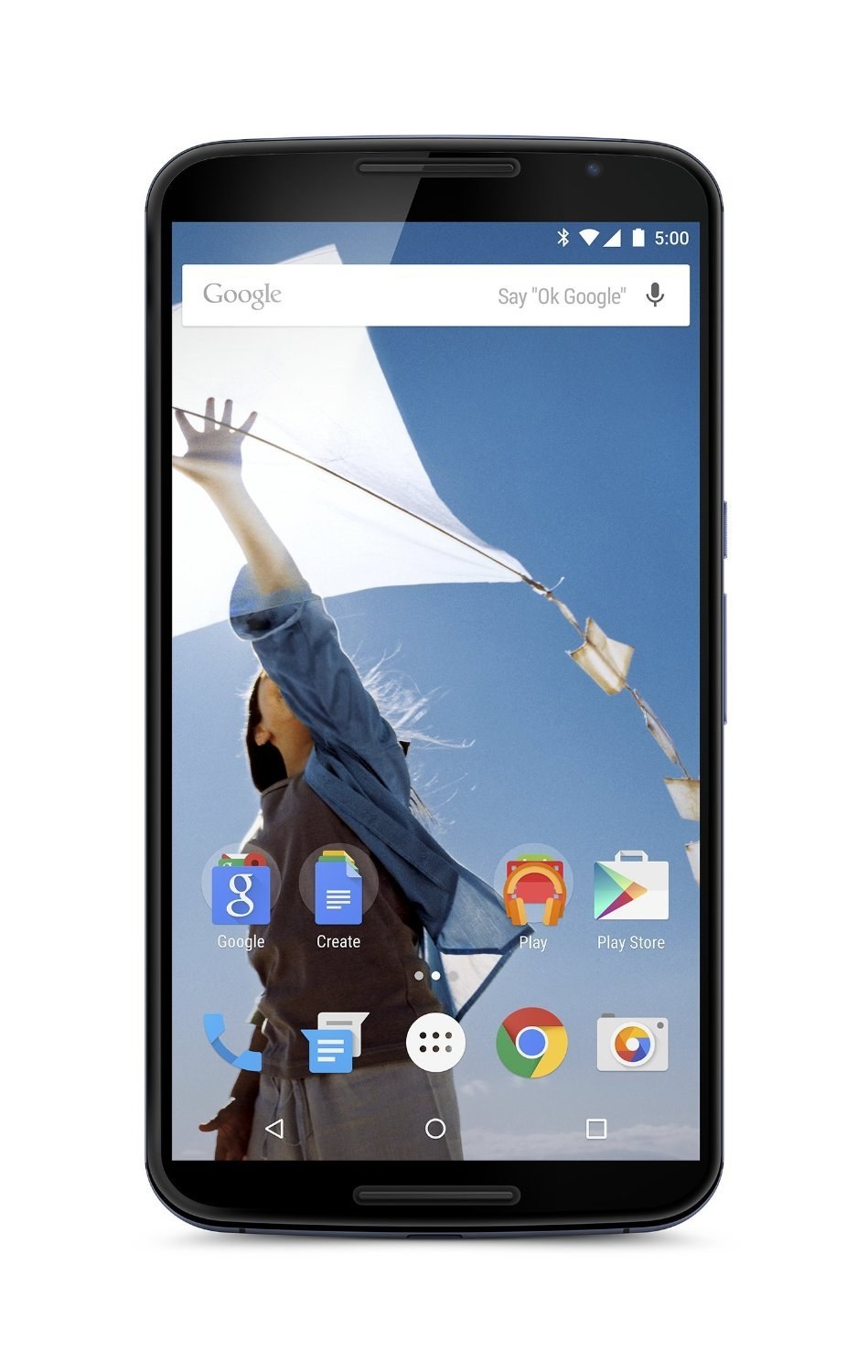 The Nexus 6, like the iPhone 6 Plus, was part of a trend in 2014 toward oversized phones from the big players in the American market, based on trends they were seeing internationally. Both followed the Samsung Galxy Note, which was already a hit. But while these phones may have been new to American consumers, they'd already blown up overseas — especially in countries where the phone can be the only screen someone owns. The Nexus 6 was a case study in tapping into that market to try to better understand how to build its operating system to best support it.
"We were very proud of the Nexus 5, but a year later, what we really observed was that the industry was shifting more towards phablets. More and more consumers were picking phablets, and a lot of our manufacturing partners were building tablets. We'd done tablets, we'd done phones, but we never did a phablet ourselves. We wanted to understand what that was about. What does it mean for the operating system to support a phablet? What are the trade-offs that need to be addressed? So that's why we did the Nexus 6."
What all these earlier devices share, whether a phone, or a tablet, or even a media device like the Nexus Player, is that they are the execution of Google's vision for what Android can be, in its purest form. That starts with the HTC Tornado and runs all the way up through the new Nexus 5X and 6P.
"What we focus on as we're developing Nexus devices, is to provide our customers with the most simple, streamlined Android, experience possible," Lockheimer said.