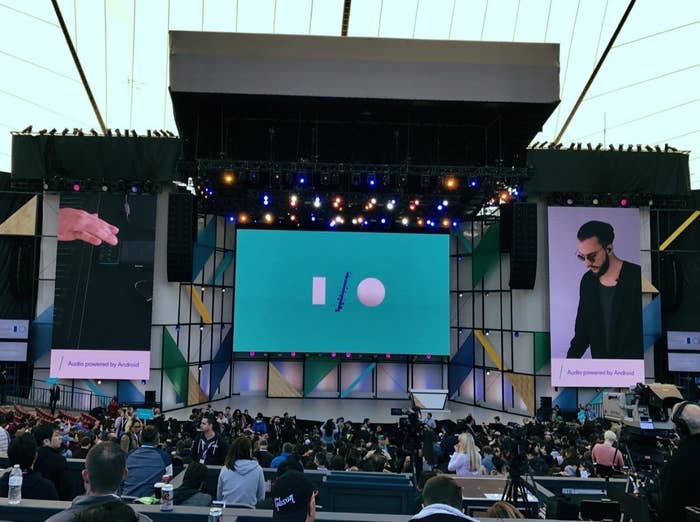 Welcome to Google IO 2017
On Wednesday at Google's annual developer conference in Mountain View, California, the tech giant unveiled a series of new software features and updates that emphasized the company's intensified focus on artificial intelligence, voice as an interface, and accessibility for new users in the developing world. Several of the company's marquee products got improvements or additions, including Gmail, Google Assistant, Google Home, Google Photos, YouTube, and its Android OS. Here are the highlights:
Google showed off its new mobile OS, Android O, which is packed with small – but meaningful – updates, including more intuitive usability and tweaks to optimize your device's battery, performance, and security.
Google announced Android Go, a pared down version of Android O that's optimized for entry level devices with 1 gigabyte or less of memory.
Google Home got several new updates, including a voice-activated hands-free calling feature, new AI-powered notification updates, and visual responses that use your TV and other devices to show as well as tell you when you ask Google Assistant questions.
Google debuted Lens, a new camera feature that uses computer vision technology to "see" the world around you, doing cool things like helping you pick a restaurant, identifying a flower on the street, or scanning signs and showing you relevant information.
Google Assistant is also improving — it's coming to iOS, you'll be able to type questions instead of just speaking, and it's better integrated in Google Photos, Home, and other Google products.
A new search feature will make it easier to job hunt by pulling information from Monster.com, LinkedIn, Career Builder, and Glassdoor to show people jobs tailored to their location and experience.
Google is making it easier to get a job.
Google CEO Sundar Pichai announced a new feature for search, aimed at job seekers. Since most users start their job search on Google anyway, according to Pichai, the company is partnering with Monster.com, LinkedIn, Career Builder, and Glassdoor to show people jobs tailored to their location and experience, right from the search results page.
Now when you search "retail jobs," Google will show you a number of job-related filters, including full-time or part-time, job title, and location. You can also see positions by how recently they were posted. After clicking in on an opportunity, Google will show you a description of the job, a map showing distance between your home and the office location, as well as information about the hiring company. Pichai said the new feature uses machine learning to group similar types of roles together (like "store clerk," "retail manager," and "sales associate"). The feature will launch in the US first with more countries to come.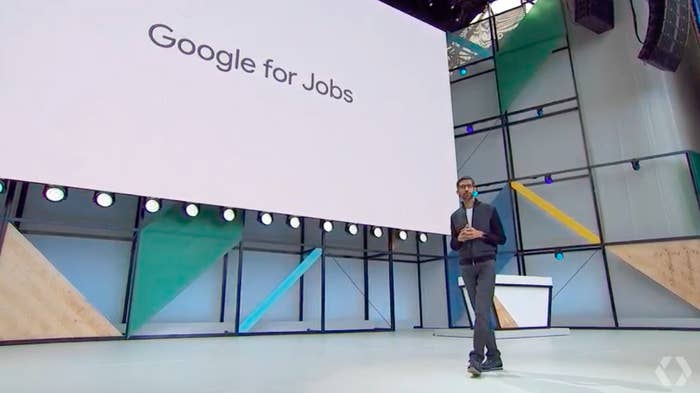 Google Is Making Standalone VR Headsets
After releasing Daydream, a virtual reality platform run via phones last year, Google is working on standalone virtual reality headsets that don't require a phone, cord or other outside device. Google is working with HTC and Lenovo to create these headsets. Daydream is also expanding, Google said LG's next flagship phone will support Daydream, as will the Samsung Galaxy S8.
Augmented reality is hot as ever in the tech world today, and Google isn't ignoring it. The company demonstrated something it calls VPS, or Visual Positioning Service, which can use your phone to guide you through a store, taking you to the right places to find the products you're looking for via an understanding of the store's layout. "GPS can get you to the door, VPS can get you to the exact item you're looking for," said Google executive Clay Bavor.
Android O Will Be Optimized For Global Users On Low-End Phones
Google is hyper-focused on the so-called next billion users — people who are coming online for the first time, typically on mobile. Google's Samir Samat noted that there are now more Android users in India than the United States. But these next billion users also often have low-end handsets, and data can be too costly. So building on its YouTube Go efforts, the company announced Android Go, an OS optimized to run smoothly on entry level devices. Go will be configured for all phones with less than 1 GB of memory that are running Android O, Google's newest mobile operating system. For Go, Google's system apps have been rebuilt to use less memory and data. And the Play store will highlight apps that are built using Go best practices. It will do things like showing how much data people have used from their pre-paid plans, automatically running data saver, previewing how much data downloads will consume, and sharing content peer to peer rather than via the internet.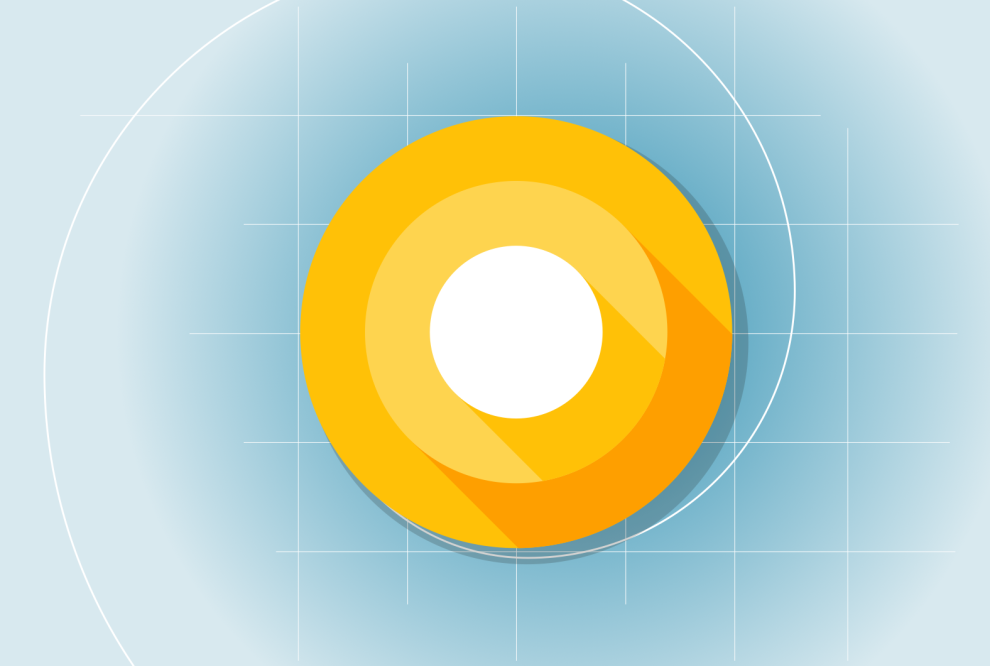 Major Improvements On The Way With Android O
Android's 2 billion+ devices are about to get a few big updates, that will boost their usability, battery life, and performance. On the usability front, Android is releasing a number of new features: There's Picture in Picture, which lets you do stuff like watch a YouTube video in the corner of the screen, while taking notes in another app. There's Notification Dots, which appear on top of app icons — when give the icon a hard press, it'll show you the associated notification. There's also Smart Text Selection, which highlights full phone numbers and venue names with a tap — an attempt to minimize the annoying level of cutting and pasting done on mobile. And that's just a sample of what's coming.
YouTube Adds 360 Video Support For TVs And A Superchat API
YouTube is bringing 360 video to the TV. YouTube CEO Susan Wojcicki said that watch time in the living room is growing by more than 90 percent a year. It's been intensely focused on cracking the big screen, and this is one more way it's going to try to do this. You'll be able to view 360 videos on your TV in YouTube apps, and then use the remote control to pan around the image.
It also announced a Superchat API, which will let creators build interactive features into their videos. Currently, Superchat lets people essentially pay to have a comment highlighted. But now the API will let creators give fans the ability to do things like turn the lights on and off in live videos or, as demonstrated here on stage at IO, launch a water balloon at them.
Google Photos Updated To Make Sharing More Seamless
Google Photos is adding new features to make photo sharing easier. Suggested Sharing, the first new feature, will pick out the best photos you take, figure out who's in them and then suggest you share them with those people. When you send photos to someone via Suggested Sharing, Google Photos will look for photos they've taken of the same event, and ask that they share some back to you. Photos is also introducing Shared Libraries, which will let you automatically share all the photos you've taken with a contact. With Shared Libraries, you can set parameters, such as instructing Google to only share photos with your kids in them, or to only share photos taken after a certain date. Finally, Photos is debuting Photobooks. They're created with the assistance of Google's AI, which can sort through photos you select, pick out the best, and lay them out. The software allows you to tweak as you see fit, and send the books to print. Photobooks are available today and start at $9.99.
Gmail Can Now Write Replies For You
Google is introducing a feature called Smart Replies to the Gmail app on Android and iOS that will suggest answers to some of your incoming emails. When you've selected a reply, you can send it immediately or edit it before sending. The feature makes use of Google's artificial intelligence software.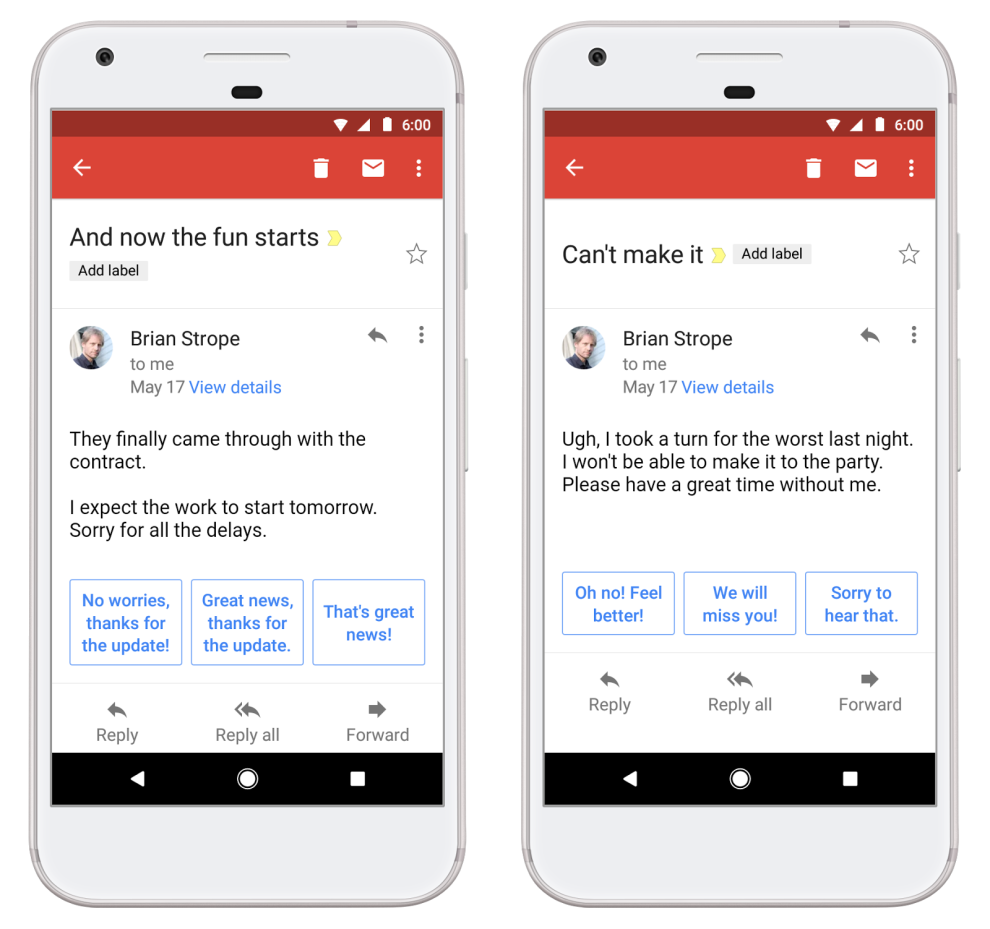 Google Home Gets Updates, Including Hands-Free Calling Update
Google Home — Google's Alexa-like standalone speaker with Google Assistant built in — is adding a bunch of new features and coming to Canada, France, Germany and Japan. It's already available in the US and UK.
Biggest news? It's getting a new hands-free calling feature that will let people make calls just by asking out loud. Tell Google Home to call a number or contact, and it will place a call to any phone number in the United States or Canada. Because it can recognize individual voices, it can call different people based on who is asking. "Since the assistant recognized my voice, we called my mom. If my wife had asked, we would've called her mom," said Google's Rishi Chandra.
It's also getting a proactive update features, which will let it do things like alert you that it's time to leave for your next calendar appointment, or notify you that a flight has been delayed. There are also additional streaming services coming to Home. Spotify is adding its free service to Google Home, and Google announced that Soundcloud and Deezer are on the way as well. Google will also add visual responses to Google Home. This means that you can ask Google for directions, and it will automatically notify your phone and open Google Maps, whether it's an Android or iOS. Chromecast will also get an update to show visual responses on your TV when you ask for help from Google Home. And you'll be able to ask, "Google what's on Youtube?", and it will show personalized responses right on your TV screen.
It was all pretty impressive, and really showcased how voice-as-interface seems inevitable in the next few years.
Google Assistant Gets Text Input Update — And It's Coming To The iPhone
Google Assistant is getting better — and coming to the iPhone. When using Assistant on phones, you'll be able to type queries, instead of just speaking them. Assistant will utilize Google Lens, a context-understanding camera feature that's capabilities were demonstrated by Google exec Scott Huffman, who showed Lens being pointed at a theatre marquee, understanding which band is playing, and offering options to hear music from the band, buy tickets and add the concert to a calendar. Google is also releasing an Assistant SDK, which should make Assistant available on all sorts of devices. Huffman showed lots of logos of companies in talks with Google about building in Assistant, including Sony, Panasonic, LG, and others.
Can't pick a place to eat?
Just point your camera at the restaurants you're debating, and Google Lens will help you decide.
Google Lens, A Camera That Understands The Real World
Google Lens is a new camera feature that you can use to make sense of the world around you. Lens uses computer vision technology, and Google CEO Sundar Pichai gave a few examples of what it's capable of: You can point Lens at a flower and it will tell you what type of flower it is, or you can point it at a restaurant on the street and it will show you its rating and other relevant information. You can point it at a Wi-Fi router's label that shows the network and password information, and it will connect you to the Wi-Fi network.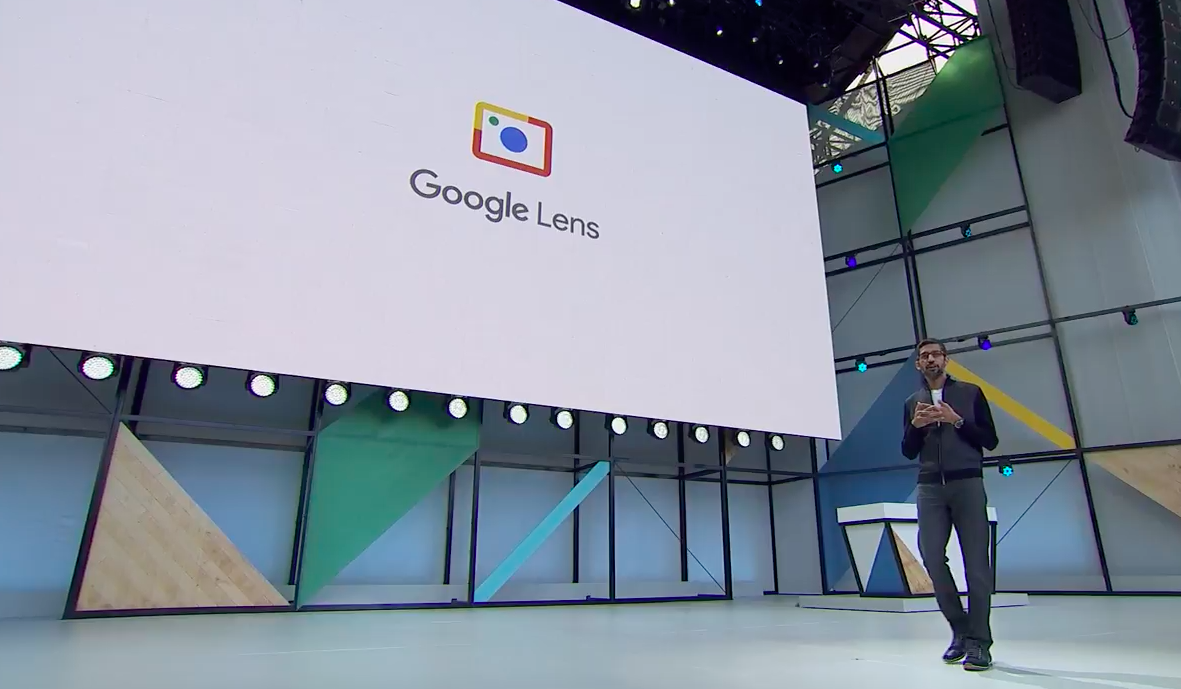 Google's Massive Scale
Google CEO Sundar Pichai ran through his product catalogue, delivering a tour de force update on the size of Google products, announcing that Android just passed 2 billion active devices. Here are some other numbers that describe Google's massive size, according to Pichai: Every day, users watch over 1 billion hours on YouTube, and they navigate over 1 billion kilometers on Google Maps. They upload 3 billion objects to Google Drive every week, and 1.2 billion photos to Google Photos daily. "It's a privilege to serve users at this scale," Pichai said.