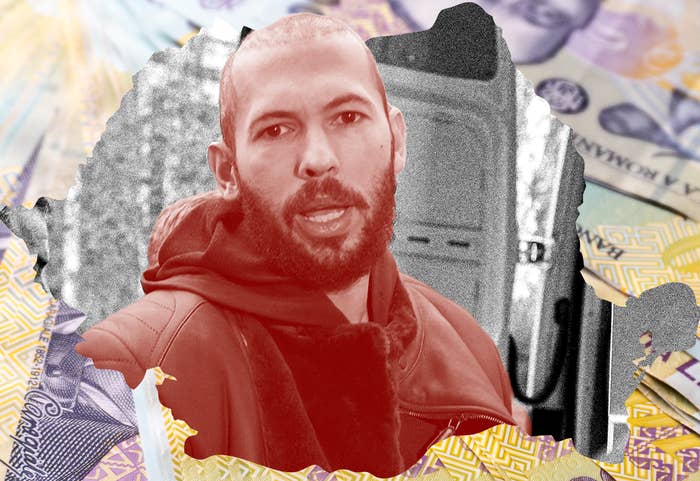 Misogynistic influencer Andrew Tate built himself a darker version of the Playboy Mansion just outside of Bucharest, Romania — a guarded compound full of sports cars and women. But the party came to a screeching halt on Dec. 29, when Romanian police arrested Tate, his brother Tristan, and two alleged accomplices. The foursome are accused of running a trafficking ring that forced women to create online pornographic content.

The allegations — rape, human trafficking, money laundering, and forming an organized crime group — could yield them decades in prison. The Tates will remain in detention until at least the end of March. On Tuesday, the alleged accomplices were ordered released from custody; they were to be placed under house arrest.

There has been widespread speculation that British-American Andrew Tate chose Romania as his base of operations because of lax law enforcement and state corruption. Appearing on the podcast The Fellas last year, Tate explained his attraction to the region. "I like Eastern Europe as a whole because corruption is far more accessible," he said. "I find it offensive that a police officer in England will stop me and refuse to take a bribe."

Tate has proclaimed his innocence and regularly gets his messages out via social media accounts he controls. Despite not having access to the internet in detention, Tate is thought to relay messages to his team via handwritten notes and jailhouse phone conversations. "He transmits them through methods that respect the laws and the limitations of his status at the current time," Tate spokesperson Mateea Petrescu told BuzzFeed News.

The high-profile arrests have brought increased scrutiny to Romania, a country rife with human-trafficking gangs. The nation, population 19 million, has been a global hot spot of human trafficking for years, and remains Europe's top source country in terms of victims, some two-thirds of whom are women and girls, according to various police forces and Eurostat, the EU's statistics office.

But Petrescu countered the prevailing narrative explaining why Tate chose Romania, where he created a casino and online business empire. "He said Romania was corrupt, which we all know," she told BuzzFeed News. "He didn't say that he chose Romania on the basis of this criterion. That is press speculation."
"Human trafficking and modern slavery have become a national sport in Romania."
She continued, "Andrew is a controversial public character." In an apparent attempt to show that Tate is prone to hyperbole, she added, "He said he has laser vision, that he doesn't sleep, that tigers don't attack him because they have an agreement."

Petrescu also said that in one of Tate's online videos, he says rape in Romania "is a very serious crime" and that he "wanted to live in a country with strong rules against abuse of women." (BuzzFeed News was unable to locate the video, and Petrescu did not provide a link when asked.)

But the reality on the ground in Romania is much different. In addition to the material poverty and lack of education many women live with, factors such as the country's geographical location (close to the Middle East and Western Europe), coupled with its membership in the EU, facilitate travel and enable international and domestic trafficking.

The US State Department has regularly criticized Romania's response to pervasive human trafficking in its yearly reports on the issue. The latest, published in July 2022, notes authorities' continuing efforts to improve, but concludes that "Romania remains a primary source country for sex trafficking and labor trafficking victims in Europe." More than a third of identified sex-trafficking victims, according to the report, are children. Romanian officials have been investigated for suspected involvement in trafficking, the report said.

Exacerbating the situation is the fact that investigative institutions are under-resourced and overwhelmed. A prosecutor from the Directorate for Investigating Organized Crime and Terrorism, the same department investigating Tate, said one obstacle prosecutors have in combating the growing phenomenon of human trafficking was a lack of specialist judiciary police, akin to senior detectives, in the Romanian system.

"Human trafficking and modern slavery have become a national sport in Romania," said the prosecutor, who spoke with BuzzFeed News on the condition of anonymity because he was not cleared for media interactions by his superiors. "We have prosecutors but not enough assigned police officers in our offices to deal with the cases."

Meanwhile, gangs, which are often composed of dozens of members each performing specific functions, make millions of dollars per year and have access to resources such as international safe houses, firearms, false travel documents, and expensive lawyers.

Iulian Lorincz, a member of the Romanian parliament who recently tabled a law aiming to boost the resources available to authorities against human traffickers, told BuzzFeed News that the Tate case is far from isolated.
"Tate saw a vulnerable state and a multitude of vulnerable women and chose to come here," Lorincz said, adding that he thought "misogyny plays a role" in Romania's social and institutional attitude toward the trafficking of women. "Romania has not been investing enough in protecting victims," he added.

The arrests of the Tates and their alleged accomplices were the exception rather than the rule, according to local experts BuzzFeed News spoke to, and international politics may have been at play.

"The US Embassy is very powerful in Romania," said Alexandru Gică, a criminal lawyer in Bucharest, commenting on the fact that the Tate investigation reportedly was sparked by a tip sent to the embassy in Bucharest regarding a young American woman who alleged being held against her will and assaulted by Tate.

"Tate probably thought that he'd be isolated from legal consequences" in Romania, the unnamed prosecutor said, adding that he believed the fact that an American woman had come forward with accusations against Tate embarrassed the local authorities and prompted them to take quicker action.

"If she had been Romanian, I think they would have moved slower," he added.
According to prosecutors, Tate employed the so-called loverboy method popular in Romania. It involves grooming the victim for months with false affection and gifts and then inducting her into a nightmarish existence of sexual slavery.

But when it came to Tate, there was a twist: He allegedly brought women from wealthy countries such as the US and the UK into Romania. That, combined with the numerous rants Tate posted online and his vulgar displays of wealth, is likely to have provoked the state, Gică said.

"The authorities would not have made such a big move against him unless they were confident in the evidence," Gică added, pointing to the fact that preventative arrest is considered "an exceptional measure" under EU human rights law.

That said, Gică also noted that many of the traffickers charged in Romania tend to be found not guilty or let off with short sentences. Sometimes their trials simply collapse after witnesses change their testimonies. "After a few months, these types of prosecutions often lose their force," he said. "The system doesn't have the capacity to maintain the necessary commitment in complex cases like this."

Tate's US lawyers are also threatening the Florida-based woman who said she'd been held against her will with a defamation lawsuit, according to a BBC report, which prompted accusations that Tate was attempting to intimidate and silence the witness. Asked to comment on the legal threat, Petrescu replied, "The Tate brothers have a guaranteed right to defend against defamation and accusations considered to be unfounded and slanderous, and cease and desist [letters] are a legal instrument in exercising this right."

In addition, Tate's head of security, Bogdan Stancu, is a former officer in Romania's DGPI intelligence service, which oversees policing activity, giving rise to fears among investigators that Tate may have an inside track into the state's court case against him. (Stancu is a witness in the ongoing investigation.)

However, the prosecutor assigned to go after Tate, Rareș Petru Stan, is one of the most feared organized crime fighters in Romania. He previously investigated a group that stole fuel worth around $2 million from an American airbase in the country. Stan "has a great reputation" among his colleagues, the unnamed prosecutor said, characterizing him as "passionate and dedicated."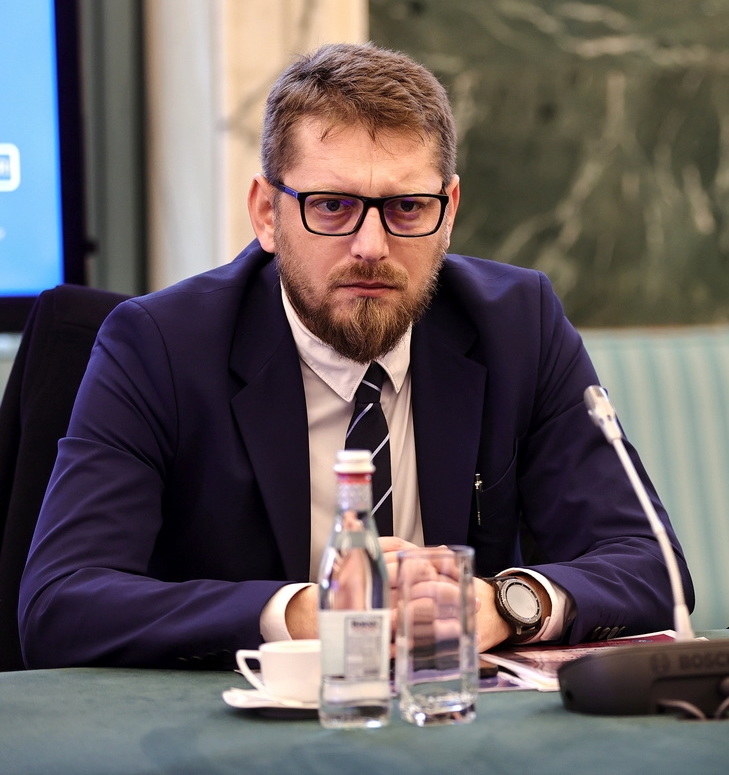 Stan also was responsible for putting away multiple dangerous and violent drug gangs with a history of murder, in addition to corrupt police officers. Despite frequent threats from those he investigates, he is said to be fearless and incorruptible. (Stan declined to be interviewed for this article.)
In a seminar Stan gave in 2021, he complained about the lack of resources the crime-fighting apparatus has compared to human traffickers. "The trauma suffered by the victims of human trafficking produces an effect on those involved in preventing and combating the phenomenon," he said, adding that prosecutors are frequently conducting a hundred investigations at a time.
Meanwhile, others wish it didn't take a high-profile case like Tate's to shine a light on Romania's human trafficking situation. Among them is Monica Boseff, director of the Bucharest-based Open Door Foundation, which provides secure shelter and advocates against human trafficking. "I wish society would talk less about Tate and others like him and more about the victims and the survivors of human trafficking," she told BuzzFeed News. "I believe society here and internationally has too much tolerance for this activity."