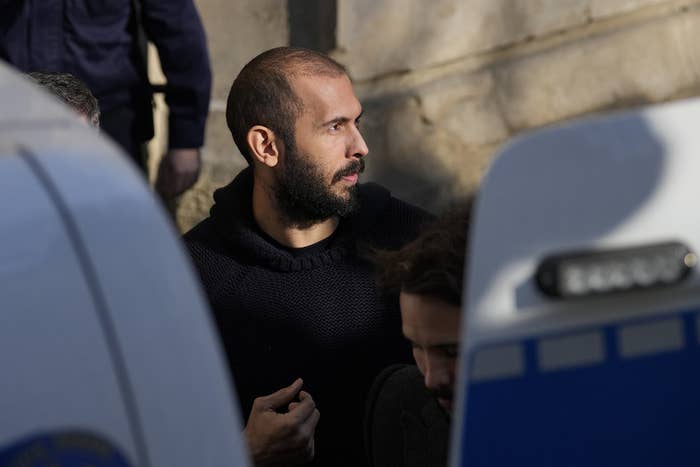 In late March, misogynistic influencer Andrew Tate and his brother, Tristan, were released from Romanian jail and placed under house arrest, as were their two alleged accomplices, Georgiana Naghel and Luana Radu. It was a legal victory for the siblings, who were arrested on Dec. 29 on suspicion of organized crime and human trafficking. (Their trial is expected to begin in late April.) But authorities and legal experts who spoke to BuzzFeed News said that it has become clear that the brothers' alleged behavior while in detention in their adoptive country of Romania is doing them more harm than good.
BuzzFeed News has learned that Romanian judges and prosecutors are annoyed at the defendants' actions over the past number of months. Sources in the prosecutor's office and court papers obtained by Buzzfeed News through freedom of information requests allege that the Tates devised a plot for Andrew to flee to Dubai, and that the brothers were behind attempts to pressure witnesses to withdraw their statements against them. In addition, prior to her arrest, Radu allegedly had accessed classified police computers with help from unknown people to gain an edge in the case.
According to the sources in the prosecutor's office and outside experts, the group may face other criminal investigations into these allegations. "The Tates have played an extremely dangerous game," said a person from the prosecutor's office on the condition of anonymity, discussing statements from witnesses saying they were threatened by the influencers' followers. (BuzzFeed News has not seen the statements in question.) "From [the Tates'] tweets, it appears they are encouraging it." Although that source did not cite specific tweets, they added, "Every aspect of the case that touches on the victims is very sensitive."
Mihai Mareș, a criminal defense lawyer in Bucharest and a lecturer of law at the Alexandru Ioan Cuza University of Iași, told BuzzFeed News that judges' "irritation" at the Tate brothers was evident from the court papers — and was something that could come back to bite the siblings. "Any subsequent statements they may give will be viewed with a certain amount of skepticism by the judicial bodies," he said.

In an official summary of a Feb. 21 court session, a judge cited "new reasons" for refusing to let the Tates out of the central arrest building in Bucharest. "The accused present a clear danger for public order, they made preparations to evade criminal investigation by leaving Romania, are trying to influence witnesses and are exerting pressure on the victims," the judge wrote.

Despite this, two appeals court judges, said to be new to the case, on March 31 approved the Tates' move to house arrest. The ruling caused anxiety in official circles; Buzzfeed News understands that the Tates' current location, a compound in a well-heeled suburb north of Bucharest, is being kept under constant surveillance.
Jailhouse phone wiretaps cited by judges in court papers obtained by BuzzFeed News show that Andrew allegedly hoped to flee to Dubai under the pretext of receiving medical treatment there. (The United Arab Emirates does not have an extradition treaty with Romania.) A Tate representative told the Daily Mail in early March that a dark spot on Andrew's lung was "most likely a tumor." However, Andrew later clarified via Twitter that the spot was in fact scarring "from an old battle." Andrew's request to travel was refused by authorities.
Eugen Vidineac, a lawyer for the Tates, has tamped down speculation that the brothers might try to flee. "They have a home and children in Romania, they are under criminal investigation, there is no reason to run away," he told local media. Mateea Petrescu, the Tates' spokesperson, told BuzzFeed News, "Regarding their departure from the country, the partially published wiretaps omitted the context, [namely] Andrew discussing leaving to Dubai for medical inquiries only in the case that his status allows it."
Romanian authorities also said that the Tates have encouraged their army of followers to message at least one alleged victim demanding she retract her accusations. "These comments are of a nature to provoke in the victim a state of fear as a result of the threatening tone they have in addressing her, attempting to determine her to change her statements regarding the accused in the case," the judge noted in the February summary.
(Sulaiman Ahmed, a pro-Tate online personality, on Feb. 18 tweeted that he had traveled to Palm Beach, Florida — the hometown of one of the key witnesses in the case — "for a major story." However, there was no indication Ahmed, who did not respond to BuzzFeed News' request for comment, actually met the witness or her family.)
On top of this, in December, a US law firm representing the brothers sent a cease-and-desist letter to the woman in Florida, urging her to retract her statements or face a defamation lawsuit. Romanian authorities view this letter as a piece of the alleged intimidation puzzle.
A separate US lawyer for the Tates, Tina Glandian, who is on their Romanian legal team, recently stressed to the media that her "firm had no involvement in sending the cease and desist letter." Petrescu told BuzzFeed News that the letter was "a LEGAL action in the USA," adding, "These suspicions are obsolete given that the judges from the appeals court decided to place them in house arrest."
"I think Andrew Tate is not the most intelligent guy, but he probably can't help himself."
Still, Mareș said that the cease-and-desist order could land the brothers in more legal trouble: "If the [cease-and-desist] notification concerned a withdrawal of the criminal complaint, it could lead to a widening of the criminal investigation scope under the aspect of a new crime — that of influencing statements." The person close to the prosecutor's office confirmed such a move was "possible" once the trial for the original charges starts.
Meanwhile, Radu, the Tates' alleged accomplice and a former police officer, is suspected of having gained unlawful access to a classified police database between April 2022 and December 2022, while the investigation into her and three others was ongoing, court files obtained by BuzzFeed News show. The judge noted that "it would be impossible for the accused to access the database of the [Ministry of Internal Affairs] without support from others." Petrescu did not address the allegations against Radu, and Radu could not be reached for comment.
In addition, prosecutors said they had obtained new information from the police unit local to the Tate compound, suggesting that women had filed multiple complaints of violence, coercion, and abuse against the brothers that predated the current case. These complaints have gone unresolved, giving rise to suspicions of undue influence from Radu.
In what was seen by prosecutors as another bid to control the ongoing case, Tate allegedly instructed his team to approach two right-wing politicians, George Simion and Diana Șoșoacă, both of whom are known for their provocative statements on sex and gender and the COVID vaccines. Both have expressed anti-Western stances and have occasionally echoed Russian propaganda. (Șoșoacă was added to Ukraine's sanctions list on March 24.)
"If you take the side of the guys, when they get out of prison they will make sure you are rewarded for telling the truth," Tate told his assistant to tell the two politicians, according to a Romanian language wiretap obtained by BuzzFeed News and retranslated into English. It is unclear if the approach to the politicians was made. However, when asked by local media if they wanted to defend Tate, both Simion and Șoșoacă refused.
One experienced Romanian justice system insider, who requested anonymity, told BuzzFeed News that Andrew's various missteps while in detention stemmed from the influencer's need for public attention and his compulsion to arouse controversy. "I think Andrew Tate is not the most intelligent guy," the insider said, "but he probably can't help himself."