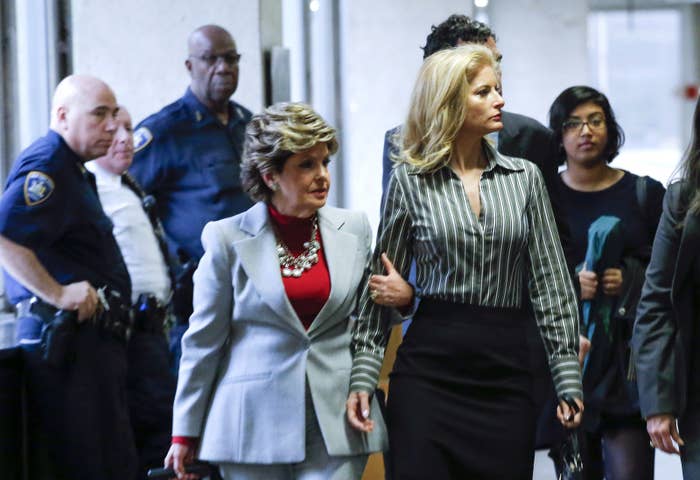 President Trump's lawyers argued Tuesday that he's too busy to participate in a defamation lawsuit filed against him in New York state court — but the lawyer for the woman suing him shot back that she would interview Trump around golf outings.
Trump's lawyers said the lawsuit — filed against him by a former Apprentice contestant who accused him of sexual misconduct — should be dismissed or at the very least postponed until after his presidency.
Summer Zervos has alleged that Trump kissed her and grabbed her when she went to see him at his bungalow at the Beverly Hills Hotel in 2007 about a possible job at the Trump Organization.

Zervos is one of at least 10 women have accused Trump of touching them inappropriately. Trump has denied the allegations, and on the campaign trail in October he dismissed them as "total fiction" and "lies, lies, lies." He also tweeted a denial, writing, "Nothing ever happened with any of these women."
"I don't know these people. I have a feeling how they came. I believe it was [Clinton's] campaign that did it … I believe, Chris, that she got these people to step forward. If it wasn't, they get their 10 minutes of fame," he said at a presidential debate.

Zervos then filed a defamation lawsuit in January, just days before Trump's inauguration.
In a recent press conference, White House Press Secretary Sarah Huckabee Sanders said all of the women who accused President Trump of sexual harassment are lying.

Trump's lawyer, Marc Kasowitz, argued Tuesday that Zervos's claims of sexual misconduct are false and were "politically motivated" because she spoke out publicly about the allegations just three weeks before the election.
If the judge does not dismiss the claims, Trump's lawyers are asking the lawsuit be delayed until after his presidency. They argued the case could impact his ability to carry out the duties of the president because the job requires him to work around the clock.
Zervos's attorney, Mariann Meier Wang, acknowledged Trump's busy schedule and told the judge her team is flexible.

"It's true the president has to do his job," Wang said. "But he's also a human being who doesn't do his job 24 hours a day, seven days a week."
Wang said her team would agree to video depositions — and added that depositions could be taken at Mar-a-Lago, while the president is there potentially playing golf. (Trump has reportedly visited one of his golf courses 81 times since he took office. It's not known if he plays every time he goes.)
Wang also noted that if the judge delays the case until after his presidency, it could be seven years before testimonies and evidence are collected.

Wang argued that Trump defamed Zervos when he said her groping allegation was a lie. While Trump never called Zervos a liar directly, Wang said that he referred to her by implication, adding that defamatory comments are not protected by the First Amendment.
"If someone crosses the line and makes factual derogatory comments those facts still survive," she said.

Kasowitz argued that the Constitution protects Trump from facing a civil lawsuit in state court until after his presidency.
"What better court to hear a defamation case of a born-and-bred New Yorker who made defamatory statements in Midtown " Wang responded.
Judge Jennifer Schecter said she would review all the case law and make a decision over whether it should continue. It is unclear when her decision will be made.
As first reported by BuzzFeed News, Zervos served a subpoena for all documents from Trump's campaign pertaining to "any woman alleging that Donald J. Trump touched her inappropriately."

Zervos' lawyers also asked for "all documents" concerning other women who have accused Trump of groping them, including Jessica Leeds, Mindy McGillivray, Rachel Crooks, Natasha Stoynoff, Temple Taggart, Kristin Anderson, Cathy Heller, Jill Harth, and Jessica Drake. The subpoena seeks "all documents concerning any accusations that were made during Donald J. Trump's election campaign for president, that he subjected any woman to unwanted sexual touching and/or sexually inappropriate behavior."
If the case goes forward, Trump may be forced to produce that information.