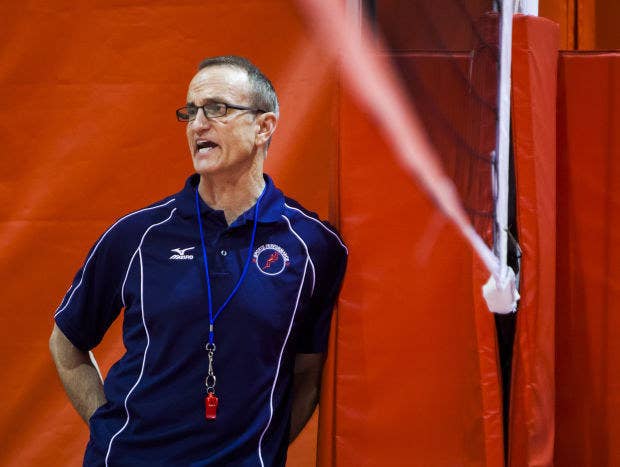 A well-known youth volleyball coach accused of sexually abusing underage girls in the 1980s has been hit with a class-action lawsuit alleging that he raped teenagers under his supervision hundreds of times.
The lawsuit against Rick Butler also details the alleged systemic grooming and abuse of underage girls who were considered rising stars in the sport.

Butler allegedly used his influence as one of the most powerful coaches in youth volleyball to gain the girls' trust and coerce them into sexual relationships. The lawsuit claims he raped girls in his car, his apartment, the weight room of a gym, and in one instance, on a train bathroom during a team trip to Germany.

On more than one occasion, he allegedly made girls watch porn so they could "learn." According to the lawsuit, when one athlete asked Butler why he was kissing and fondling her in a hotel room in Japan, he allegedly responded, "Because I can."

According to the lawsuit, he repeatedly told the young athletes they would not succeed unless they did what he said, and that he was their only hope for getting into elite colleges and playing volleyball professionally.
The 72-page lawsuit filed in federal court Tuesday in Illinois details the sexual abuse by Butler five women allegedly endured when they were teenagers in the 1980s. The accusers and their allegations were first reported by the Chicago Sun-Times in November, resulting in USA Volleyball banning Butler from the organization.
None of the accusers are named as plaintiffs in the lawsuit. Instead, the complaint was filed by Laura Mullen, a parent of an athlete who trained with Butler at Sports Performance Volleyball Club in Illinois in 2012. Mullen says that she was unaware of Butler's history of alleged sexual abuse when she allowed her daughter to train at his facility.
The lawsuit states that had Mullen and other parents known "that a child sexual predator would coach their teenage daughters, they never would have given money to defendants and never would have sent their girls to Sports Performance."
The lawsuit also names Butler's wife, Cheryl, as a defendant, alleging she pressured and threatened the athletes to remain silent.

Christine Tuzi was 16 years old with hopes of joining the Olympic volleyball team when she began training on Butler's team at Sports Performance.

According to the lawsuit, Butler invited her to his apartment under the pretext of talking about the team. Once there, he allegedly laid her down on his waterbed and raped her. Tuzi, paralyzed in fear, cried and "stared at Butler's brown pleather headboard until he was finished," the lawsuit states. He also allegedly made her climb out his window to avoid being seen.
The abuse continued even when Tuzi was not alone with Butler, according to the lawsuit.
"Before practices, he would shove his hands down her pants so he could 'smell her through practice,'" the lawsuit states. "He told her that any time during practice that he had his hand to his nose, he was thinking of her."

Butler allegedly raped Tuzi hundreds of times, resulting in her getting pregnant. Butler at first denied responsibility, but later conceded, telling the girl to "get rid of it," according to the lawsuit.
He allegedly accompanied Tuzi to get an abortion and brought her back to a hotel.
"Once there, with her recovering from a physically and emotionally difficult procedure, he demanded that she masturbate him," the lawsuit states. "In her vulnerable state, she submitted to his request. And if that was not demeaning enough, Butler made her pay for half the hotel room."

Butler allegedly used similar tactics on Sarah Powers-Barnhard when she was 15 years old.
He reportedly told her that he could make her a volleyball star as long as she did everything he said.
During a team trip to Canada, Butler allegedly got the team drunk and later kissed and fondled Powers-Barnhard.

According to the lawsuit, Butler raped Powers-Barnhard multiple times, including in the bathroom of a train car on a team trip to Germany. Following issues with sleep arrangements during the trip, Powers-Barnhard had to sleep on the floor next to Butler and endure him fondling her throughout the night, just feet away from her teammates, the lawsuit states.
The coach also allegedly raped Julie Bremner during an international team trip. According to the lawsuit, he called her to his hotel room in Japan in 1987 to talk about the team. When Bremner arrived, she allegedly found Butler lying on the ground wearing only a bathrobe.
He allegedly asked her to sit down and began kissing and touching her. He shoved his tongue in her mouth, according to the lawsuit, and slid his hands up her shirt. When she asked why, Butler allegedly responded, "Because I can."
When Brenner came forward with her allegations 20 years ago, she said Butler called her and told her he owned a gun and knows how to use it.

USA Volleyball expelled Butler in 1995 after three of the women came forward. Five years later, the organization partially lifted its ban, allowing Butler to return. He was permanently banned in January following the Sun-Times report.

The lawsuit states that after allegations against Butler first became public in 1995, his wife, Cheryl, allegedly called an unnamed victim and threatened her to keep quiet. Cheryl Butler is also accused of helping conceal the abuse and lashing out on one of the accusers on Facebook.

"We've gotten many calls and emails from people offering to provide further evidence in support of our lawsuit," Mullen's lawyer, Jay Edelson, told BuzzFeed News. "We look forward to continuing our investigation and prosecuting this action."
Messages to Butler and his attorney were not immediately returned.