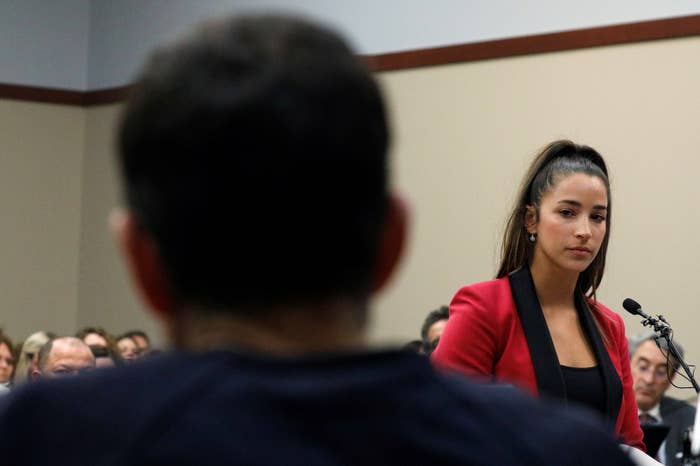 Six-time Olympic medalist Aly Raisman slammed USA Gymnastics on Friday, saying the organization is "rotting from the inside" for empowering and enabling Larry Nassar's sexually abusive behavior.

"For this sport to go on we must demand real change," she said on the fourth day of Nassar's sentencing hearing. "If we leave it up to these organizations history is likely to repeat itself."

Nassar pled guilty to 10 counts of first-degree criminal sexual conduct for molesting young athletes under the guise of medical treatment. He has already been sentenced to 60 years in federal prison on child pornography charges.
As of Friday morning, 120 women were scheduled to speak at Nassar's sentencing hearing in Michigan. The sentencing was originally scheduled to take place over four days, but the judge extended it to next week to allow time for all of the women who wish to give impact statements to speak.
Raisman, who originally said she would not attend the hearing, said on Friday that she "too needed to be there," after hearing other women survivors speak. Her impact statement focused on the institutions that she said enabled Nassar's actions and failed athletes.
"I will not rest until every last trace of your influence on this sport has been destroyed like the cancer it is," she said.
Raisman criticized USA Gymnastics and the US Olympic Committee for labeling Nassar as a "decorated doctor" and giving him a spot on advisory boards and committees to come up with policies to protect athletes.
"You are the person they had 'take the lead of athlete care,'" she said. "You are the person they say 'provided the foundation for our medical system.' I cringe to think that your influence remains in the policies that are supposed to keep athletes safe, that these organizations claim for years are 'state of the art.'"
She went on to call out USA Gymnastics and the US Olympic Committee, saying they are not even acknowledging the problem that exists, adding that the statements regarding athlete care being a priority allow the organizations' officials to "look away from the problem."
"And even now, even after all that has happened, USA Gymnastics has the nerve to say the very same things it has said all along. Can't you see how disrespectful that is? Can't you see how much that hurts?" she said.
She also took aim directly at USA Gymnastics CEO and President Kerry Perry who issued a statement calling the women who have spoken out about Nassar "courageous."
"At this point, talk is cheap," Raisman said. "You left midway through the day and no one has heard from you or the board. ... Continuing to issue statements of empty promises, thinking that will pacify us, will no longer work."
Raisman said the US Olympic Committee and USA Gymnastics were quick to capitalize on and celebrate her success, but did not reach out to her to offer sympathy or support when she spoke out against Nassar.
"For this sport to go on we must demand real change. If we leave it up to these organizations history is likely to repeat itself," Raisman said.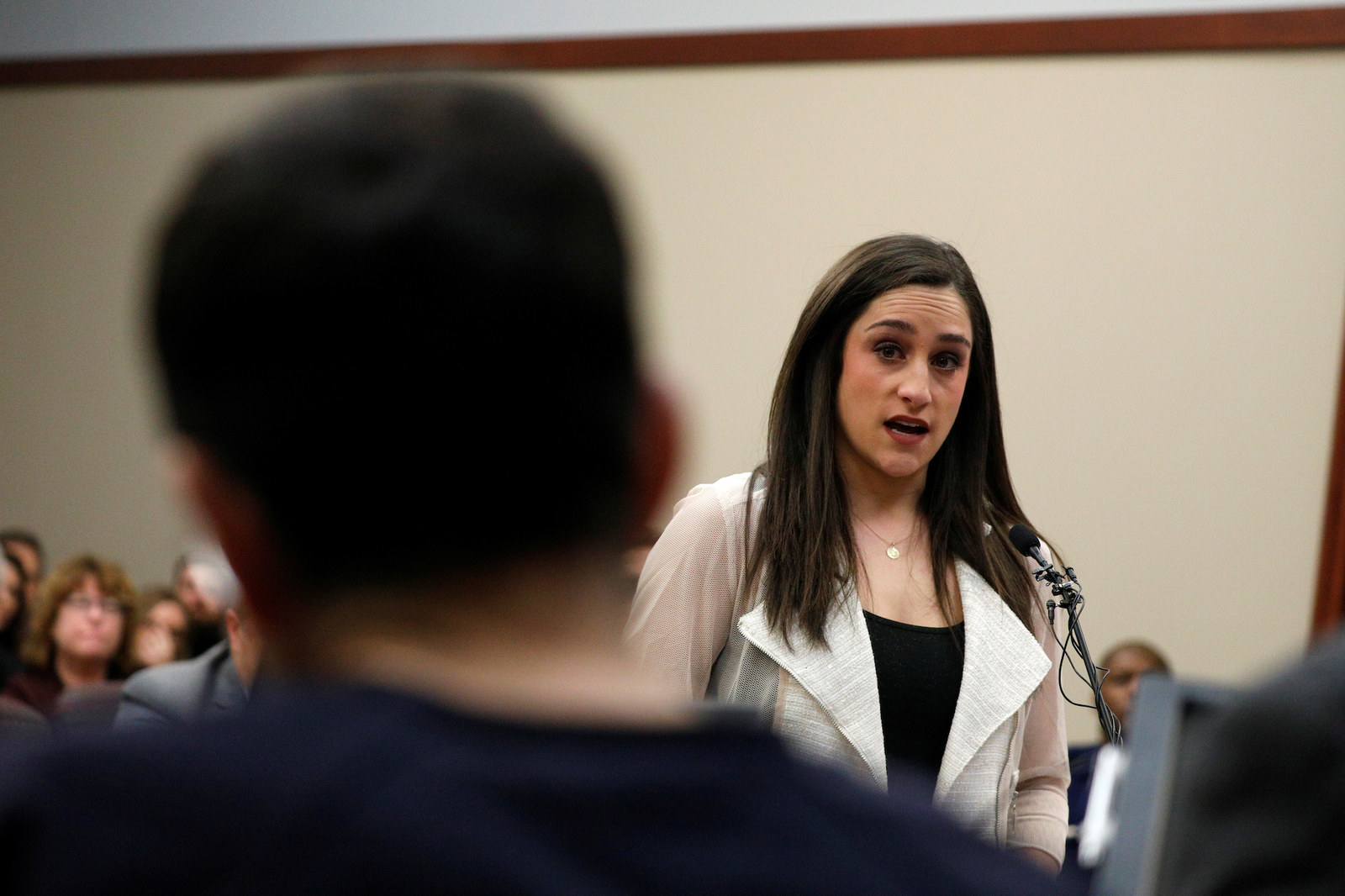 Earlier Friday morning, Olympic gold medalist Jordyn Wieber addressed Nassar, describing how she felt manipulated and brainwashed by the former USA Gymnastics doctor.

"Everyone said ... he was a miracle worker and that he could fix just about anything," Wieber said, adding that she was told to trust Nassar, who treated her from ages 8 to 18.
Wieber said Nassar used "grooming techniques," such as bringing her and her 2012 Olympic teammates food and coffee during competitions. He was nice to them, she said, making them believe he was their friend.

Chelsea Zerfas, a 15-year-old gymnast, described a similar friendly relationship with Nassar. He would like her posts on Instagram, she said, and would always greet her with a smile.
Nassar began abusing her when she was 12 years old, Zerfas said. "I avoided going to practice when I knew I had to see him," she said. "I felt like I couldn't breathe and I'd tremble in fear."
Sisters Kara and Maddie Johnson also detailed the abuse they endured while seeing Nassar for medical treatment.
Kara Johnson recounted how he would pull her shorts down, move her underwear to the side, and touch her.
She said she trusted Nassar. "The framed photos of patients on his wall told an incredible story of a doctor who could heal anyone," she said.

Marie Anderson, a swimmer who sought treatment at Michigan State University's medical facility, told the court how Nassar would insert his fingers into her vagina and massage the area.
"I have been deceived, manipulated, and abused to satisfy Larry's ... desires," she said.
Kara and Maddie Johnson, Anderson, and Zerfas said Nassar abused them while a parent was also in the room.
"To this day I still don't know how he could have been allowed to do this for so long," Wieber said. "Nobody was protecting us from being taken advantage of."
Several of the women who have delivered victim impact statements have asked the judge to give Nassar the maximum sentence of 125 years behind bars.
"Even though I am a victim, I won't live my life as one," Wieber said. "I am an Olympian."
CORRECTION
Jordyn Wieber's name was misspelled in an earlier version of this post.