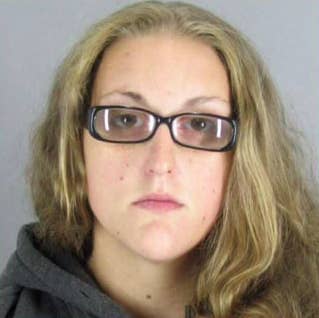 A McDonald's cashier was charged with attempted murder for allegedly trying to flush her newborn down the toilet at work after giving birth in the bathroom stall.
The woman, Sarah Lockner, told her coworkers she was having stomach pain during her Sept. 4 shift at the Redwood City, California, McDonald's, San Mateo County District Attorney Steve Wagstaffe told the Los Angeles Times.
After Lockner went to the bathroom, a co-worker grew concerned, Wagstaffe said, and went in to check on the 25-year-old woman.
Upon entering, the co-worker discovered blood on the floor. Lockner allegedly told her co-worker she was just having a heavy period, but prosecutors say she was actually giving birth.
A second co-worker allegedly saw Lockner pushing the newborn baby boy face-down into the toilet water.
"The employee stood up to look above the stall and saw a newborn baby in the toilet with her hand on his back, pushing him down into the toilet water," Wagstaffe told News 14, a local NBC affiliate.
When police arrived, the baby was not breathing and did not have a pulse. Wagstaffe, who did not immediately respond to BuzzFeed News' request for comment, said the baby was rushed to a nearby hospital where he remains in stable condition, though the extent of possible brain damage is not yet known.
Lockner, who reportedly told officials she did not know she was pregnant, is being held in lieu of $11 million bail.