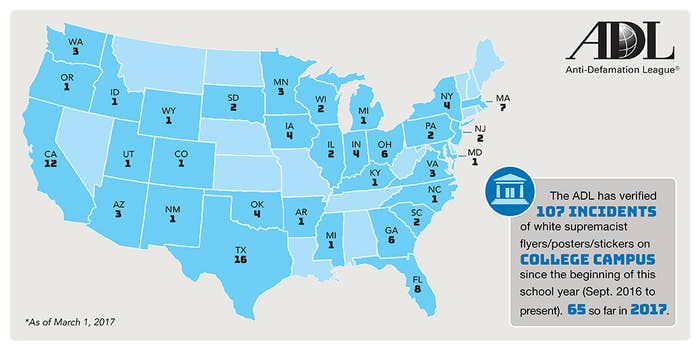 White supremacists are waging campaigns to engage and recruit students on US college campuses at an unprecedented rate, according to the Anti-Defamation League.

According to the ADL's Center on Extremism, white supremacists are using various on-the-ground methods — including distributing racist fliers and organizing on-campus speeches by racist activists — as outreach to recruit other students.
Since the school year began in September 2016, there have been 107 incidents of white supremacist fliers found on college campuses — 65 of which have been catalogued since January 2017, according to the ADL.
"White supremacists have consciously made the decision to focus their recruitment efforts on students and have in some cases openly boasted of efforts to establish a physical presence on campus," ADL's CEO Jonathan Greenblatt said in a statement.
Greenblatt added that while recruitment efforts existed in the past, "never have we seen anti-Semites and white supremacists so focused on outreach and students on campus."
The ADL said that the uptick in activity on college campuses is part of a push to move white supremacist activism "from online chatter to real-world action."
Greenblatt told BuzzFeed News that he believes these actions are happening on college campuses because, "there, there're young people who who still don't know who they are and what they believe in." He added that the white supremacist groups are trying to influence people they think are vulnerable.

Greenblatt went on to say that for white supremacist groups, it's often emboldening to go into environments likes college campuses which are typically very inclusive. Recruiting on the college level also allows the younger generation to move the movement forward, Greenblatt said.
Last month, for example, a student wearing an Old Dominion University sweatshirt tweeted a music video called "white power" that spread around campus. In January, a printer was hacked which caused anti-Semitic fliers to be printed at Vanderbilt University in Tennessee.
Some groups — including Identity Evropa, American Vanguard, and American Renaissance — are attempting to create a physical presence on campuses. To date, racist fliers and posters have been reported on campuses in at least 25 states, according to the ADL.