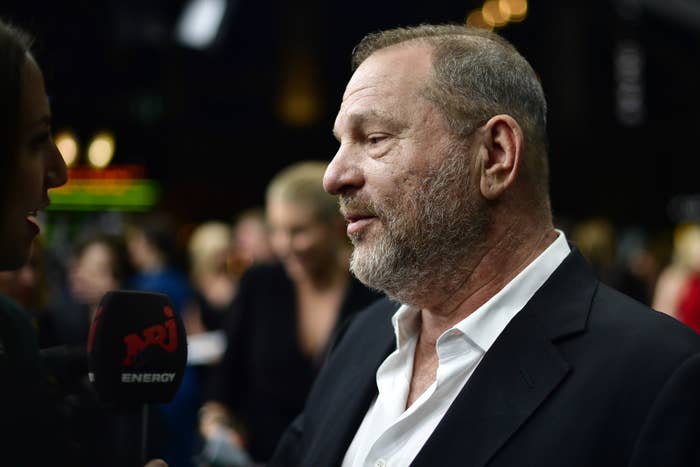 Six women filed a proposed class-action lawsuit against Harvey Weinstein and his companies Wednesday, alleging the actions to cover up the producer's alleged sexual misconduct amounted to civil racketeering more typically seen among the mafia.
The lawsuit, filed Wednesday in New York federal court, alleges the women, and hundreds of others like them, faced a "credible and objective threat of being blacklisted by Weinstein and major film producers such as Miramax and TWC if they refused Weinstein's unwanted sexual advances or complained about his behavior."

The six women bringing the case — Louisette Geiss, Katherine Kendall, Zoe Brock, Sarah Ann Masse, Melissa Sagemiller, and Nannette Klatt — claim the group of people around the disgraced film mogul became part of the "Weinstein Sexual Enterprise," working to cover up his alleged pattern and practice of sexual assault.
The lawsuit alleges this behavior violated the Racketeer Influenced Corrupt Organization (RICO) Act, a racketeering law enacted in 1970.

"Weinstein's widespread sexual misconduct did not occur without the help of others," the lawsuit reads. "Rather, over time, Weinstein enlisted the aid of the Complicit Producers, along with other firms and individuals, to facilitate and conceal his pattern of unwanted sexual conduct."

In addition to Weinstein, other defendants listed on the lawsuit include his brother Bob Weinstein; the Weinstein Company; Miramax TWC board member Tarak Ben Ammar; and former TWC board members Dirk Ziff, Tim Sarnoff, Marc Lasry, Paul Tudor Jones, Lance Maerov, Richard Koenigsberg, Jeff Sackman, and James Dolan.

"These individuals and companies chose to put ad revenue and movie sales, profits and ledgers before compassion and integrity," the women said in a joint statement. "If money is the language they speak, then so be it. Let them learn that it is costlier to cover up assault, harassment, rape and violence. Let them learn the hard way: wallet first."

In a statement, a representative for former board member Dolan said he had not acted inappropriately in his role.
"We just received the complaint and are currently reviewing," the statement said. "We will not have a comment until that is complete. We can state that Mr. Dolan is confident that he acted appropriately in all matters relating to his time on the Weinstein board.The women are also suing for battery, assault, negligent supervision and retention, and both intentional and negligent infliction of emotional distress."
Weinstein is already facing multiple civil lawsuits regarding allegations of sexual assault. Actor Dominique Huett sued the Weinstein Company for $5 million for allegedly being aware of Weinstein's predatory behavior, and last week the producer was sued by an actor for alleged sex trafficking, a move that might allow some other accusers to get around statutes of limitations.
Weinstein is also being investigated by police in Los Angeles, New York, and London.

"Harvey Weinstein is a predator. Bob knew it. The board knew it. The lawyers knew it. The private investigators knew it. Hollywood knew it. We knew it. Now the world knows it," the six plaintiffs and their lawyers said in a joint statement.
Reached via email about the lawsuit, Weinstein's spokesperson told BuzzFeed News, "as soon as we have a response I'll send it over."
In response to a separate Tuesday evening story in the New York Times, Weinstein's lawyers, Blair Berk and Ben Brafman, said:
Mr. Weinstein has never at any time committed an act of sexual assault, and it is wrong and irresponsible to conflate claims of impolitic behavior or consensual sexual contact later regretted, with an untrue claim of criminal conduct. There is a wide canyon between mere allegation and truth, and we are confident that any sober calculation of the facts will prove no legal wrongdoing occurred. Nonetheless, to those offended by Mr. Weinstein's behavior, he remains deeply apologetic.
Miramax issued a statement Wednesday condemning Weinstein and "his unspeakable actions."
"Miramax has been completely independent of Harvey — since he and Bob Weinstein left The Walt Disney Company to found The Weinstein Company," the statement reads. "Twelve years and two ownership changes later, Miramax is a very different company. We at Miramax are proud of that difference."
Marc Lasry declined to comment. The other listed defendants in Wednesday's suit did not immediately returned requests for comment.