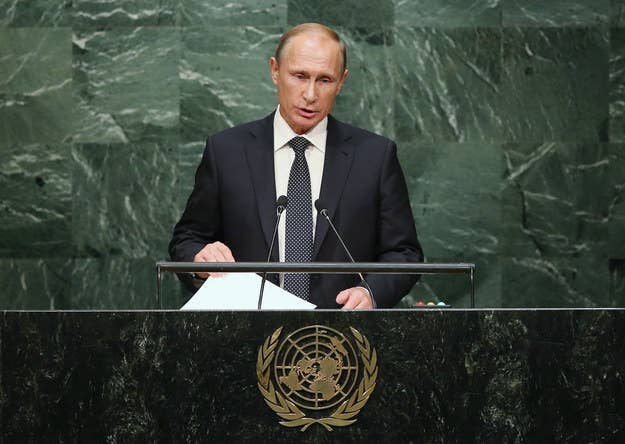 Following Barack Obama's speech criticizing Russia's annexation of Crimea, Russian President Vladimir Putin fired back Monday at the United States for "dangerously" undermining the United Nations.
While not mentioning the United States by name, he said a "single center of dominance has emerged after the end of the Cold War," which has attempted to revise the role of the U.N.
Still, Putin's speech was unusually lackluster given its advance billing from the Kremlin, which had portrayed it as a seminal policy pronouncement on par with his addresses at the Munich Security Conference in 2007 and after Crimea's 2014 annexation.
State TV blocked off its entire evening prime-time coverage for Putin's speech, cut to shots of his plane landing while Obama spoke, built it up with the breathless fervor of pro wrestling announcers — "Vladimir Putin is already in the UN building! Literally the whole world is awaiting his speech!" — then cut to a panel discussion of gray-haired experts who praised his foresight.
Sergei Kurginyan, a hardline nationalist, said it was full of "Shakespearean passion — a theatrical call to a duel, and an aspiration to global leadership."
Instead, Putin had little new to offer of note. On Syria, he said little clarifying the intent behind Russia's recent construction of an air base and Sunday's announcement about opening an intelligence-sharing channel with Iran, Iraq, and Assad's government.
He blamed the violence that followed the Arab Spring on American "export of revolutions, so-called democratic ones" that sowed chaos. "Do you realize what you've done?" he asked.
He contrasted U.S. plans to "manipulate extremist groups and use them at your disposal" with his proposal for the UN to "help the legitimate government of Syria," but made no mention of a possible Security Council resolution.
He said it would be "a huge mistake" to stop working with Bashar al-Assad's government, which is "bravely fighting face to face with terror." And criticized Western countries for arming Syrian rebels, who, Putin said, later join ISIS.

He spoke of forming a broad coalition against global terror in the style of the "anti-Hitler coalition" formed in Yalta, in Crimea during World War II, but offered few details of what it would look like or how it would work.
He turned to familiar bugbears. The U.S., convinced of its "exceptionality and impunity," was dangerously undermining world order. "Economic egoism" and sanctions were being used to squeeze Russia for the benefit of a "small circle of players." He moved on, to trade with China and a climate change conference, then left.
If Putin's speech lacked the aggressive tone and bold proposals many expected, it also failed to offer grounds for a potential compromise with Obama ahead of their first bilateral meeting in over two years later Monday.
"The international community got to hear a taste of the same conspiracy-laden riffs that Putin and the Kremlin have been pushing off and on for nearly 15 years," said Andrew Weiss, vice president for studies at the Carnegie Endowment for International Peace. "It's a world where unnamed actors export revolutions to pursue their geopolitical ambitions or create terrorist groups like ISIS out of thin air," he said.
"People ask all the time: 'What does Putin want?' Part of the reason there's no easy answer is that he genuinely seems to believe this stuff," Weiss continued. "When his worldview clashes this violently with ours it's almost impossible to have a productive conversation let alone agree on anything."