City officials in Roswell, Georgia, have initiated a review of the police department after a series of videos released last month showed misconduct by officers — including one released last week that showed a 13-year-old boy being held in a freezing patrol car.
The bodycam footage was of a Jan. 2 incident that showed police officers leaving a handcuffed boy in the back of a police vehicle in the freezing cold in order to get information from him.

The boy, who has not been identified, was stopped after a police officer saw him driving a golf cart down a highway. In the footage, the boy can be heard giving the officer, C. Dickerson, conflicting answers about where he lived and how he obtained the golf cart.
The officer then searched the boy, handcuffed him, and placed him in the back of her police cruiser while she figured out what to do.
At this point, the boy can be heard crying that the handcuffs are hurting him and that he just wants to go home.

She told the boy the incident didn't warrant an arrest, but that she also could not allow him to drive off in the golf cart. She had to find his mother, Dickerson said. However, the boy would not tell officers how they could contact his mother.
Sgt. Daniel Elzey, who was also on the scene, then proceeded to roll down the windows of the police vehicle to let the 13-year-old "get a little chilly. Maybe that'll help."

"He won't say anything if he's sitting there in the back seat and it's warm," Elzey is heard saying. "So, he can sit over there and be cold."

After a few minutes, the sergeant asks the boy if he's "getting cold yet."
"You can take it? Cool. So can I," Elzey said. "Because I've got heat in this car."

According to a police report obtained by the Atlanta Journal-Constitution, the boy was ultimately released to his mother. The police report made no mention of the officers intentionally leaving the boy in the cold, according to the paper. Elzey was subsequently placed on paid administrative leave.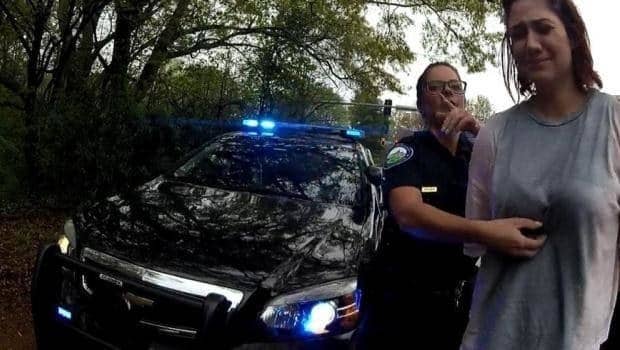 The footage follows a previous video showing Roswell officers using a coin flip app to decide whether to arrest a woman.

In that video, two officers who stopped a woman for speeding can be heard discussing whether they should arrest her or issue a ticket. One of the officers then pulls out her phone and opens a coin flip app.

"A [for arrest] head, R [for release] tail," Wilson said. The driver was then handcuffed and escorted to the police cruiser.
Following an internal investigation the two officers, Courtney Brown and Kristee Wilson, were fired last week.
In a statement issued after the coin flip video surfaced, Roswell Mayor Lori Henry called the police officers' behavior "inexcusable and unprofessional."
Also in July, footage was released from a 2016 incident in which a police dog attacked a 17-year-old who was complying with an officer's commands, according to NBC11. The dog, Robbie, ignored 20 commands from his handler to stop and was never removed from the department.
In response to the incidents becoming public, Roswell City Administrator Gary Palmer released a statement calling for a review of the police department.
"It is clear to me, the mayor and council and the chief of police that what you are seeing are symptoms of bigger issues; issues that we need to clearly identify and deliberately address as expeditiously as possible," he said.

Palmer added that he has authorized the issuance of national proposals from independent firms to "scrutinize every aspect of our police operations." He expects that review to take three to six months.
"As your city administrator, I am stunned by the lack of professionalism and compassion displayed by some of our officers," Palmer said in his statement.
The Roswell police chief did not immediately respond to a request for comment.