UVA Reinstates Fraternity Accused In Rolling Stone Story
The reinstatement comes after a police investigation found no substantive evidence of the allegations in the story.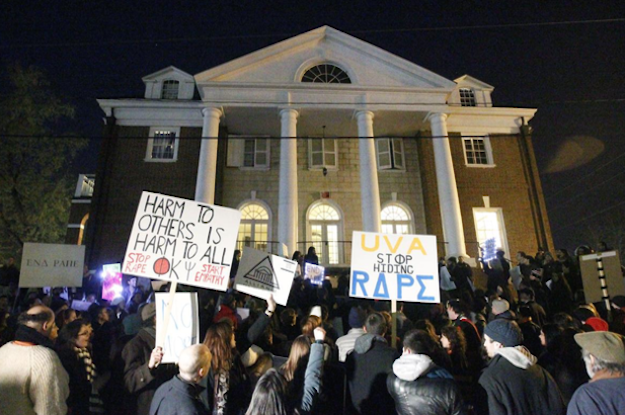 The University of Virginia reinstated a fraternity after a police investigation found no substantive evidence the allegations raised in a Rolling Stone article occurred.
"We welcome Phi Kappa Psi, and we look forward to working with all fraternities and sororities in enhancing and promoting a safe environment for all," UVA President Teresa Sullivan said in a statement on Monday, adding that the reinstatement is effective immediately.
In November, Rolling Stone published an article titled "Rape on Campus" and claimed a young woman named Jackie was raped by seven men at a fraternity house and that the university failed to respond to the assault. The article garnered so much attention that the university suspended all fraternities for the semester.
Two weeks later, following an investigation of the story by the Washington Post, Rolling Stone issued an apology to its readers.
The magazine's editor and publisher Jann Wenner said Columbia Journalism School will be conducing an independent review of Rolling Stone's editorial process.
"Rolling Stone has asked us to conduct an independent review of the reporting and editorial decision making that led to the publication of its recent story on sexual violence at the University of Virginia," Deans Steve Coll and Sheila Coronel, who will be leading the review, said in an email. "Rolling Stone has agreed to publish our report in its entirety, without editing, on its website, as well as substantial excerpts in the magazine."
Phi Kappa Psi has been at UVA since 1853 and has more than 800 alumni.
"We believe that in the midst of this ordeal, there is an opportunity to move forward with important safety improvements," Stephen Scipione, president of the Virginia Alpha Charter Phi Kappa Psi, said in a statement. "This has prompted us to take a closer look at ourselves and what role organizations like ours may play in the problem. It's opened all of our eyes to the problem of sexual assault. Now it's time to do something about it. As a fraternity, we are going to continue discussing the need in the coming weeks."