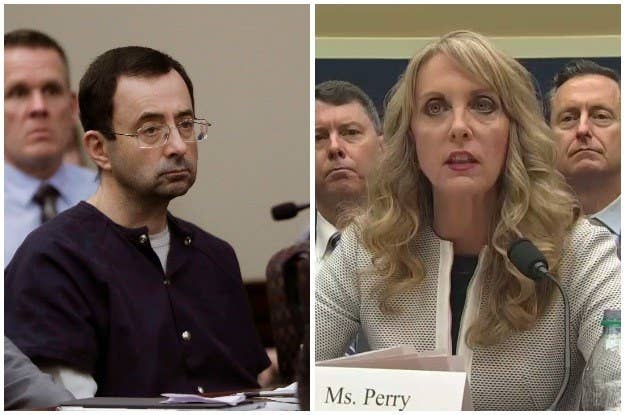 Four months after USA Gymnastics team doctor Larry Nassar was sentenced to 175 years behind bars, the president of the sport's governing organization apologized to victims, saying she was "appalled and sickened by the despicable crimes of Larry Nassar."

"We must do better," Kerry Perry said at a hearing held Wednesday by the House Committee on Energy and Commerce's Subcommittee on Oversight and Investigations.
The subcommittee started its investigation in the wake of Nassar's sentencing — he is now in jail for abusing girls and women under the guise of medical treatment. More than 250 people came forward to accuse him, many speaking publicly during his sentencing hearing.
Perry said she was in the courtroom when scores of women detailed their abuse "in vivid and painful detail."
"Their powerful voices will not be forgotten," Perry said in her first public statements since taking on the position of president of the organization.
"Let there be no mistake; those days are over. USA Gymnastics is on a new path, with new leadership, and a commitment to ensure this never happens again," she said.
Kerry also described the actions USA Gymnastics has taken, including closing the National Team Training Center at the Karolyi Ranch, expanding the Safe Sport department, creating an Athlete Task Force, and making reporting of abuse easier.
"Right now, there is a parent driving their child to a gymnastics class," she said. "I want that parent to know that we are doing everything we can to protect their child."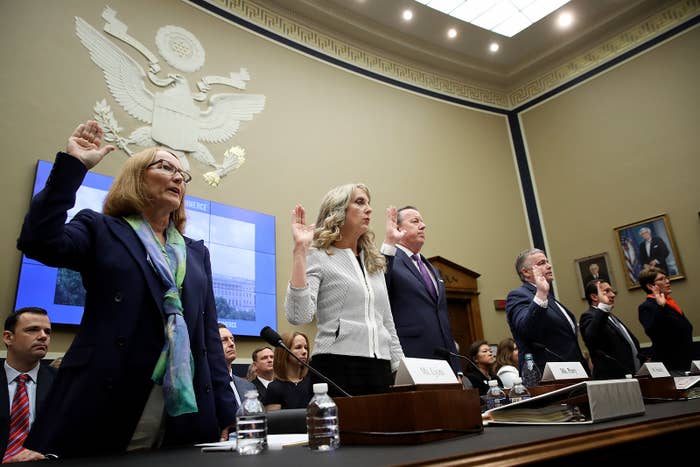 The other panelists — including the CEO of the US Olympic Committee, Susanne Lyons; President of USA Swimming Tim Hinchey; Executive Director of USA Taekwondo Steve McNally; CEO of USA Volleyball Jamie Davis; and Shellie Pfohl, president of US Center for SafeSport — all agreed that sports officials must do better do protect athletes.

"The sad truth is that abuse in the Olympic community extends well beyond Larry Nassar and USA Gymnastics," congressman Greg Walden said. "The committee has spoken with numerous survivors in the course of this investigation ... we know that their stories are not easy to tell."
Hinchey — the president of USA Swimming — said he is deeply committed to providing a safe environment for athletes to compete.
"Participation in sport should offer physical, social and emotional benefits, but for some, it has resulted in abuse and trauma that will negatively impact the rest of their lives," he said.

USA swimming was hit with a lawsuit earlier this week after Olympian Ariana Kukors sued the organization for allegedly failing to protect her from her former coach's abusive behavior.
USA Volleyall was rocked by a scandal involving a well-known youth volleyball coach accused of sexually abusing underage girls in the 1980s.
And USA Volleyball expelled Rick Butler in 1995 after three of the women came forward with allegations of abuse. Five years later, the organization partially lifted its ban, allowing Butler to return. He was permanently banned in January.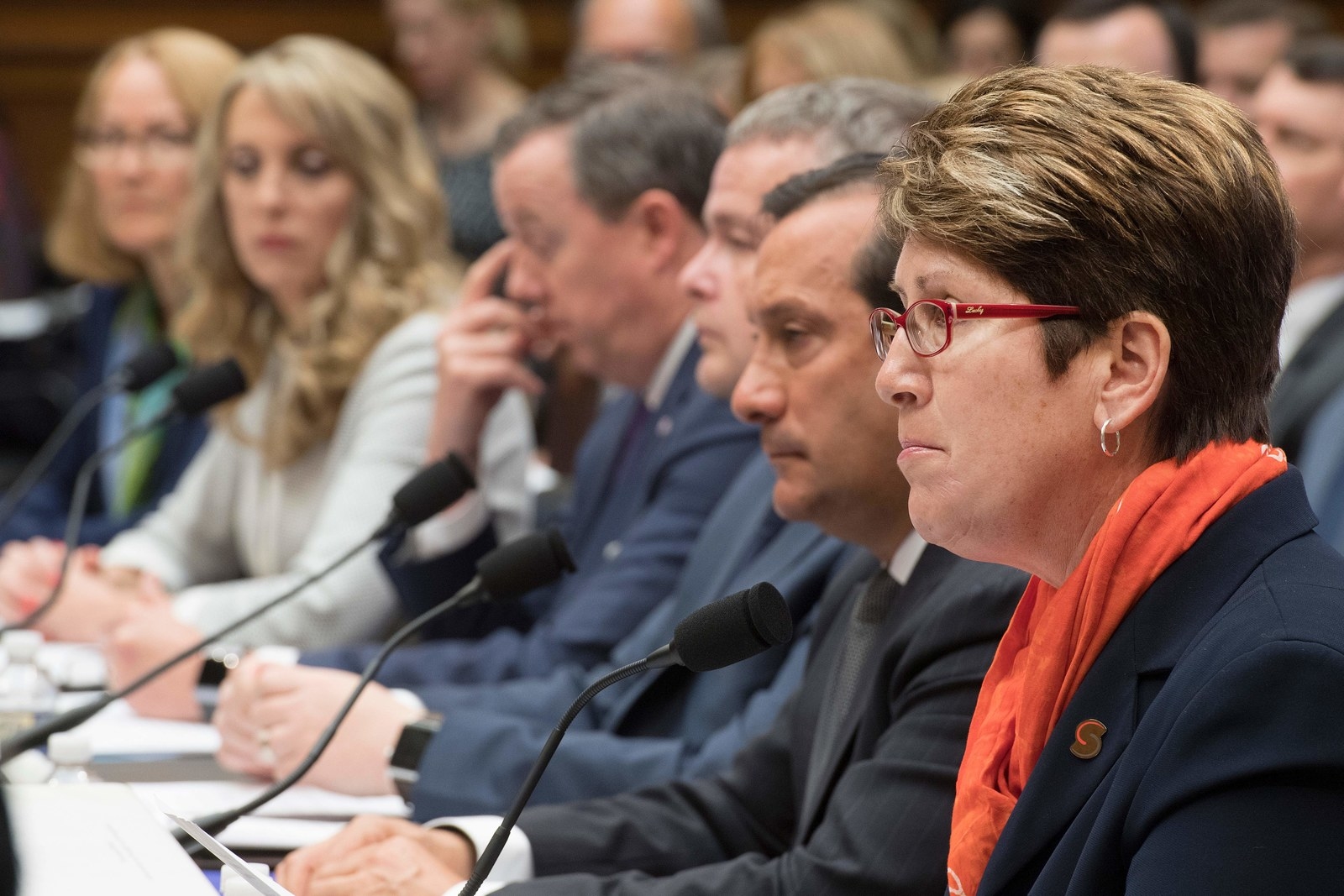 "[Sexual abuse victims] said that they found the system unresponsive, needlessly complex, or fraught with risks to their Olympic dreams," Lyons, the CEO of USOC, said. "This is appalling and unacceptable. The Olympic community failed the people it was supposed to protect. I know that we can do better. We will do better."

Through questioning, Lyons detailed the changes the Olympic Committee has made to address issues of sexual abuse, including the doubling of funding to the Center for SafeSport — an organization created by the USOC to independently investigate cases of abuse.
SafeSport was launched in March 2017. CEO Shellie Pfolh testified that the number of complaints received by the organization have skyrocketed.
"Ever since the #MeToo movement, the Center for SafeSort has seen reports skyrocket, is that right," congresswoman Diana DeGette.
""Between #MeToo and the Nassar trial, yes," Pfolh responded, adding that last year SafeSport received 20 to 30 reports per month. This year, Pfolh said the organization is receiving 20 to 30 complaints per week
Perry said that between January and April 2018, USA Gymnastics opened 275 cases of abuse and referred 78 of them to the SafeSport center.

Hinchey says USA Swimming has sent 75 complaints to SafeSport since July.

A tense moment came during the hearing when Georgia Congressman Buddy Carter berated the panel — specifically Perry and Lyons — with false or misleading statements.
"This is ridiculous," Carter later said, interrupting Perry. "How you can work for an organization like this that let this happen. I've sat here throughout this whole hearing and there's one thing I've never heard from any of you ... and that is 'I'm sorry.' I haven't heard from any one of you say to the parents, to the children, to the grandparents, 'I'm sorry' — and that's despicable."
"If you don't want to say sorry I don't want to talk to you," he said concluding his line of questioning with Perry.
Perry, though, began her opening statement by apologizing to those affected by Nassar's abuse.
The chairman of the committee, Gregg Harper, also corrected Carter saying that all witnesses during their opening statements acknowledged responsibility.

The panelists all concluded that more needs to be done to protect athletes and educate them on resources that are available to them.
Lyons went on to say the focus should be on preventing abuse from happening in the first place. She said the SafeSports can provide education to parents, athletes, and training centers.
"While we cannot change the past, we will learn from it and do better," Hinchey, from USA Swimming, said. Our commitment to preventing child sexual abuse and providing a safe and healthy environment for our athletes is constant and long-lasting,"

"Honestly I'm not reassured by your testimony because I don't hear a sense of urgency," congresswoman Debbie Dingell told the officials, as she cried during questioning. "The time to talk is over. You need to walk your talk."