University Of Oklahoma Probe Finds SAE Members Learned Racist Chant At National Event 4 Years Ago
University of Oklahoma president David Boren discussed the results of the probe into the racist fraternity chant. High school students who were potential recruits were present when chant was sung.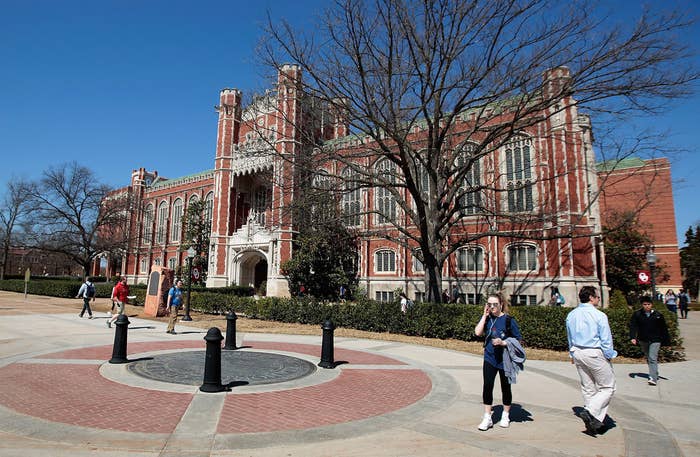 The racist chant sung by members of Sigma Alpha Epsilon fraternity at the University of Oklahoma originated at a national leadership cruise four years ago, university president, David Boren announced in a press conference.
Boren said the chant was brought back to the University of Oklahoma chapter and taught to members and pledges.
"It is clear that in the four years since the chant was brought to campus, it's existence has become a part of the institutionalized culture of the chapter," Boren said.
Boren also said that high school students who were potential recruits for the fraternity, were present when the chat was sung on March 7, 2015.
The University of Oklahoma chapter of SAE has already been shut down and two students who lead the chant, which was caught on film, were expelled.
Boren announced that 25 other members of the fraternity will undergo disciplinary action including mandatory community service and sensitivity training. Officers of the fraternity also met with leaders of African American communities to apologize in person.
Earlier this week, one of the students, Levi Pettit, publicly apologized for the racist chant.
"I will be deeply sorry and deeply ashamed for what I have done for the rest of my life," Pettit told reporters in Oklahoma City.
Boren said he has penned a letter to the executive director of the Sigma Alpha Epsilon national fraternity to ask what has been done on the national level to remedy the situation.
"Has national SAE undertaken an investigation to determine the extent of which the chant is being taught or disseminated by individual chapters across the nations," Borden said he asked in his letter.