A former student at the University of Cincinnati has filed a federal discrimination lawsuit alleging she was kicked off the volleyball team for posting photos that were "too sexy" on Instagram.

In a lawsuit filed in Ohio federal court last week Shalom Ifeanyi says she was discriminated against on the basis of race and gender by the University of Cincinnati's head women's volleyball coach, Molly Alvey, who kicked her off the team, subsequently ending her athletic scholarship.
A spokesperson for the university's athletic department told BuzzFeed News they could not comment on the pending legal matter. Alvey did not immediately respond to a request for comment.
Ifeanyi grew up playing competitive volleyball, according to the lawsuit, and college recruiters began approaching her when she was 14 years old. She initially decided to attended Oregon State University but eventually transferred to the University of Cincinnati in January 2017.

"Almost immediately upon her arrival on campus, Alvey began harassing and shaming [Ifeanyi] about pictures she was posting on her personal social media accounts," according to the lawsuit.
Alvey allegedly told Ifeanyi the photos, in which she was fully clothed, were "too sexy." Ifeanyi removed them from her Instagram out of fear of retaliation. According to the lawsuit, the coach did not ask other members of the women's volleyball team — who were of slighter build and lighter complexion — to remove photos of themselves in two-piece swimsuits.
During this time, Ifeanyi was recovering from knee surgery and was invited to meet with Alvey to discuss the progress of her rehabilitation. In the meeting, according to the complaint, Alvey closed the door and asked Ifeanyi to pull up her Instagram account.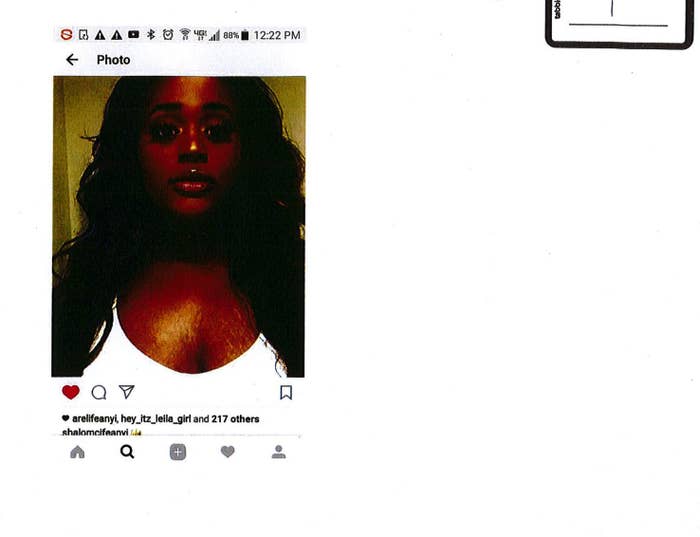 "When the football players see this, what do you think they see? They see your breasts. It's seductive," Alvey allegedly said of the above photo, demanding Ifeanyi remove the image.

The athlete complied with her coach's request out of fear of retaliation and continued shaming.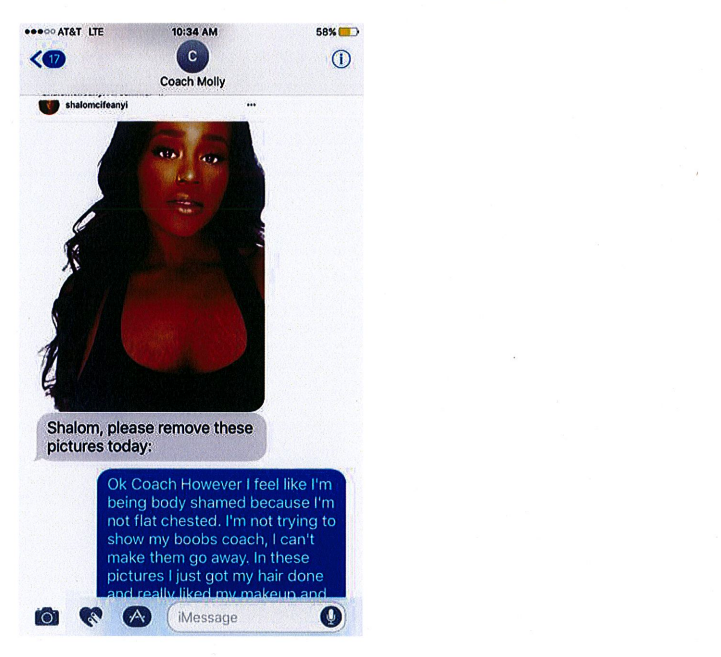 A few days later, Ifeanyi said she received a text message from Alvey demanding she remove another photo from her Instagram account. Ifeanyi objected, explaining to Alvey that she felt she was being targeted because of her body.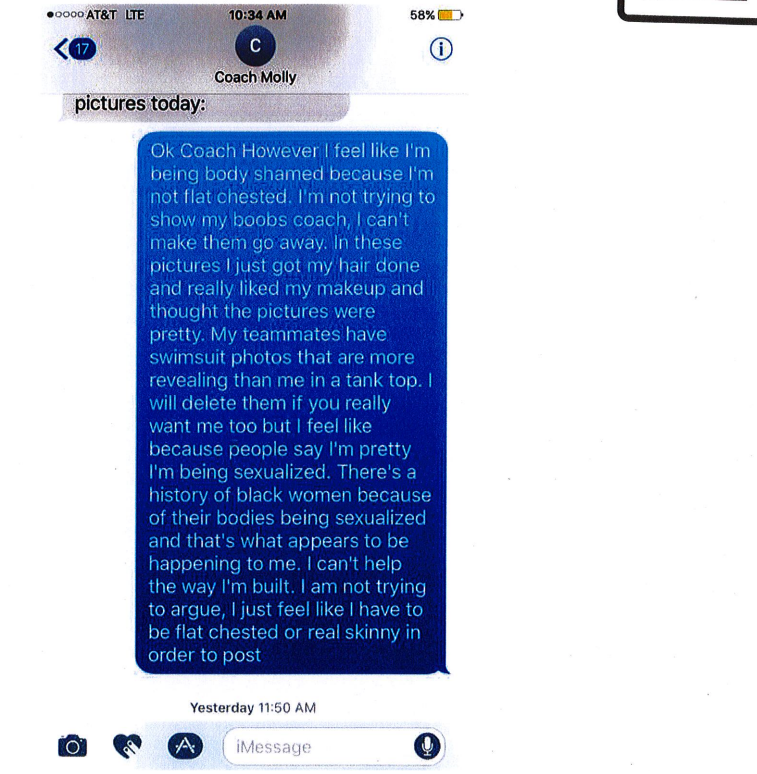 "Ok Coach However I feel like I'm being body shamed because I'm not flat chested. I'm not trying to show my boobs coach, I can't make them go away. In these pictures I just got my hair done and really liked my makeup and thought the pictures were pretty. My teammates have swimsuit photos that are more revealing than me in a tank top. I will delete them if you really want me too [sic] but I feel like because people say I'm pretty I'm being sexualized. There's a history of black women because of their bodies being sexualized and that's what appears to be happening to me. I can't help the way I'm built. I am not trying to argue, I just feel like I have to be flat chested or really skinny in order to post."
Alvey did not respond, according to the complaint, but later told Ifeanyi in person that she received the message.
In the following week, Ifeanyi was awarded "top performer of the week" by the strength training coach. But, according to the complaint, five days after receiving the award Alvey dismissed Ifeanyi from the team, explaining they "had different philosophies." Ifeanyi was told to return her school-issued apparel by the next day.
Ifeanyi said she asked if she was being kicked off the team because of her text message to Alvey from the previous week. Alvey allegedly said she received it but would not discuss it any further.
Ifeanyi filed a Title IX complaint with the university alleging discrimination. According to the lawsuit it's been nine months since the complaint was filed and the investigation has yet to be completed.
Ifeanyi was allowed to keep her scholarship for the 2017–2018 school year, but was told it would not be renewed since she is no longer on the volleyball team, according to the complaint. Due to NCAA transfer rules, Ifeanyi will not be able to play competitive volleyball in the 2018–2019 season.
Lawyers for Ifeany told BuzzFeed News they "believe the lawsuit speaks for itself and do not have any additional comment at this time."