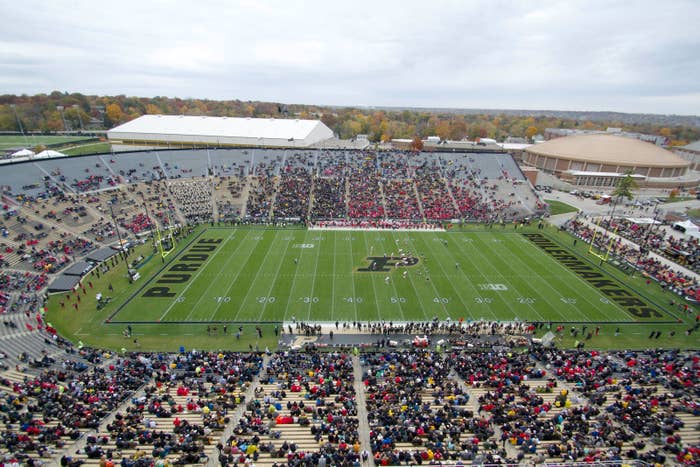 Two Purdue University students are accusing four members of the school's football team of sexually assaulting them at an off-campus party in October, a lawyer for the women told BuzzFeed News.
Attorney Mario Massillamany said his two clients were assaulted on Oct. 13 after a night of drinking at an off-campus house occupied by members of Purdue's football team.
"The girls were coming in and out of consciousness as four football plays took advantage of them without their consent," Massillamany said.
The following day, the women visited the campus health center to be examined, Massillamany said. That is when they reported the incident to the university and were interviewed by campus police.
Purdue has suspended the accused students from the football team, pending the outcome of the ongoing investigation, a university spokesperson said in a statement, adding that, "Purdue University takes very seriously all reports of sexual assault."
Massillamany said he is requesting that school officials expedite the university hearing process and expel the men, adding that no hearing has been scheduled yet. The four men have been suspended from the football team but are still able to attend classes.

"We want to allow police to conduct their investigation, we don't want to interfere with that," Massillamany said. "We're asking for them to expedite the process under the code of conduct because the victims have to see the men on campus and have to deal with them when going to class."
The Tippecanoe County Prosecutor's Office is reviewing the case, according to the Journal & Courier.

The prosecutor's office released a statement Wednesday saying they received and reviewed a case report from the West Lafayette police department and that no criminal charges were filed after a review of the evidence.
At least one other student has come forwarding alleging she was also assaulted by a football player, Massillamany said, adding that he does not represent that student.
"If there are others out there who have been victimized in this manner, we encourage them to contact us to get the justice they deserve," Massillimany said.