Two More Women Accuse Bill Cosby Of Sexual Assault
Margie Shapiro and Sunni Welles join more than 30 other women who have publicly accused the comedian of drugging and assaulting them.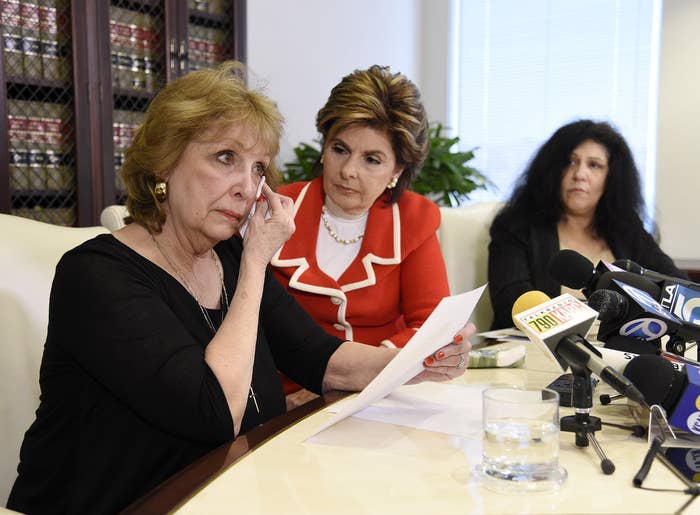 Two more women came forward Friday to accuse legendary television star Bill Cosby of drugging and sexually assaulting them several decades ago, Reuters reported.
Speaking from attorney Gloria Allred's office on Friday, Sunni Welles and Margie Shapiro joined the more than 30 women who have publicly accused the 77-year-old comedian of sexual assault.
Shapiro claims Cosby sexually assaulted her in 1975, according to The Wrap. The two met in Santa Monica, California, Shapiro said, where she worked at a doughnut shop. Shapiro, who was 19 years old at the time, said the comedian invited her to his film set where they spent the afternoon. She claims he later invited her to Hugh Hefner's Playboy Mansion, but instead of going there, Shapiro said they entered a "rec place" or "game house," which had a pool table and pinball machines.
Shapiro said that Cosby made a bet with her: whoever lost the game of pinball had to take a pill. After losing the game, Shapiro complied. She claims she was not drinking alcohol that evening.
She continued to say that when she woke up, both she and Cosby were naked and he was inside of her. Shapiro said she was in and out of consciousness and every time she was awake, Cosby was allegedly inappropriately touching her.
Welles said she first met Cosby through her mother, who was a story editor at Paramount, and said she considered him a family friend. One day in the mid-1960s, when Welles was 17, her mother took her to the set of Cosby's I Spy. Welles said Cosby invited her to go see jazz, to which she agreed because she was an aspiring singer at the time.
"My mom was sure I'd be in safe hands with Bill," Welles said, according to The Wrap.
At the jazz club, Welles recalled ordering a Coke and that "things began to come blurry," after drinking it. She said she later woke up in an apartment without Cosby. She said she felt like she had sex.
"I did not want to believe that a family friend would do that to me," Welles said.
Cosby has yet to publicly address the accusations against him but his lawyers have issued statements dismissing the women's claims.
Cosby "appears to be treating the allegations of so many women who have spoken out previously as a joke," Allred, who represents a number of the accusers, said according to Reuters.