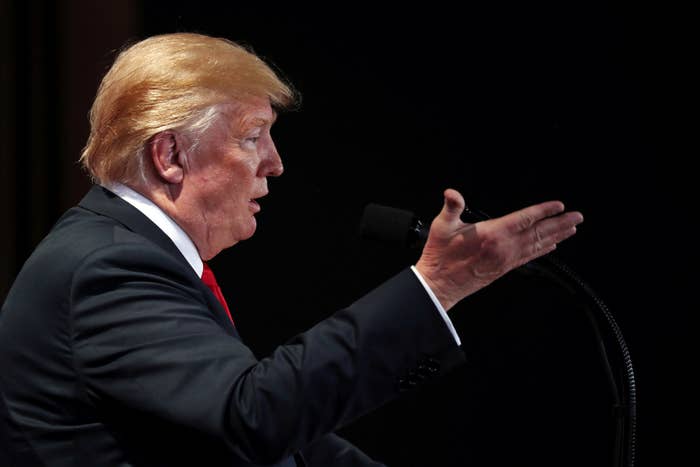 President Donald Trump and top members of his cabinet, coming under intense criticism from Democrats and Republicans, on Monday defended his policy of separating children from their families at the border — with the president using several false statements to try to support his argument.
Trump once again claimed that Democrats were to blame for his administration's own policy of separating immigrant children from their parents at the border. But it's not a law from Democrats. Instead, the increase in family separation, which has seen hundreds of immigrant children detained and kept apart from their parents, comes from a zero-tolerance policy introduced by the Trump administration and Attorney General Jeff Sessions.
Trump also implied that a law has to be changed to reverse the policy — but there is no law that determines children must be taken away from their parents when they cross the border. Trump can stop it himself.

The administration's zero-tolerance policy means adults crossing the border illegally are being prosecuted in the court system, while their children are left in holding cells. Crossing the border illegally is a federal misdemeanor, and recrossing illegally is a felony, but there is no law mandating the separation of families that cross the border illegally.
The president incorrectly stated the administration's policy is "the law" last week when at an impromptu press conference outside the White House he said that "the Democrats forced that law upon our nation."
On Monday, White House spokesperson Hogan Gidley also insisted that Democrats are to blame, telling Fox & Friends, "this is all the Democrats' doing."
"It's heart-wrenching," Gidley said, adding that Trump doesn't like separating children from their families but "he also understands it's the law of the land. You have to enforce these laws."
The president also said that the US does not want the migration problems Europe is facing to also happen in the United States — falsely tweeting that "Crime in Germany is way up."
Germany's crime statistics are the lowest they have been since 1992, according to the most recent German data available.
"Big mistake made all over Europe in allowing millions of people in who have so strongly and violently changed their culture!" Trump tweeted.
Trump later added, during a National Space Council event, "The United States will not be a migrant camp and it will not be a refugee holding facility."
The president also tweeted that children are being used by "some of the worst criminals on earth as a means to enter our country" — a statement later echoed by Nielsen, who said the US does "not have the luxury of pretending that all individuals coming to this country as a family unit are in fact a family."

Speaking at the National Sheriffs' Association on Monday, Nielsen doubled down on the claim that the administration is simply enforcing the law when separating immigrant children from their families, blasting the media, members of Congress, and advocacy groups for saying that DHS is doing things that are "unhumanitarian, that are cruel, immoral, and disgraceful. We are doing none of those things. We are enforcing the laws passed by Congress."
She went on to say that the children "are very well taken care of."
Nielsen said the administration will not apologize for doing the job they have sworn to do.

"This administration has a simple message," she said. "If you cross the border illegally we will prosecute you; if you make a false immigration claim we will prosecute you; if you smuggle illegal aliens across an extraordinarily dangerous journey we will prosecute you."
Sessions, speaking at the same event as Nielsen, which was met with a crowd of protesters outside, said the American people elected Trump "to end the lawlessness at our southern border."
"We cannot and will not encourage people to bring their children or other children to the country unlawfully by giving them immunity in the process," Sessions said. "Why wouldn't you bring children with you if you know you would be released and not prosecuted?"
Several people were arrested at the protest, and one woman, who was blocking the street during the demonstration, was hit by a truck.
New Orleans police interviewed and driver and the woman — who went back to protesting — and didn't file any charges.
Meanwhile, the United Nations high commissioner for human rights, Zeid Ra'ad Al Hussein, said Monday, "In the United States, I'm deeply concerned by recently adopted policies which punish children for their parents' actions. ... The thought that any state would seek to deter parents by inflicting such abuse on children is unconscionable."
More than three months ago then-Homeland Security Secretary John Kelly told CNN he is considering separating immigrant children from parents making no mention of the law that would require such action.
"We have tremendous experience dealing with unaccompanied minors," he told CNN in March. "We turn them over to HHS and they do a very good job of either putting them in foster care or linking them up with family members in the United States."
The following month, in April, Nielsen spoke to NPR where she detailed the policy and said that if a person breaks the law and enters the US from somewhere that's not a point of entry, the administration will refer them for prosecution.
"What that means, however, is if you are single adult, if you are part of a family, if you are pregnant, if you have any other condition, you're an adult and you break the law, we will refer you," she told NPR. "Operationally what that means is we will have to separate your family."
John Stanton contributed additional reporting from New Orleans.