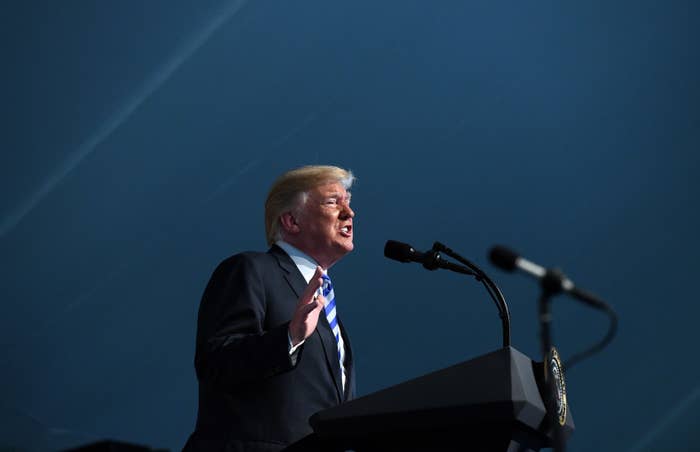 President Trump tweeted Monday that he has "absolute right to pardon" himself — a day after his lawyer Rudy Guiliani said in an interview that the president "probably" has the power to do so in connection with the Russia investigation.
"As has been stated by numerous legal scholars, I have the absolute right to PARDON myself, but why would I do that when I have done nothing wrong?" the president tweeted. "In the meantime, the never ending Witch Hunt, led by 13 very Angry and Conflicted Democrats (& others) continues into the mid-terms!"
The question of whether a president can pardon himself was raised in a 1974 Justice Department memo concerning Richard Nixon. Under the fundamental rule that no one may be a judge in his own case, the President cannot pardon himself," the memo notes — but also cites caveats.
On Sunday, Giuliani said the president "probably" has the power to pardon himself.
"He has no intention of pardoning himself but he probably — not to say he can't," Giuliani told George Stephanopoulos on ABC's This Week.
In a later interview on NBC on Sunday, Giuliani also warned that, if Trump pardoned himself, it "would lead to, probably, an immediate impeachment."

In July, the Washington Post reported that Trump was asking people close to him about the extent of his powers to pardon family members, aides, and even himself.

The president on Monday also called special counsel Robert Mueller's investigation "unconstitutional," adding that "we play the game" because he did nothing wrong.
"The appointment of the Special Councel [sic] is totally UNCONSTITUTIONAL! Despite that, we play the game because I, unlike the Democrats, have done nothing wrong!"
White House Press Secretary Sarah Sanders dodged questions about Trump's tweets during the daily press briefing Monday.
When asked if Trump agrees with Giuliani's statements that the president pardoning himself would be "unthinkable" and would lead to impeachment, Sanders responded, "thankfully the president hasn't done anything wrong" and there's no need for a pardon.
When pressed further as to why the president tweeted that Mueller's investigation is unconstitutional, Sanders repeated that Trump has done nothing wrong.
"Scholars have raised a number of questions about the legality of the special counsel process, the president has made his views about the special counsel very clear, and the president knows that the special counsel isn't needed because once again he hasn't done anything wrong," Sanders said. "There was no obstruction, no collusion, and no wrongdoing. However, we continue to cooperate."