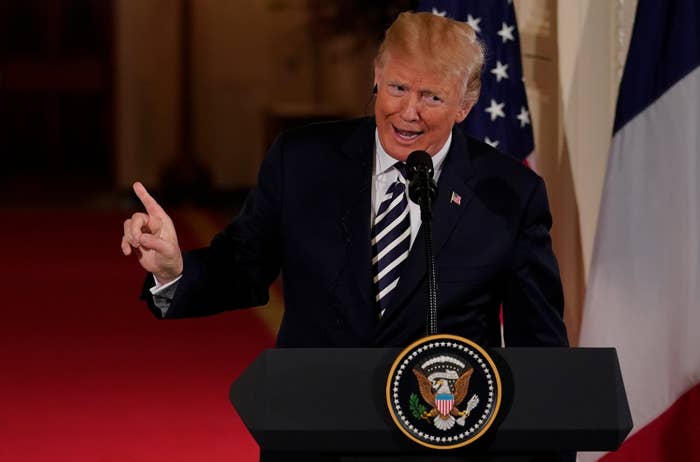 President Donald Trump on Thursday said that Michael Cohen was his lawyer in the "crazy Stormy Daniels deal" — having previously denied knowing anything about the $130,000 payment to the adult film star in 2016.
In an interview with Fox & Friends Thursday morning, Trump said Cohen is one of his many attorneys and that he only represented "a tiny, tiny little fraction" of the president's legal work.
"He represents me like with this crazy Stormy Daniels deal," Trump said.
Earlier this month, when the president was asked aboard Air Force One whether he knew about the payment, Trump said, "No," according to the White House press pool report.
Trump was asked on the presidential airplane why Cohen — his longtime lawyer — made the payment.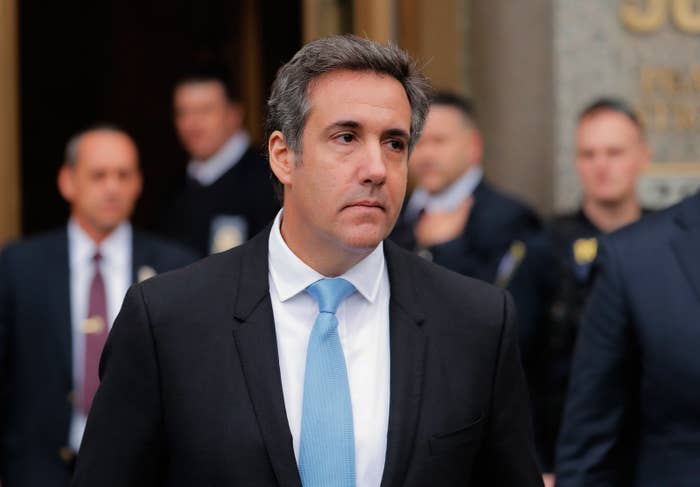 "You'll have to ask Michael Cohen. Michael is my attorney. You'll have to ask Michael," he responded.
Michael Avenatti, Daniels' attorney, called Trump's comments Thursday "a hugely damaging admission by the president," and a "gift from the heavens in this case."
"According to what he said on Air Force One, he didn't know about the agreement or about the payment," Avenatti said on MSNBC. "We now find out, that is bogus, that was a lie on Air Force One. He's now just admitted and tripped himself up, he's just admitted that Michael Cohen represented him in connection with the stormy Daniels situation."

Cohen paid Daniels $130,000 in the days before the 2016 presidential election as part of a settlement agreement, which precluded Daniels from discussing her alleged sexual relationship with Trump 10 years earlier.
The Wall Street Journal revealed the payment — and Cohen's route to making it — in January this year, but its details became public only on March 6 when Clifford's lawyer, Michael Avenatti, filed a lawsuit seeking to void what Avenatti now calls the "hush arrangement."
On the day before Trump's phone interview with Fox & Friends, Cohen said he will be invoking his Fifth Amendment right against self-incrimination in Daniels' lawsuit against him and the president.

"Based upon the advice of counsel, I will assert my 5th [sic] amendment rights in connection with all proceedings in this case due to the ongoing criminal investigation by the FBI and US Attorney for the Southern District of New York," Cohen stated in a signed declaration submitted to the court Wednesday afternoon.
Cohen has been under criminal investigation for month, prosecutors said in court earlier this month. They said they "seek evidence of crimes, many of which have nothing to do with his work as an attorney, but rather relate to Cohen's own business dealings."
Cohen's lawyers wanted the judge to stop the government from looking at the evidence from the searches. They argued that Cohen is a lawyer and the government could be violating the attorney-client privilege of confidentiality.
On Thursday, Avenatti called this a "dramatic development," adding that Cohen invoking his Fifth Amendment right "is a big deal."

"The president directed the American people ... to answer questions about this agreement and this payment," Avenatti said. "I mean, he told the American people, this is the guy that was going to answer the questions and now this is the guy refusing to answer the questions because his answers may incriminate him. This is a big deal."
And in a letter submitted to the court Thursday by the US Attorney's Office for the Southern District of New York in the Cohen litigation relating to the search of his properties, a government attorney wrote that Trump's comments about Cohen performing "a tiny, tiny little fraction" of his overall legal work, "suggest that the seized materials are unlikely to contain voluminous privileged documents, further supporting the importance of efficiency here."

Cohen is arguing in court that the records seized by prosecutors should be returned to him because it related to privileged legal work. The government has said Cohen does barely any actual legal work and that they should be able to review the records.