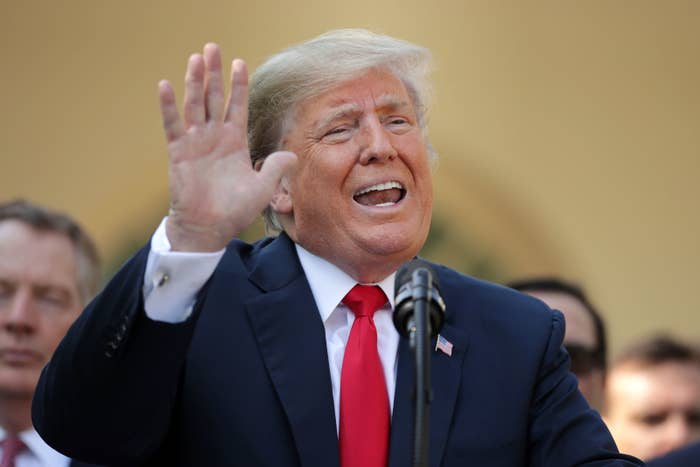 President Donald Trump on Monday credited Brett Kavanaugh for saying he had "difficulty" with alcohol in high school, just days after Kavanaugh spent hours, under oath, testifying to the Senate Judiciary Committee that his teenage drinking habits were those of a typical high schooler.

Trump was responding to reports and statements from Kavanaugh's old classmates who said the Supreme Court pick lied or mischaracterized his drinking habits while testifying last week, by saying Kavanaugh was "strong on the fact that he drank a lot."

"I can tell you I watched that hearing and I watched a man saying that he did have difficulty as a young man with drink[ing]," Trump said. "He talked about things that happened when he drank. This is not a man that said ... he was perfect with respect to alcohol."
During his testimony last week, Kavanaugh spent considerable time telling Democrats his drinking habits were those typical of a teenager — that while he likes beer, he never drank to the point of blacking out.
"We drank beer. And, you know, so did I think the vast majority of people our age at the time. In any event, we drank beer. Still do. So whatever," he said.
During his opening statement before the committee, Kavanaugh said the drinking age was 18 when he was growing up in Maryland and in Washington, DC, and that he sometimes drank "too many beers."
"I drank beer with my friends," Kavanaugh said. "Almost everyone did. Sometimes I had too many beers. Sometimes others did. I liked beer. I still like beer. But I did not drink to the point of blacking out, and I never sexually assaulted anyone."
He also said when asked if he'd ever blacked out, "I — passed out would be — no, but I've gone to sleep, but — but I've never blacked out."
Trump's interpretation of Kavanaugh's testimony may be rooted in the fact that he does not drink alcohol. His brother, Fred, was struggling with alcoholism when he died in 1981. Trump went on to say that he was "surprised at how vocal [Kavanaugh] was about the fact that he likes beer."

"I'm not a drinker and I can honestly say I never had a beer in my life," Trump said. "One of my only good traits. I don't drink. I never had a glass of alcohol ... For whatever reason. Can you imagine if I had? What a mess I would be. I would be the world's worst."
Two of Kavanaugh's former classmates from Yale issued statements Monday afternoon saying they never saw him blackout from drinking — a blackout may not necessarily be detectable by other people — and that the behavior being attributed to him is "simply wrong."
"I will say it again, we drank in college. I was with Brett frequently in college, whether it be in the gym, in class or socializing. I never ever saw Brett blackout. Not one time," Chris Dudley, who has been publicly defending Kavanaugh, said in a statement. "And in all the years I have known him, I have never seen him to be disrespectful or inappropriate with women. I would also like to point out that going out never came before working hard and maintaining our focus on our goals."
Dan Murphy, who lived with Kavanaugh during their time at Yale, said he "never saw Brett black out or not be able to remember the prior eventing's events."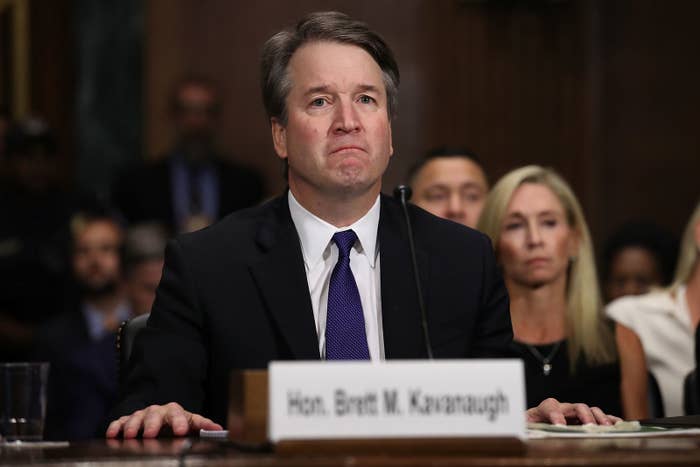 Trump took questions during a press conference in the Rose Garden after an event about a trade deal with Canada, taking questions about Kavanaugh and the FBI's investigation into sexual assault allegations against him.
Last week, Trump ordered a one-week FBI investigation into Kavanaugh — part of his background check as a Supreme Court nominee — a day after senators heard testimony from the judge and Christine Blasey Ford, who accused Kavanaugh of sexually assaulting her in high school.
Kavanaugh has been publicly accused by three women of sexual misconduct.

Trump on Monday once again wholly threw his support behind Kavanaugh, calling him a "good man" and saying what he has gone through in the last several weeks "is not describable."
"You look at his family until this happened and what his family has gone through," Trump said. "The trauma for a man that never had any accusation and never had a bad statement about him."
Trump boasted about Kavanaugh's academic and professional accomplishments, saying he was "number one in his class" at Yale.
He also pointed out the allegations lodged against Kavanaugh are from decades ago.
"A charge made was said to have occurred 36 years ago and nothing happened since," Trump said. "I feel badly for all parties. I feel badly for everybody. I feel badly for our country. This is so bad for our country."
The president went on to suggest that he's seen a Democratic senator in a "compromising" situation — a comment some interpreted as a veiled threat.
While Trump said that he would support the FBI interviewing all three women who accused Kavanaugh of sexual misconduct, the president cast doubt on one of them.
"Certainly I would imagine they will interview two," Trump said. "The third I don't know much about. I heard that the third one [Julie Swetnick] — I have no idea if this is true — has very little credibility. If there is credibility, interview the third one."
It is unclear exactly what Trump was referring to. Last week Politico reported that Swetnick, who said Kavanaugh was present at a party when she was gang-raped in high school, had a restraining order filed against her in 2001 in Miami by an ex-boyfriend. Politico reported the case was dismissed 13 days later.
As of Monday morning, the FBI interviewed Deborah Ramirez, a former Yale University classmate of Kavanaugh's, who claims he exposed himself to her at a dorm party during the 1983–84 school year. A member of Ford's team told BuzzFeed News they have not heard from the agency, and Michael Avenatti, Swetnick's lawyer, said there's "still no word from the FBI."
"The FBI should interview anybody that they want within reason but you have to say within reason," Trump said. "But they should be guided, and I'm being guided by what the senators are looking for."
Trump said the White House will do whatever the senators decide and that the only thing he's asking for is speed.

"I want it to be done quickly," he said of the FBI investigation. "It's unfair to the family and to it's unfair. It's so unfair to his kids and his wife."