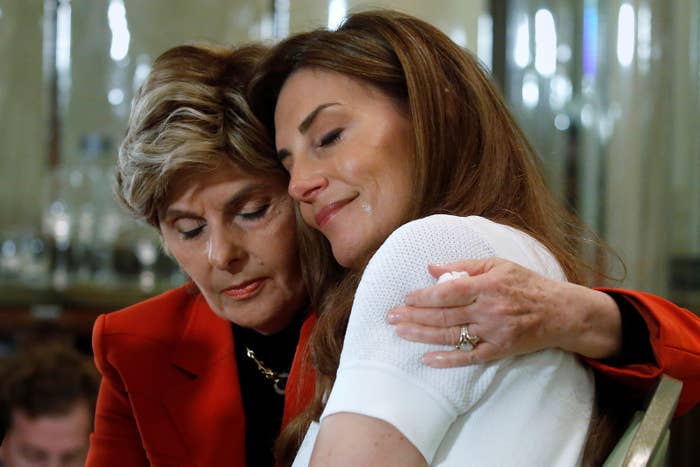 Karena Virginia, a yoga teacher from New Jersey, said Thursday that Donald Trump groped her and made a sexual comment about her appearance during the 1998 US Open.
With her attorney Gloria Allred by her side, Virginia said when she was 27 years old, Trump approached her as she was waiting for a car to arrive to take her home outside the tennis venue in Queens, New York.

"I was surprised when I overheard him talking to the other men about me," she said. "He said, 'Hey look at this one, we haven't seen her before, look at those legs,' as though I was an object rather than a person."

Virginia then said Trump walked up to her, reached out his right arm and grabbed her arm. His hand then touched the right side of her breast, she said.

The woman said she flinched and pulled back, and said Trump asked, "Don't you know who I am?"

"I felt intimidated and powerless," she said, adding that she is not seeking to file a lawsuit.

Virginia said it wasn't until about five years ago that she realized she was a victim and that he had violated her.

"Mr. Trump, perhaps you do not remember me or what you did to me so many years ago," she said during tearful remarks. "But, I can assure you that I remember you and what you did to me as though it was yesterday. Your random moment of sexual pleasure came at my expense and affected me greatly."

Virginia is the tenth woman to accuse Trump of sexual misconduct. The women began coming forward after a leaked 2005 Access Hollywood tape revealed Trump making comments about grabbing women "by the pussy."

The Trump campaign denied the accusation saying "voters are tired of these circus-like antics."
"Discredited political operative Gloria Allred, in another coordinated, publicity seeking attack with the Clinton campaign, will stop at nothing to smear Mr. Trump. Give me a break," deputy communication director Jessica Ditto said in a statement.

During Wednesday's third presidential debate, Trump denied the accusations, calling them lies and fiction, adding, "nobody has more respect for women than I do."
"His response is ludicrous," Gloria Allred said Thursday. "Today's victim also is noteworthy in that her allegations demonstrate how Mr. Trump selects his victims at random."
Virginia said it was a difficult decision to come forward knowing she'd "be attacked by Trump or some of his supporters," and cautious of brining unwanted attention to her family including her husband and children.
"I believe we are in a moment of crisis and I believe we are all needing to find inner peace," Virginia said. "This is how I'm finding my inner peace."
On Oct. 8, Virginia wrote on Facebook that she was "hit on by Donald Trump in a way that I do not want to write about on social media."