Tim Cook Tries To Calm Investors Amid Apple's Volatile Stock Price
In a rare letter to the news media — sent to CNBC's Jim Cramer — Apple's CEO said the company performance this quarter is reassuring.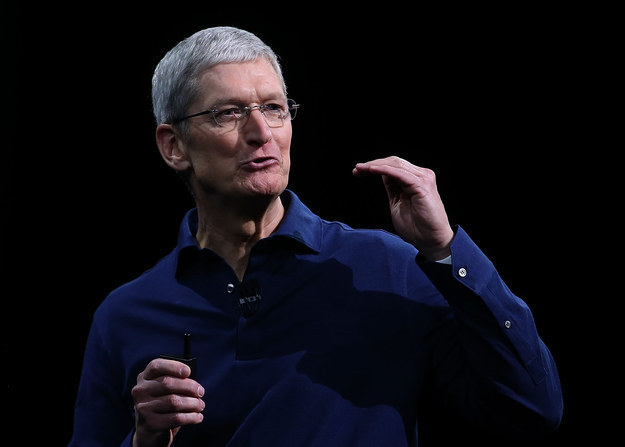 As Apple stock dropped by about 6% Monday morning, CEO Tim Cook emailed CNBC's Jim Cramer in an effort to assure investors that the company has seen strong growth in China in July and August.

"I get updates on our performance in China every day, including this morning, and I can tell you that we have continued to experience strong growth for our business in China through July and August," Cook wrote in his letter.
Apple shares dropped nearly 11% to $94.26 in the first few minutes of trading, helping drag the tech-heavy Nasdaq Composite down 8%. Since then, however Apple shares have recovered to almost just over $106, giving them a slight gain in afternoon trading. Stock markets fell sharply around the world as the Dow Jones Industrial Average plummeted nearly 1,000 points before rebounding later.
"Obviously I can't predict the future, but our performance so far this quarter is reassuring," Cook said.
China is Apple's second biggest source of revenue after the Americas region. In the quarter ending in June, China revenue was up 112% year-on-year. The declining yuan, however, reduces Chinese consumers' purchasing power and may negatively impact Apple sales moving forward.
An Apple spokesperson confirmed to BuzzFeed News that Cook sent the email.
Here is Cook's full note to Cramer:
Jim,

As you know, we don't give mid-quarter updates and we rarely comment on moves in Apple stock. But I know your question is on the minds of many investors.

I get updates on our performance in China every day, including this morning, and I can tell you that we have continued to experience strong growth for our business in China through July and August. Growth in iPhone activations has actually accelerated the past few weeks, and we have had the best performance of the year for the App Store in China during the last 2 weeks.

Obviously I can't predict the future, but our performance so far this quarter is reassuring. Additionally, I continue to believe that China represents an unprecedented opportunity over the long term as LTE penetration is very low and most importantly the growth of the middle class over the next several years will be huge.

Tim