Former Playboy model and actress Carrie Stevens has accused Oscar-winning director Oliver Stone of groping her breast while at a Hollywood party in the 1990s.
Stevens, 48, told BuzzFeed News she was invited to a producer's party honoring Stone when she was 22 years old. As an aspiring actress, she was excited to have been "invited to big famous producer's house."

While at the party she said Stone walked by on his way out the door when he allegedly "just reached out and grabbed my boob with a shit-eating grin on his face."
"It was like nothing to him, like it was pure instinct,'" she said. "It was like my breast was there for his taking," she said.
A representative for Stone did not immediately return a request for comment.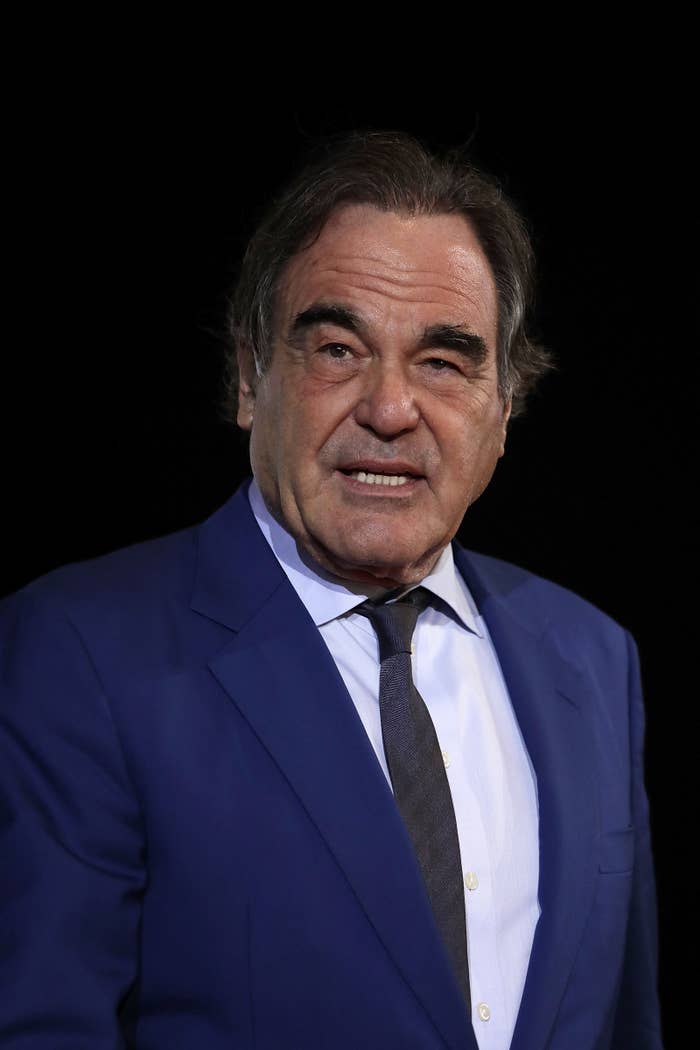 "I was humiliated but I didn't want to complain," Stevens also told The Hollywood Reporter, adding the didn't want to appear ungrateful for the invitation. "Last thing I wanted to do was be a trouble maker," she said.
Stevens, who has had roles on Days of Our Lives and Beverly Hills, 90210, first tweeted the accusation on Friday after Stone initially declined to condemn Harvey Weinstein, the Hollywood producer accused of sexual assault by multiple women.

"It's not easy what he's going through either," Stone said of Weinstein according to the Hollywood Reporter.

"I'm a believer that you wait until this thing gets to trial," Stone said during the Busan International Film Festival. "I believe a man shouldn't be condemned by a vigilante system."

Stone later walked back on his comments, posting a statement on Facebook saying he was not aware of all the women who spoke out and that he is "appalled" by Weinstein's actions.
In response to Stone's comments, Stevens tweeted about her experience meeting the director.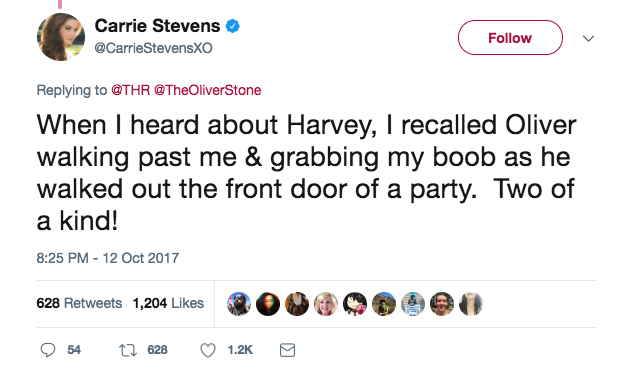 Stevens, who served as Playboy's Miss June 1997 and ultimately gave up on her acting career, said she has experienced misogyny and sexual harassment in the entertainment industry on several occasions and "accepted it as the norm."

"I couldn't be an actress because I couldn't handle the pressure to compromise myself" she said. "I didn't want to see someone's dick or show my tits. So I just gave up even though [acting] was my passion in life. That's what I loved to do."
The recent stories in the New York Times and the New Yorker exposing Weinstein for alleged sexual harassment and sexual abuse spanning decades have "opened Pandora's box," Stevens said.
"People have just really had it and aren't going to stand for that kind of behavior anymore," she said, adding that now victims feel empowered to speak out and share their stories.