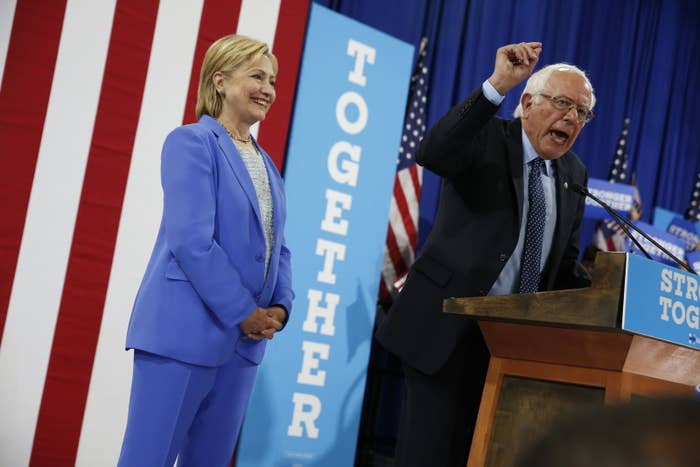 Bernie Sanders delivered a long-awaited endorsement of Hillary Clinton's presidential bid on Tuesday, essentially ending his run for the nomination and their months of contentious campaigning.
The Vermont senator joined Clinton in an event in Portsmouth, New Hampshire,
where he said he will do whatever he can to make sure Clinton is the next president.
"Secretary Clinton has won the Democratic nominating process and I congratulate her for that," he said.
"I have come here to make it as clear as possible as to why I am endorsing Hillary Clinton and why she must become our next president," Sanders said to huge cheers.
Here's the exact moment he delivered his endorsement:
Sanders remarks focused on the same progressive policies and principles he pushed for during his campaign. He denounced the income gap, tax breaks for the wealthy, and of course presumptive Republican nominee Donald Trump.
The election, he said, is about "thousands of young people."
He also hit one of the hallmarks of his campaign: "Hillary Clinton believes that we must substantially lower student debt, and that we must make public colleges and universities tuition free for the middle class and working families of this country."
Her campaign, he said, "is about the needs of the American people and addressing the very serious crises that we face." He went on, "There is no doubt in my mind that as we head into November, Hillary Clinton is far and away the best candidate to do that."
He said a Trump presidency would be disastrous for the economy and for civil rights: "If you don't believe this election is important, take a moment to think about the Supreme Court justices that Donald Trump will nominate, and what that means to civil liberties, equal rights and the future of our country," he said.
Sanders also slammed Trump on environmental issues.
"Well, Donald Trump, like most Republicans, sadly and tragically, is choosing to reject science — something no presidential candidate should ever do," Sanders said. "He believes climate change is a hoax. In fact he wants to expand use of fossil fuels. That will be a disaster for our country and for the entire planet."
Sanders said that he and Clinton have had their differences, adding, "That's what this campaign has been about it. That's what democracy is about."
Leading up to the endorsement, Trump tweeted that Sanders has "sold out."