Third Eye Blind Epically Trolled People At The Republican Convention
This was perhaps not the concert Republican fans were expecting.
Alt-rock band Third Eye Blind threw shade at the GOP Tuesday night during a charity concert at the Republican National Convention in Cleveland by mocking conservative views and expressing support of LGBT rights.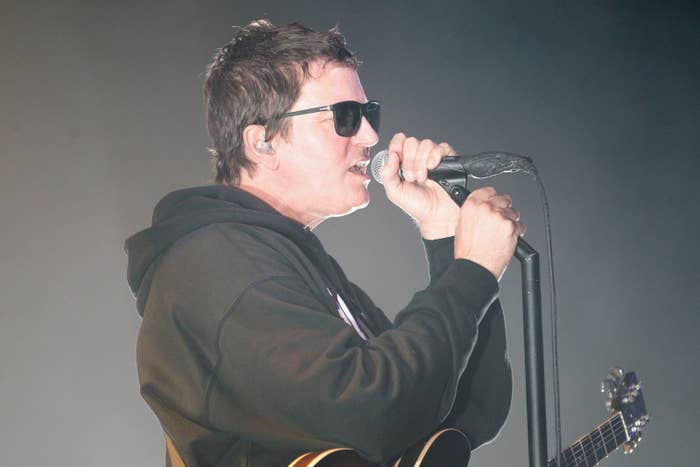 The invite-only concert was held at the Rock and Roll Hall of Fame and Museum and hosted by the Recording Industry Association of America (RIAA).
The concert was to benefit Musicians on Call, a nonprofit that brings music to the bedsides of patients in health care facilities.

According to Snapchat's head of news, the band did not play any of its hits, and at one point frontman Stephan Jenkins taunted the crowd by asking, "Who here believes in science?"
The band was even booed by the upset concertgoers.
"You can boo all you want, but I'm the motherfucking artist up here," Jenkins said.
At one point, Jenkins spoke in support of LGBT rights before launching into the song "Jumper."
"To love this song is to take into your heart the message and to actually, actually have a feeling to arrive and move forward, and not live your life in fear and imposing that fear on other people," Jenkins told the crowd.

The band seemed rather pleased with their performance following the show.
In a statement Wednesday, the band said they played the concert for the charity, not the RNC audience.
"We let it be known we were there to support Musicians on Call and that we in fact repudiate every last stitch of the RNC platform and the grotesque that is their nominee," the band said in the statement.

The statement included a list of issues the band supports, including:
—Science is science.

—Coal is not clean.

—Black Lives Matter.

—LGBTQ = equal.

—Separation of church and state (still a good idea)

We could go on.
"We have Republican friends, family members, and fans, and we love them all," the statement reads. "What we reject is what their party has come to stand for. But in keeping with Musicians on Call's message, we believe in the gathering power of music. With that spirit we don't step back from our audience wherever or whomever they are."