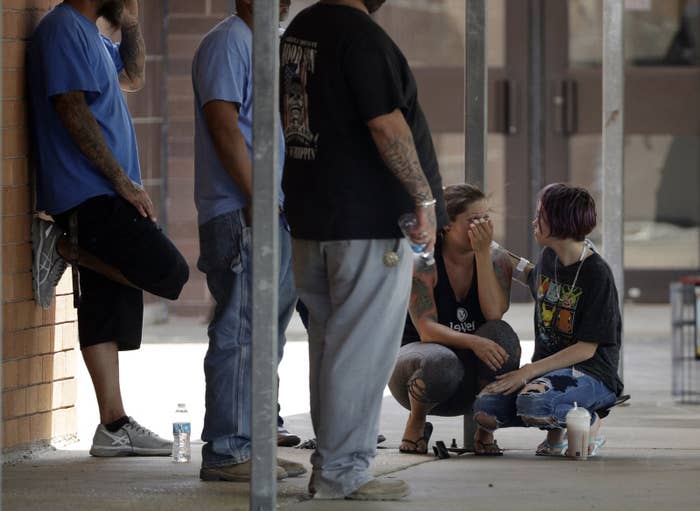 Ten people were killed after a shooter opened fire inside a Santa Fe, Texas, high school Friday morning, sending students running for their lives after someone pulled a fire alarm, officials said.
The fatalities include students and adult staff members of Santa Fe High School, Harris County Sheriff Ed Gonzalez said, adding that one suspect was in custody and a second person of interest had been detained for questioning.
A Santa Fe Independent School District police officer, identified as John Barnes, was injured in the shooting and is being treated at a local hospital.

Gulshan Sharma, chief medical officer at the University of Texas Medical Branch, where Barnes was being treated, said the officer suffered a gunshot wound to his elbow and was bleeding out when he arrived at the hospital. He remains in critical condition.
Santa Fe ISD police said possible explosive devices were located at the school and off of the campus, which is about 35 miles southeast of Houston.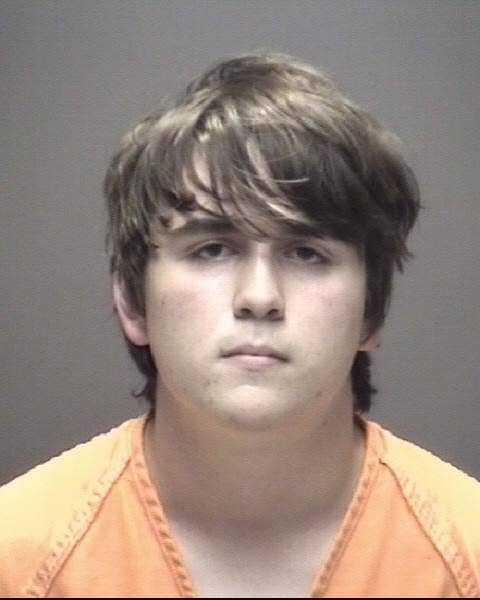 Dimitrios Pagourtzis, 17, was identified as the suspected shooter. He was booked into the Galveston County Jail and held without bond on charges of capital murder and aggravated assault against a public servant.
Galveston County Judge Mark Henry told KHOU 11 that Pagourtzis told police he acted alone.
The 17-year-old admitted to shooting multiple people with "the intent on killing people," according to a probable cause affidavit filed in court.
"Dimitrios advised he did not shoot students he did like so he could have his story told," the affidavit said.
The suspect had information contained in journals on his computer and cellphones that indicated that he "wanted to commit the shooting" and kill himself afterward, Texas Gov. Greg Abbott said at a news conference. But the shooter gave himself up because he didn't have the "courage" to kill himself, the governor added.
"It's impossible to describe the magnitude of the evil of someone who would attack innocent children in a school," Abbott said.
Pagourtzis used a .38-caliber revolver and a shotgun that belonged to his father, who legally owned the weapons, Abbott said.
Henry said the potential explosive devices found included two canisters wrapped in duct tape, but with no way to detonate, and a pressure cooker with nails, also with no explosive material.
Officials said the suspect did not display any warning signs prior to the shooting.
"We have what are often categorized as red flag warnings," Abbott said. "Here the red flag warnings were either nonexistent or imperceptible."
The only red flag was a photo of a T-shirt with the phrase "Born to kill" on Pagourtzis's Facebook page, he added.
"But as far as investigations by law enforcement agencies, as far as arrests or confrontation with law enforcement, as far as having a criminal history, he has none," Abbott said. "His slate is pretty clean."

The mother of one of the victims, 16-year-old Shana Fisher, said she believed her daughter was intentionally targeted by Pagourtzi, the Associated Press reported.
Sadie Rodriguez told BuzzFeed News via Facebook that Shana had problems with the suspect in the four months leading up to the shooting.

"He kept making advances on her and she repeatedly told him no," Rodriguez said. "He continued to get more aggressive."
Rodriguez said the suspect was an ex-boyfriend of her daughter's best friend. Her daughter "finally stood up to him" and "embarrassed him in class" just last week.
"A week later he opens fire on everyone," Rodriguez told BuzzFeed News via Facebook.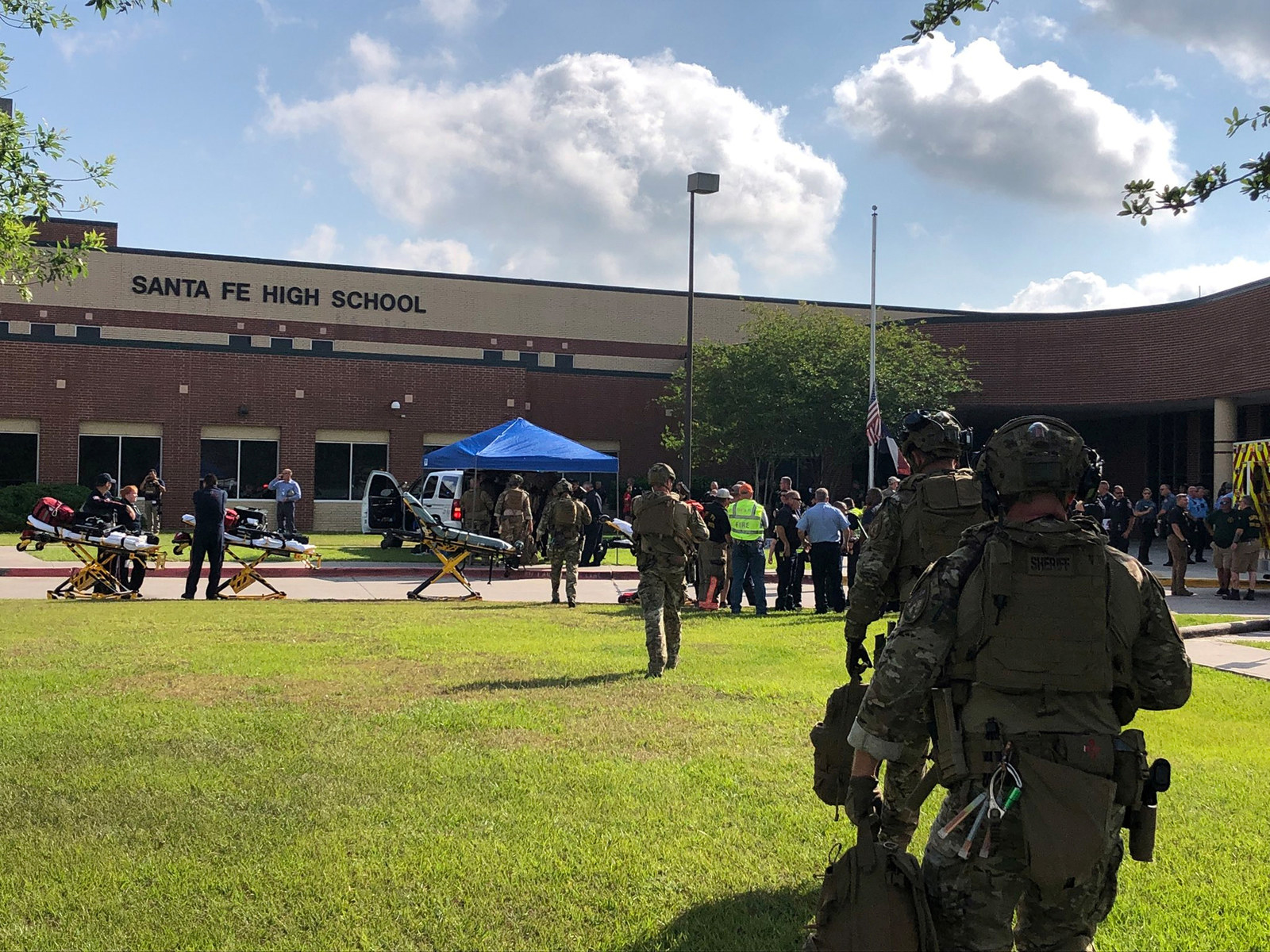 Senator Ted Cruz of Texas said the attack "defies words."

"Once again, Texas has seen the face of evil," Cruz said. "There have been too damn many of these."
David Marshall, chief nursing officer at UTMB, said the hospital received three individuals with gunshot wounds — Barnes, a female adult, and a boy under the age of 18.

Raul Reyes, UTMB spokesperson, said the woman had a gunshot wound to the leg and the boy had a gunshot wound to the leg. Both were in good condition and on Saturday the boy was discharged from the hospital.
A fourth person, a 15-year-old boy, was treated for a minor injury and released, Marshall said.

A student named Paige, who was interviewed by a local television station, said she managed to keep calm, but that it was "really scary."

Asked if she was surprised a shooting happened at her school, she said "no."
"It's been happening everywhere," she said. "I always felt like eventually it was going to happen here, too."
Several students said they were saved because someone pulled a fire alarm during the shooting, prompting people to evacuate.
Another student told ABC13 that someone carrying a firearm that looked like a shotgun came into her art class during first period and opened fire. Her report is unconfirmed, but a man who lives near the school told the same station that a student came running to his home while covered in paint. The student told the neighbor that the weapon sounded like a pump-action shotgun.

The girl said students fled through an exit in the back of the classroom. She could not say how many shots were fired but said she saw one female student with blood on her leg.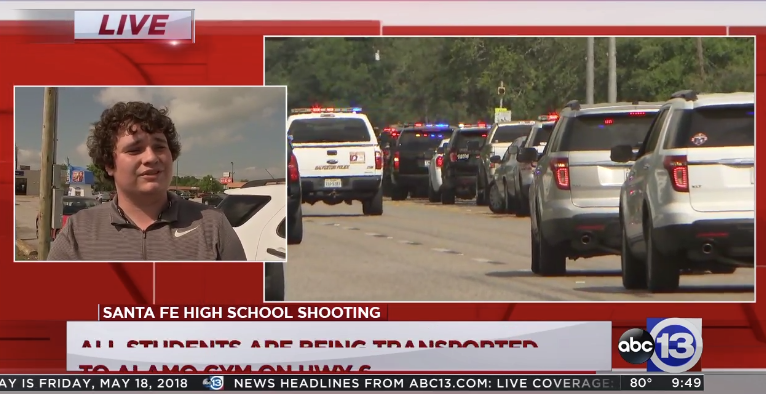 "I was really nervous ... everyone's crying, very emotional, trying to get their parents," she said.
Dakota Schrader, a student, said "at first all we heard was 'Run, run,' and next thing you know we hear boom, boom, boom."
She said she tried to find a safe place to go and called her mother right away.
"Nobody should be able to feel like that inside of a school," she said.
"I didn't know where to find her," Schrader's mother said. "She was in a field."
An 18-year-old student, Damon, told NBC13, "you couldn't hear anything over the gunshots. Boom, boom, boom."
Payton Bailey, a 16-year-old sophomore, told BuzzFeed News she had just gotten to school, around 7:15 a.m., when the fire alarm went off and she ran out of the building through a back door, along with the rest of the students.
She called her mom, thinking there was a fire, she said, when she heard three popping sounds near the school's art classroom.
"I told my mom about the noise and she said, 'Maybe it's an electrical fire,'" Bailey said. "Then someone shouted that it was a shooter and everyone ran."
She and other students ran a farther distance from the school, she said, and then police arrived. They told the students to move further away from the school, and so a group of them walked down some backroads to a gas station, where family picked them up, according to Bailey.
Avery Garza, 16, a sophomore, told BuzzFeed News he was in a classroom on his phone Friday morning when the fire alarm went off.
"So we went through basic protocol for fire drills," he said. "And we heard popping sounds, and all of a sudden my friend texted in a group chat saying, 'Get out, there is a shooter.'"
Garza said everyone started running as kids shouted, "Shooter, shooter!"
Garza, who called the day "heartbreaking," shared a screenshot of his group chat with BuzzFeed News.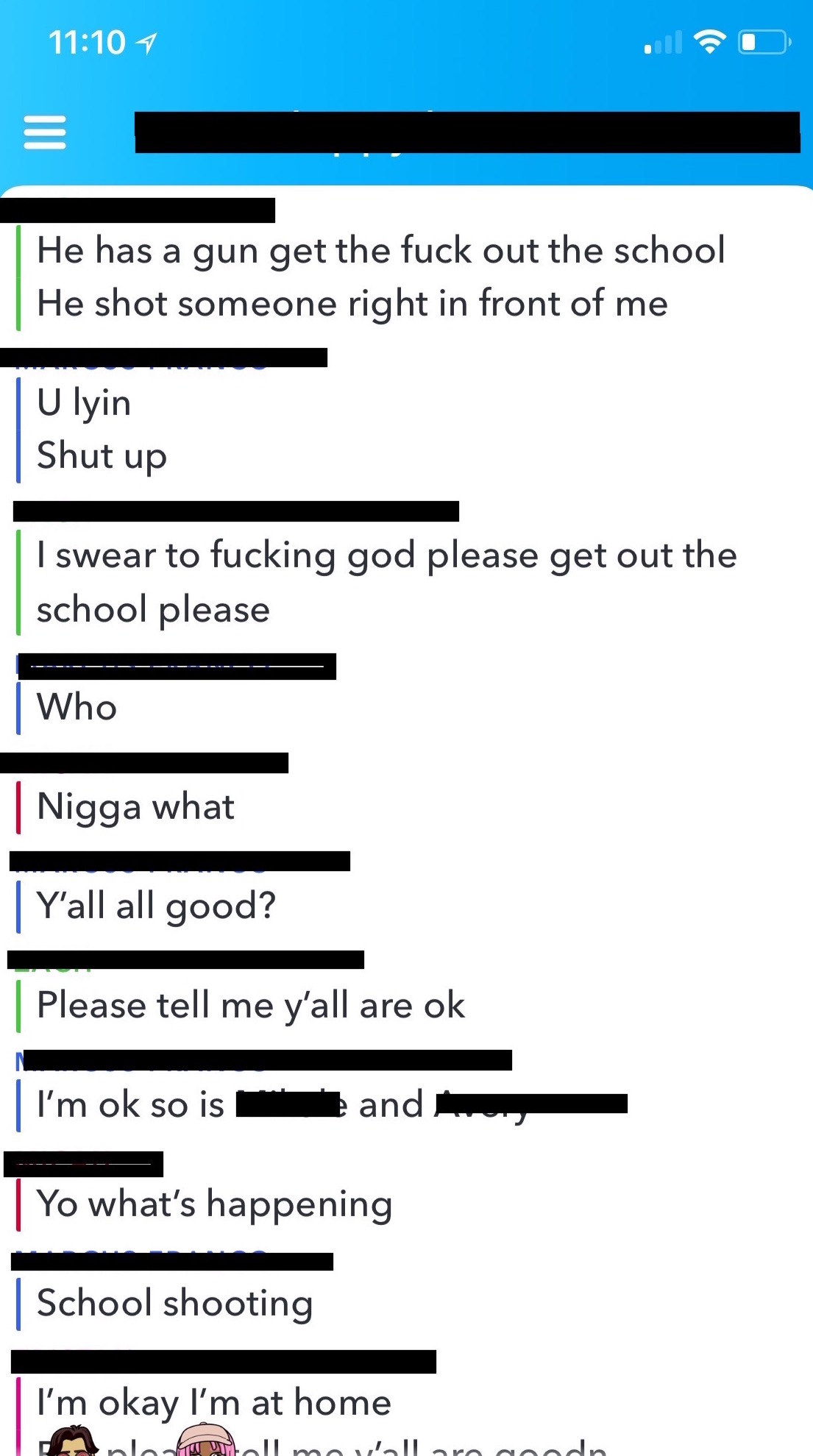 A man told ABC13 his son, a student at the school, called him around 7:40 a.m. local time with reports of a shooter. When the father arrived at the school, he said he saw a number of students being taken away on stretchers and in ambulances.

Students were led out by police and emptied their backpacks in the yard before being searched with their hands up.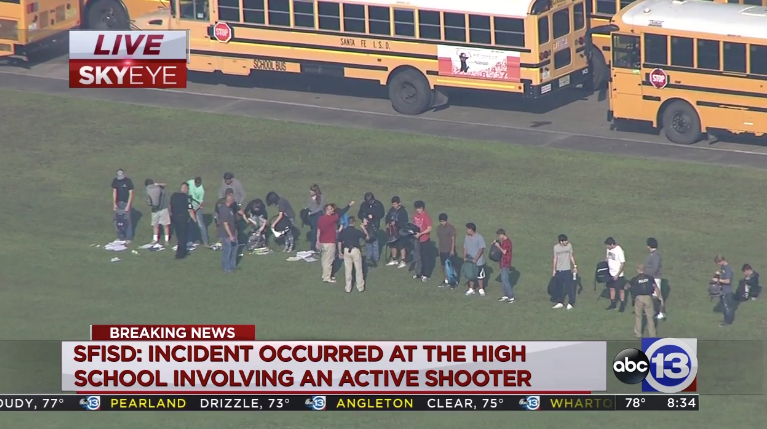 President Donald Trump tweeted about the shooting Friday morning, saying, "School shooting in Texas. Early reports not looking good. God bless all!"
Speaking later at a prison reform event at the White House, Trump said it was a "very, very sad" day, and offered his condolences to the victims' families. He said his administration would work to protect students, secure schools, and "keep weapons out of the hands of those who pose a threat to themselves and to others."
"This has been going on too long in our country. Too many years, too many decades now," he said.
US Rep. Randy Weber, who represents the area, said, "These are salt of the earth people, a quiet community. It's shocking."
"Nobody wants this anywhere. And certainly when it's in your district it comes home very quickly," he added. "You just say, 'Oh man.' It's tragic."
Survivors of February's school shooting in Parkland, Florida, also reacted to Friday's massacre.
"Santa Fe High, you didn't deserve this," Emma González wrote.
In a letter Friday, Superintendent Leigh Wall said district officials will do whatever they can to help students recover. All schools in the district will be closed on Monday and Tuesday.
"In the meantime, the Santa Fe community will pull together to support our friends, neighbors and loved ones who are suffering," Wall wrote.