A Washington state teen was charged with reckless endangerment for pushing her friend off a bridge into a river, causing her multiple injuries in an incident captured in a now-viral video.

Footage of the Aug. 7 incident shows Jordan Holgerson, 16, hesitating on top of a bridge in Moulton Falls Regional Park after watching one of her friends jump into the river. Jordan then said she wanted to do so herself, according to charging documents obtained by KOIN-TV.

But video capturing the moments leading up to the push from the bridge shows Jordan having second thoughts about leaping into the river, saying, "No, I won't go."
Taylor Smith, 18, who was standing behind Jordan, can be heard telling her to "just go ... I'm going to push you."

Smith's hands then appear in the frame, shoving Jordan over the ledge, as she belly-flopped into the river more than 50 feet below.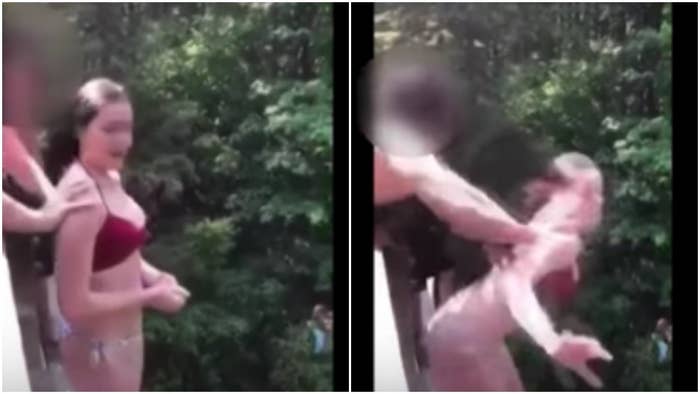 "In midair I think I might've blacked out," Jordan told KGW-TV. "I was awake and aware when I hit the water."

Jordan suffered a punctured lung and six broken ribs.

"She is lucky she is not paralyzed or dead," Jordan's mother, Genelle Holgerson, told the Longview Daily News. "We're lucky she is going to recover and not have permanent injuries."
The Clark County Prosecuting Attorney's Office charged Smith with one count of reckless endangerment — a misdemeanor — saying the teen caused "a substantial risk of death or serious physical injury," according to the charging documents.

Smith appeared on Good Morning America on Friday and said she did not think about the consequences before pushing her friend.
"She wanted to jump and she was scared and she had asked me to give her a push, and I didn't think about the consequences," Smith told GMA. "I thought she would be fine."

Smith said she has apologized several times and has tried visiting Jordan in the hospital but was asked to leave. She said that Jordan has stopped communicating with her.
Now recovering at home from her injuries, Jordan recently told Today that she wants Smith "to sit in jail and think about at least what she did."
"I never intended to hurt her ever, nor would I intend to hurt anyone," Smith said Friday. "I'm really sorry it turned out that way. I just pray that she heals and gets better."