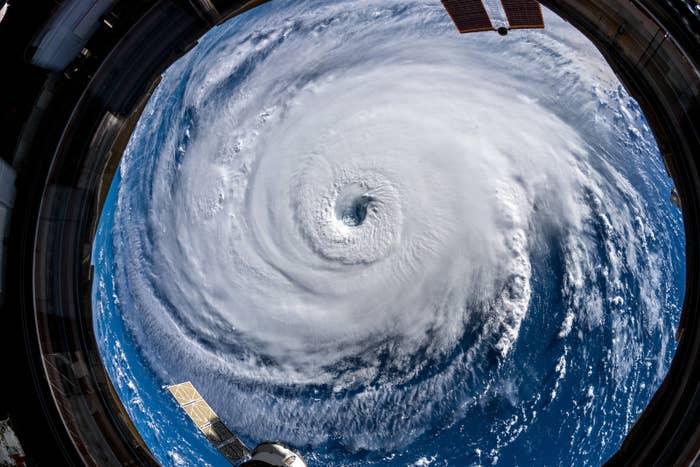 The National Weather Service warned on Wednesday that Hurricane Florence, which is expected to slam into the East Coast later this week, "will likely be the storm of a lifetime for portions of the Carolina coast."

The hurricane, which was downgraded from a Category 4 to a Category 2, is expected to make landfall Thursday through Friday, causing catastrophic damage from winds and flooding. The storm is forecast to linger over the Carolinas through the weekend, increasing the potential for continued flooding.
More than 10 million people in the region are under hurricane and storm watches and warnings, according to the weather service.
"This is not going to be a tropical storm. This is not going to be one of those storms that hit and move out to sea. This is going to be, you know, a Mike Tyson punch to the Carolina coast," Federal Emergency Management Agency associate administrator Jeff Byard said Wednesday.

As of Wednesday night, the hurricane was packing 110 mph winds, slowing down slightly since Tuesday night. North Carolina cities Wilmington and Jacksonville could see between 30 and 50 inches of rainfall.

"I can't emphasize enough the potential for unbelievable damage from wind, storm surge, and inland flooding," the weather service advisory notes.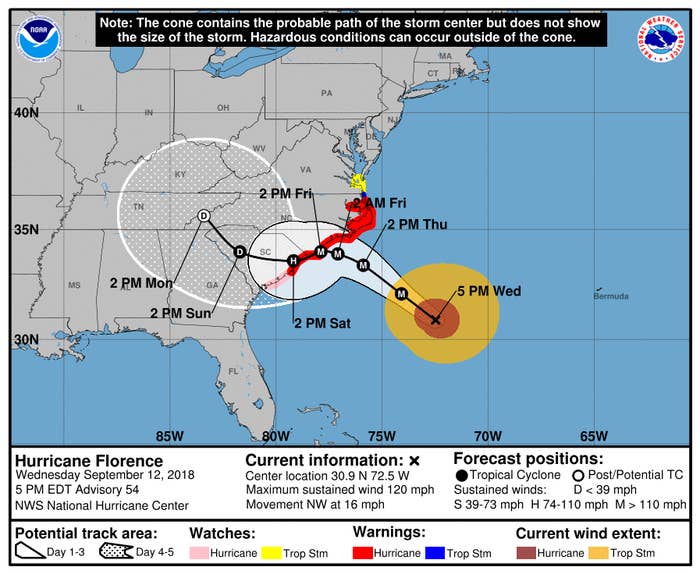 Evacuations were underway in parts of North Carolina and South Carolina as state officials urged residents to take action before the storm makes landfall.

"Even if you've ridden out storms before, this one's different," North Carolina Gov. Roy Cooper said at a press conference Tuesday. "If you wait until conditions get bad, it may be too late to get out safely."
FEMA on Tuesday warned that the power "is going to be off for weeks."

"If you're told to evacuate for Hurricane Florence and don't go, you're putting your life in danger," FEMA administrator Brock Long said Wednesday.

Duke Energy estimated that between 1 and 3 million of its customers in the Carolinas could experience power outages as a result of the storm.

"The magnitude of the storm is beyond what we have seen in years," Duke Energy incident commander Howard Fowler said Wednesday. "With the storm expected to linger, power restoration work could take weeks instead of days."

"Wednesday will give us one final day to prepare," the weather service said in its advisory. "Conditions will go downhill in a hurry Thursday night as the center of Florence approaches the coast."

In North Carolina, state parks and museums are closed, as well as many public schools. Sixteen shelters were open as of Wednesday morning, the governor said, adding that by Wednesday evening 2,800 National Guard soldiers are expected to be on active duty.
About 3,000 inmates are being evacuated, or already have been evacuated, as of Wednesday afternoon, from four prisons and jails in North Carolina in the path of the storm, Julia Jarema, a spokesperson for North Carolina Department of Public Safety, told BuzzFeed News.

"North Carolina, my message is clear: Disaster is at the doorstep, and is coming in," Gov. Cooper said Wednesday.

President Donald Trump tweeted Wednesday morning that "we are ready for the big one that is coming," once again praising the government's response to last year's deadly hurricanes.

The president also released a video message on Twitter about the incoming storm, saying the government is prepared with food and medical supplies.
"But despite that, bad things can happen when you're talking about a storm this size," he said. "It's called Mother Nature, you never know. But we know."