The California Department of Fish and Wildlife confirmed that P-22 decided to go home overnight.
Workers installing a security system in a Los Feliz home came face-to-face with famous mountain lion P-22, who decided to relax in the crawl space beneath the home.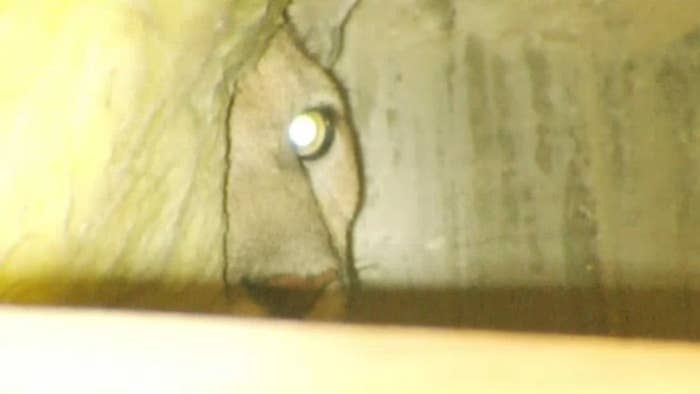 "One worker came sprinting to through our house, white-faced, shouting, 'There's a mountain lion under your house!," Paula Archinaco, one of the owner's of the house told ABC7, adding that her home is "like The Ritz-Carlton for mountain lions."
Armando Navarrete, team leader with Los Angeles Animal Service, told the Los Angeles Times the worker got out of the crawl space "like a bat out of hell."
Los Angeles firefighters, the California Department of Fish and Wildlife, and Los Angeles Animal Control tried getting the mountain lion out of the space by shooting bean bag rounds and tennis balls. They even poked the animal with a stick.
Ultimately, efforts fell flat, and the crews gave up for the night.
The mountain lion crept out of Griffith Park, where it is known to live, around midnight and settled in the under the house, away from the reporters, cameras, and helicopters that set up outside.
Janice Mackey of the California Department of Fish and Wildlife said they are going to let the activity outside the home calm down, in hopes that the unwelcome house guest will come out on his own and return to his natural habitat.
The mountain lion gained celebrity status approximately three years ago when scientists were surprised to find he was able to cross the 405 and 101 Freeways and enter Griffith Park.
A National Geographic photographer captured a now famous photo of P-22 with the Hollywood sign behind him
This is not the first time P-22 has made headlines. Last year, the mountain lion made a dramatic recovery after suffering a bad case of mange brought on by rat poison.