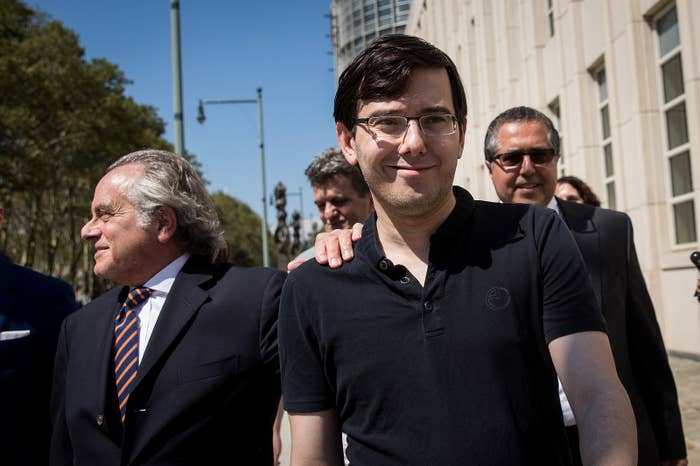 Martin Shkreli, who is in prison awaiting sentencing after being convicted of securities fraud in August, may have to hand over to the government his one-of-a-kind Wu-Tang album Once Upon a Time in Shaolin.
In a forfeiture submission filed Thursday in Brooklyn federal court, prosecutors asked judge Kiyo Matsumoto to seize $7.4 million in assets from the former pharmaceutical executive.

The government said it will keep the $5 million bail Shkreli posted and listed a number of other items to make up the difference, including the famed Wu-Tang album Shkreli said he paid $2 million for, Lil Wayne's album The Carter V, a Picasso painting, and an Engima machine from World War II.
Shkreli may no longer own the Wu-Tang album, according to Bloomberg News. A listing for the album was posted on eBay and allegedly sold for $1 million in September — while Shkreli was in prison — though the buyer was never identified.
Wu-Tang chose to record the album in secret and release it as "a piece of art," according to Forbes.
"Wu-Tang's aim is to use the album as a springboard for the reconsideration of music as art, hoping the approach will help restore it to a place alongside great visual works — and create a shift in the music business, not to mention earn some cash, in the process," Forbes reported.

Shkreli's lawyer Ben Brafman told BuzzFeed News he will "vigorously oppose" the government's motion.
"Our position is clear. None of the investors lost any money and Martin did not personally benefit from any of the counts of conviction. Accordingly, forfeiture of any assets is not an appropriate remedy," Brafman said.
The "pharma bro" garnered international attention and condemnation for his decision to drastically raise the price of a life-saving drug used by HIV patients from $13.50 to $750 per pill in 2015. In August, Shkreli was convicted on several counts of securities fraud for lying to investors of his failed hedge fund, and one count of conspiracy to commit securities fraud. The conviction was unrelated to the drug price hike.
About a month later, a federal judge revoked his bail after Shkreli offered $5,000 to people who could pull Hillary Clinton's hair during her book tour. Shrkeli awaits sentencing and faces up to 20 years in prison.