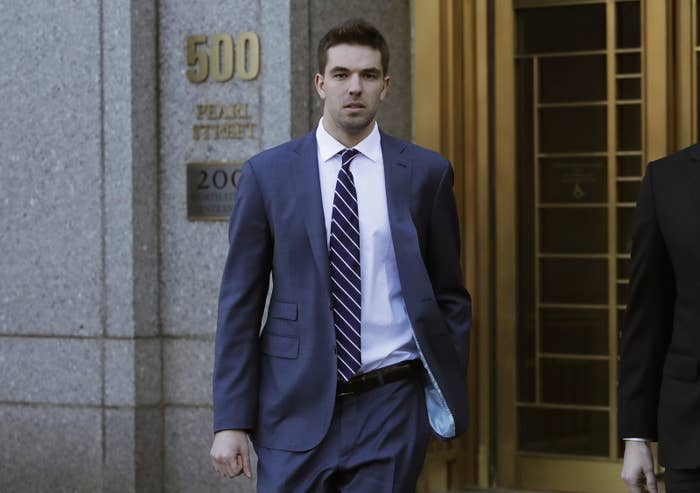 Billy McFarland, the founder of the disastrous Fyre Festival in the Bahamas who is awaiting sentencing after pleading guilty to defrauding investors, was hit with additional charges Tuesday for allegedly trying to sell VIP tickets to exclusive events while on he was out on bail — but prosecutors say the tickets never existed.
McFarland was charged Tuesday with one count of wire fraud and one count of money laundering for allegedly selling nearly $100,000 in bogus tickets to exclusive events such as the 2018 Met Gala, Burning Man, Coachella, the Grammy Awards, Super Bowl 52, and a Cleveland Cavaliers game that included a team dinner with LeBron James.
"William McFarland, already awaiting sentencing for a prior fraud scheme, allegedly continued to conduct criminal business as usual, selling nonexistent tickets to fashion, music, and sporting events," Manhattan US Attorney Geoffrey Berman said in a statement. "As alleged, McFarland's purported exclusive event ticket company, NYC VIP Access, in fact had no access to events for which he sold bogus tickets."

Prosecutors allege McFarland was soliciting people to purchase the tickets as recently as March — the same month he pleaded guilty to two counts of wire fraud for scamming investors and vendors for the Fyre Festival.
Fyre Festival, which was billed as a luxurious music festival taking place on a private island in the Bahamas in 2017, quickly devolved into chaos.
Attendees, who had traveled long distances and paid thousands of dollars for tickets, were given natural disaster–style tents for housing and in some cases were left stranded. Some people shared pictures on social media of the food at the festival, which appeared to be simple bread and cheese.
McFarland, who was in Manhattan federal court Tuesday, was ordered to be held until June 26, according to the New York Daily News.
Messages to McFarland's attorney were not immediately returned.