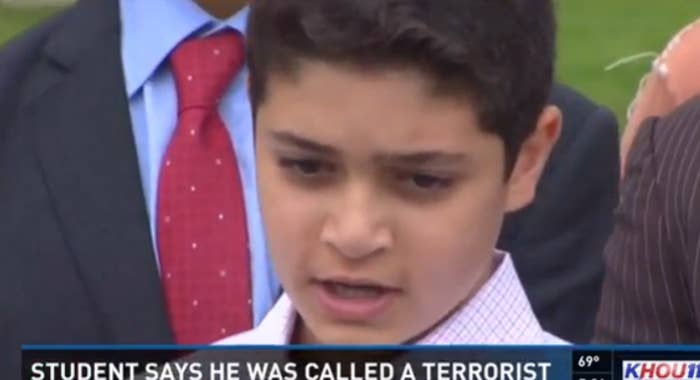 A 12 year old boy from Sugar Land, Texas, said he was humiliated when his English and Language Arts teacher allegedly called him a terrorist during class on Thursday — and now the educator has been placed on administrative leave.
Waleed Abushaaban, an honors student at First Colony Middle School, said at a news conference that his class was watching the movie Bend it Like Beckham on Thursday.
Abushaaban said he laughed during the movie and that his teacher said, "I wouldn't be laughing if I was you." When Abushaaban asked her why, he said she responded with "because we all think you're a terrorist."
The boy said his classmates began laughing and teasing him, saying he had a bomb.
"I was upset and felt like I was put in a corner and everyone was just looking at me," Abushaaban said.
The boy's father, Malek Abushaaban, said that just because his son is Muslim doesn't mean he is a terrorist.
"He's an American," Malek Abushaaban said at the news conference. "He's as American as anybody else. He was born here … that's all he knows is how to be an American."
BuzzFeed News has reached out to the Abushaaban family's lawyer for comment.
The Fort Bend school district said the teacher has been removed from the classroom and placed on administrative leave pending an investigation in to the incident.
"While the teacher reports her statements were made in the context of trying to make a point about negative stereotypes, District officials do not believe that the teacher exercised the appropriate sensitivity expected of the District's educators," a statement from Fort Bend ISD reads.