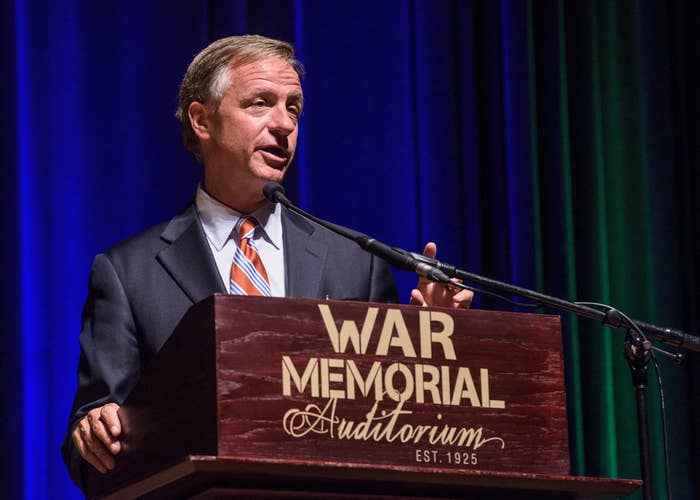 Tennessee governor Bill Haslam allowed legislation to become law Friday that will allow the state to sue the federal government over the refugee resettlement program.
Lawmakers in Tennessee recently passed a bill directing the state Attorney General to file the lawsuit. The bill also says that if the state Attorney General doesn't bring a suit, the legislature will hire outside counsel to do so.
The suit would be filed for noncompliance of the Refugee Act of 1980, which creates a permanent procedure for admitting refugees into the United States.
Haslam did not sign the legislation but in the absence of a veto, it became law.
"I trust the Attorney General to determine whether the state has a claim in this case or in any other, and I have constitutional concerns about one branch of government telling another what to do," Haslam's press secretary said. "I am returning [the bill] without my signature and am requesting that the Attorney General clarify whether the legislative branch actually has the authority to hire outside counsel to represent the state.
Haslam had previously expressed reservations about a bill that would require one branch of government telling another what to do.
Haslam argues that the federal government violated the 10th Amendment — which defines the relationship between state and federal governments — by not consulting with states about refugee resettlement.
The legislation was widely supported by Tennessee lawmakers — including 23 Republicans sponsoring the measure in the Senate. '
Senate Majority Leader Mark Norris, said the bill was necessary to initiate the suit for declaratory relief since the federal government had not consulted with the state on the resettlement of refugees, according to the Tennessean.
Slatery has not indicated whether he will file the lawsuit.
The ACLU of Tennessee, who strongly encouraged the governor to veto the bill, called the measure a "fear-driven attempt to halt refugee resettlement."
"We are disappointed that the governor has chosen to allow this discriminatory resolution to become law," Hedy Weinberg, executive director of the ACLU of Tennessee said in a statement. " This fear-driven attempt to halt refugee resettlement in our state by targeting families who are themselves fleeing violence and terror does not make our state safer."