Teen Killed While Shielding Three Girls From Gunfire Honored With ESPYs' Arthur Ashe Courage Award
"We as a country need to take a stand to consider the effects of gun violence on families throughout America," his mother said while accepting the award on his behalf.
Zenobia Dobson moved the crowd to tears at the ESPY Awards Wednesday night when she accepted the Arthur Ashe Award for Courage on behalf of her son Zaevion, who was killed by passing gunfire last year.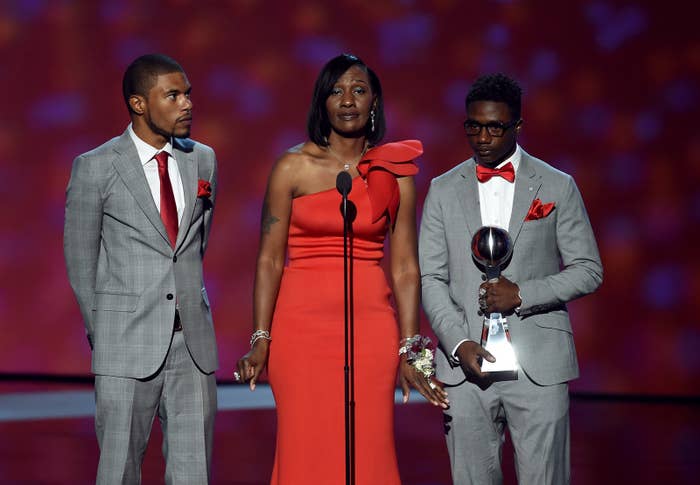 Zaevion Dobson, a 15-year-old football player, was fatally shot after gunfire erupted near the porch he was sitting on with friends in December 2015 in Tennessee.
After the shots broke out, Dobson used his body to shield three girls. He was the only one hit by the gunfire.
Steph Curry introduced the award with a poignant speech about gun violence. "Wherever you're from, whatever you think, whatever your politics are: What you can't forget is that every one of those people who dies has a story," he said.
"[Zaevion] had nothing to do with the bullet that took his life," Curry said. "He and his friends didn't know the people who killed him or anything about the feud that led to their gunfire. But in a split second, because of his incredible courage, he became part of one of the saddest statistics in America."

Zaevion's mother, Zenobia accepted the award alongside her sons Markastin Taylor and Zackelyn Dobson.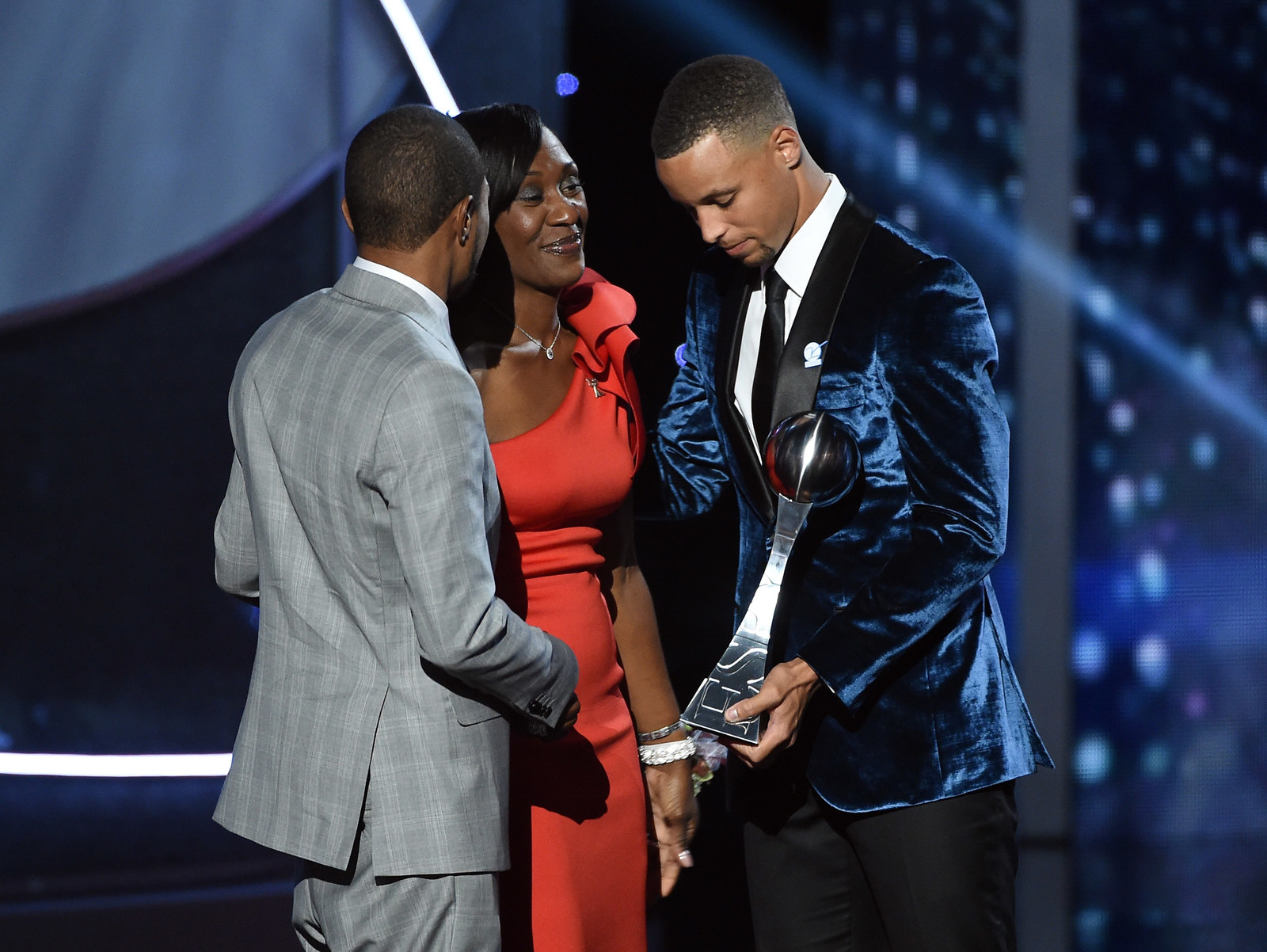 "I'd loved to stand up here and tell you more about Zaevion, all the hopes and dreams he had for the future. All the things I dreamt about for him," she said, adding that four month's after her son's death, Zaevion's 12-year-old cousin was killed in a drive-by shooting.

"I'm here to fight back," she said. "We as a country need to take a stand to consider the effects of gun violence on families throughout America. Oh yes."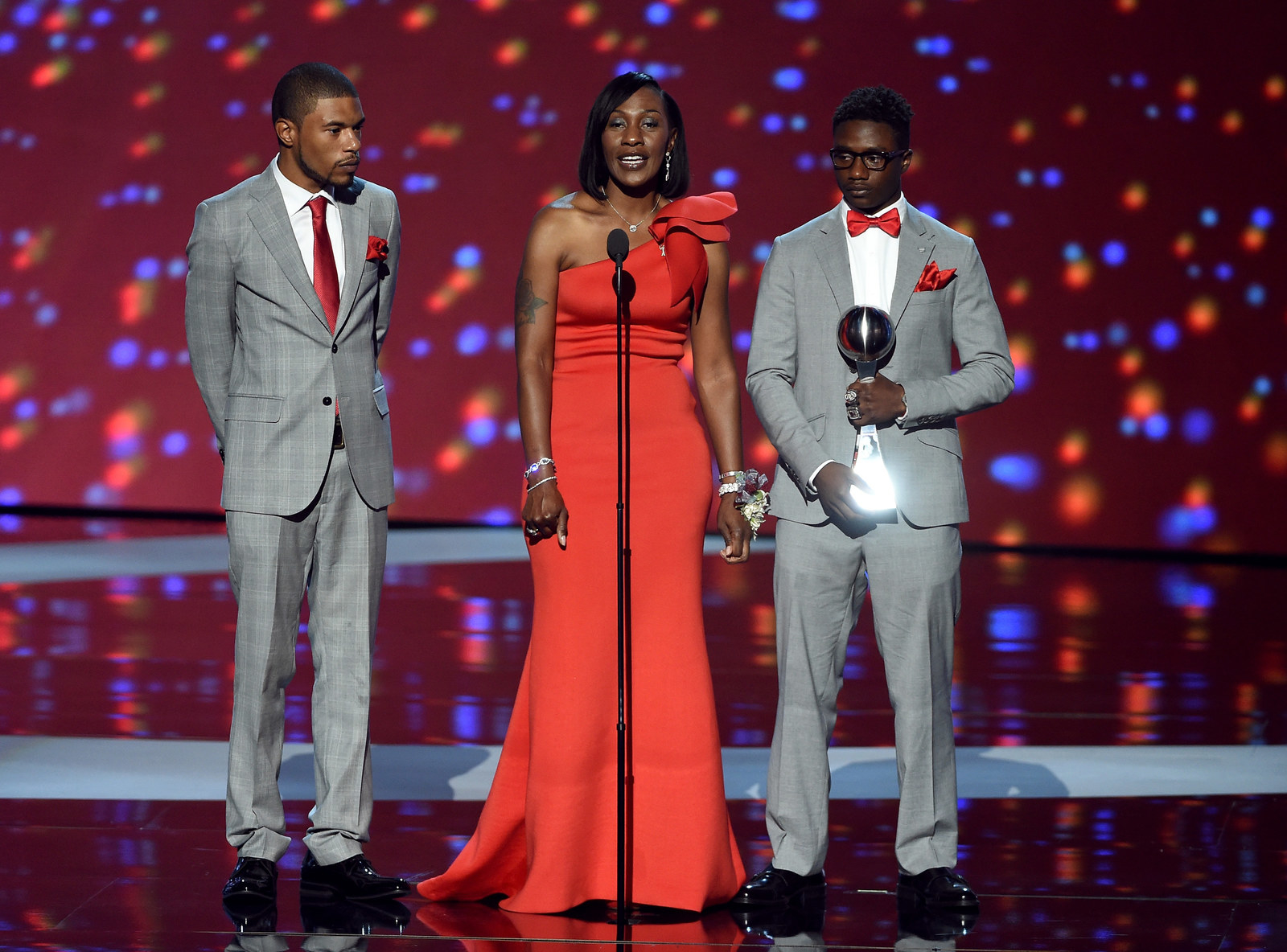 "I'm here to urge all of you to join the movement tonight to save innocent lives," she said. "We need to rewrite laws. To make it harder for the people to get guns. Some progress has been made, but just a few months ago in Tennessee, a law was passed to allow people to carry guns on college campuses. What sense does that make? We need to go in the opposite direction."
She continued: "All of the athletes in this room ― you have a lot of power. People look up to you. I know Zaevion did. I urge you to think tonight about why he died and what you can do tomorrow to prevent the next innocent man or woman from being lost as well."
The Arthur Ashe Award is given annually to sports figures who show "strength in the face of adversity, courage in the face of peril and the willingness to stand up for their beliefs no matter what the cost." Previous recipients include Muhammad Ali, Nelson Mandela, and Caitlyn Jenner.
"Your act of bravery and boldness revealed to the world the real you," she said concluding her speech. "Fly high our Falcon 24."
Watch her full speech here: