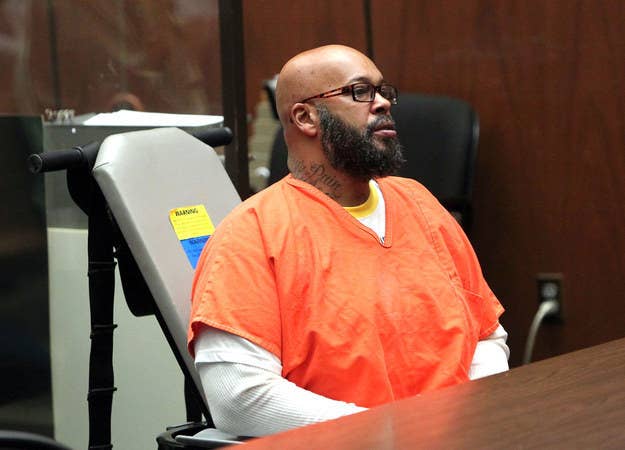 Death Row Records co-founder Marion "Suge" Knight was named in a wrongful death lawsuit by the wife of Terry Carter, the man he allegedly ran over in January. Rappers Dr. Dre and Ice Cube as well as Universal Studios were also named as defendants.
Lillian Carter's lawsuit, filed in Los Angeles on Wednesday, alleges that "reckless corporate greed, disguised as the quest for authenticity led to a foreseeable altercation that resulted in the death" of Terry Carter.
Knight was charged with murder and attempted murder in the January 29 fatal hit-and-run that killed Carter and seriously injured Cle "Bone" Sloan. Video footage of the incident went viral. Knight plead not guilty.
The incident occurred after an altercation at a Los Angeles burger restaurant, following a day on the set of Straight Outta Compton, a film about N.W.A., a Compton rap group. Dr. Dre and Ice Cube were founding members of N.W.A.
The lawsuit claims that Dr. Dre, Ice Cube, and Universal failed to provide adequate security on the film set and that the parking lot of the burger restaurant – another defendant in the suit – was "a dangerous area where all types of violent crimes regularly occurred."
The suit also claims Universal was negligent in allowing the movie to be filmed around Compton, knowing that Dr. Dre and Knight had a years-long, ongoing feud.
Carter claims she and her family "suffered the loss of love, comfort, companionship, care, assistance, society, affection, protection, and moral and financial support of Terry Carter."
Knight's trial is set to begin on July 7. Sloan previously testified that he will not "snitch" on Knight.
"I don't want it to get misconstrued that I told on this man," Sloan said in April. "I'm no snitch. I will not be used to send Suge Knight to prison."