Student Accused Of Rape Files Lawsuit Against Columbia University
Paul Nungesser, who was cleared of rape allegations, claims the university did not protect him against harassment.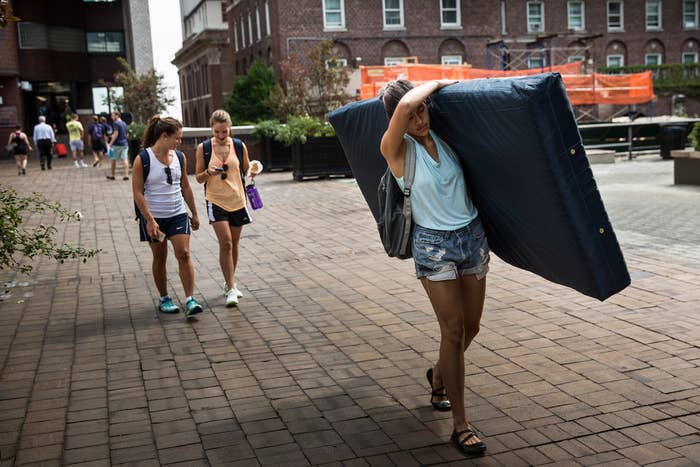 A Columbia University student accused of rape filed a federal discrimination lawsuit against the school, its president, and a professor, claiming the school violated Title IX and intentionally discriminated against him "on the basis of his male sex."
Paul Nungesser, who filed the lawsuit in Manhattan federal court, claims the university did not protect him against harassment when a female student, Emma Sulkowicz, publicly called him a "serial rapist," and ultimately destroyed his "college experience, his reputation, his emotional well-being and his future career prospects."
"By refusing to protect Paul Nungesser, Columbia University first became a silent bystander and then turned into an active supporter of a fellow student's harassment campaign by institutionalizing it and heralding it," the lawsuit said.
Sulkowicz and Nungesser had been friends but she said that in August 2012 he hit her, choked her, pinned her down, and raped her in her dorm room. The school eventually cleared Nungesser of any wrongdoing, but Sulkowicz claimed the university mishandled the disciplinary hearing.
Sulkowicz gained international attention when she vowed, as part of her thesis project, to carry a mattress around campus until Nungesser left the university.
"I'll do this until he leaves on his own or if the school expels him — anything that means we're not going to school together. But I'm prepared to do it until I receive my diploma," Sulkowicz told BuzzFeed in September.
Nungesser's attorney, Andrew Miltenberg, told BuzzFeed News his client's college experience was destroyed as he was a "pariah" on campus.
"Columbia should not have, after having found him not responsible, actively engaged in the character assassination of Paul Nungesser," he said.
Miltenberg said Nungesser repeatedly complained to Columbia administrators about feeling harassed on campus, but nothing ever came of the complaints.
"The school never said 'enough,' time to leave this guy alone," he said.
Miltenberg added that his client waited until now, weeks before he graduates to file suit, because he was concerned about retaliation against him. "He was very concerned there would be something done by the university that would have hurt his ability to graduate."
Sulkowicz is not named as a defendant in the complaint.
The lawsuit also listed Jon Kessler, the visual arts professor that approved Sulkowicz's "Mattress Project" as a defendant, claiming he "publicly endorsed her harassment and defamation," of Nungesser.
"Day-to-day life is unbearably stressful, as Emma and her mattress parade around campus each and every day," the lawsuit said.
"I think it's ridiculous that Paul would sue not only the school but one of my past professors for allowing me to make an art piece," Sulkowicz said in an email to BuzzFeed News.
"It's ridiculous that he would read it as a "bullying strategy," especially given his continued public attempts to smear my reputation, when really, it's just an artistic expression of the personal trauma I've experienced at Columbia," she said.
Miltenberg said artistic expression "doesn't include publicly calling someone a felon." He said Sulkowicz is not listed on the lawsuit as he believes the university's actions and her actions are different and they didn't "want to conflate the issues."
Nungesser, who is a German citizen, seeks unspecific damages. He says he wants to stay in the United States but that his job prospects have been "severely jeopardized," according to the law suit.
In an email to BuzzFeed News, Columbia University spokesperson Robert Hornsby said he has no comment.
Columbia is currently under investigation by the Department of Education after a federal complaint was filed in 2014 alleging the school violated Title IX, Title II, and the Clery Act. In April, student activists protested the school's handling of sexual assault by projecting "Columbia Protects Rapists," on the main administration building on campus.