Friends Have Identified One Of The Men Arrested At The Philadelphia Starbucks
Members of Omega Psi Phi said Rashon Nelson, a 23-year-old former student at Bloomsburg University, was in their fraternity.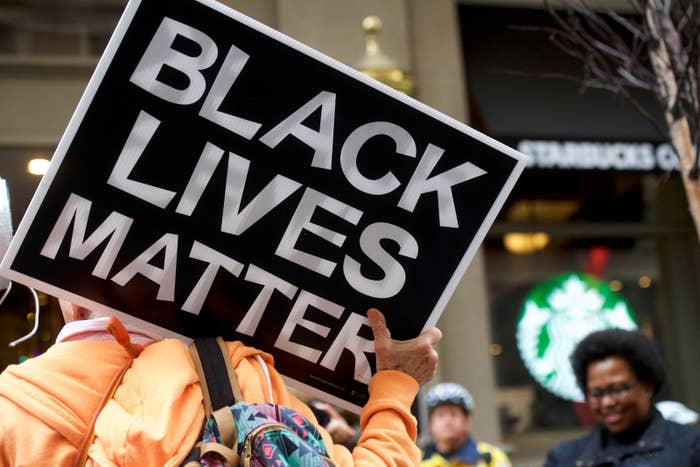 One of the men arrested at a Philadelphia Starbucks while waiting for a friend was identified by his fraternity's members as Rashon Nelson, a 23-year-old former student at Bloomsburg University.

Nelson last attended the Pennsylvania college in fall 2016 but did not graduate, a Bloomsburg University spokesperson told BuzzFeed News. He was a finance major. Nelson was also a member of the historically black fraternity Omega Psi Phi.
In 2015, Nelson took part in a No Hate March organized by Greek life at Bloomsburg University, according to a Facebook post he was tagged in.

Video of Nelson and a friend being arrested on April 12 drew fierce backlash against the coffee chain. Witnesses said Nelson and his friend — who has yet to be identified — didn't order anything as they were waiting for another friend to arrive. A manager asked them to leave and called the police, despite several customers coming to the men's defense.
Lauren Wimmer, a lawyer who was representing the two men at the time of their arrests, declined to comment on the case. Their new lawyer, Stewart Cohen, did not respond to requests for comment from BuzzFeed News.
Starbucks executive chair Howard Schultz told CBS Wednesday that the manager is no longer with the company.

"I don't think she intended when she made the call for police to arrive and arrest the two young men," Schultz said.

Starbucks announced Tuesday that it will close more than 8,000 stores and corporate offices in the US one afternoon in May to hold anti–racial bias training.
"There's no doubt in mind that the reason they were called was because they were African American," Schultz said on CBS. "I'm embarrassed by that; I'm ashamed of that."

In a statement on Monday, Antonio F. Knox Sr., the grand basileus of Omega Psi Phi Fraternity, said that one of the men arrested at Starbucks was an "Omega man" but did not disclose his identity. Knox said that the man was "a remarkable example of resilient courage in the fake of undeserved fire."

"I thank God for his sense of presence and calm because the encounter with police officers could have been very different," Knox said. "The times that we are living in continue to unveil the bold and dark side of racism through the lens of ready cameras of witnesses that record the injustices that are reported daily."
Omega Psi Phi representatives did not return BuzzFeed News' request for comments.
The fraternity's chapter at Bloomsburg has organized a rally against racial injustice at the Philadelphia Starbucks on Sunday, April 22. The chapter did not respond to requests for comment.
Other Omega Psi Phi fraternity members shared their support for Nelson on social media.
Over the past few days, Schulz and Starbucks chief executive Kevin Johnson have met with the two men who were arrested, as well as with other Philadelphia community leaders.